How to Minimize Your Belongings One Zone at a Time
I recently moved out of an 800 square foot apartment, and I was truly astonished at how long it took to go through items, prepare everything for a garage sale and decide exactly what items I wanted to move. In just two years, I managed to fill up an entire attic and basement with baby items, office clutter and completely useless stuff. It took me several weeks to go through everything, precious time I could have spent playing with my kids or writing. However, the process is now finished, and I developed a good system for minimizing belongings one zone at a time.
Before I tell you my method, though, you might be wondering why would you want to even consider decluttering. After all, there are probably a lot of you out there who simply like your stuff.
Well, this Forbes article shares that clutter can have a great impact not only on your state of mind but your productivity levels too. The article referenced an Office Max survey that showed "90% of Americans believe clutter has a negative impact on their lives and work." So, if you've been feeling sluggish lately or just want to work better or feel happier, try removing your clutter and see how much better you feel after you minimize your belongings. Here's how.
Identify Zones In Your Home
I knew I was moving, which is what got me motivated to start this process, but you can do this at any time. Identify the zones in your home and plan to work on them one at a time. I had six zones in my house: kitchen, dining room, living room, kids' room, our room and the bathroom. I bought several packs of multi-colored duct tape from Amazon, and I gave each zone a color. When I put items I wanted to keep in a moving box, I taped up the box and put the color that coordinated with that room.
It might seem like overkill, but it was the most organized move I've ever had, and I know it will be so easy to unpack everything in my new home. Even if you're not moving, you can get different colored duct tape and use it for specific things.
For example, red duct tape can go on all boxes that contain your Christmas items in your attic or basement and green duct tape can go on all boxes that contain camping or hiking gear that you put away for the summertime. Having a color for every zone allows you to group like items and so when you need to go in your attic to find something, it makes it so much easier.
Give Yourself a Lot of Time
There are many books out there that say to declutter your house all at once in one weekend, but I find that's way too much pressure for the average American family. Sometimes, you'll be lucky if you can just get through one drawer in one weekend. That's why it's important to identify your zones and then stay in one zone at a time until it's completely decluttered.
After you make a list of all your zones, break down the list even further with all the items in the zone you need to sort through. So for example, if you want to declutter and organize your kitchen, you might make a bulleted list that says upper cabinets, lower cabinets, pantry, fridge, spice rack, etc. Put this list somewhere in the zone where you can see it, like on a magnet on the fridge.
Anytime you get a spare 30 minutes or an hour or two on the weekend, work your way down the bulleted list. Maybe one day you'll sort through your spices and throw out old ones or you'll go through the pantry. As you go through each of the smaller items in the zone, keep crossing them out to keep you motivated.
Like I said, it might take you a month or two to go through each zone, but as long as you stay focused on one area at a time, you'll feel extremely accomplished. If you break decluttering down into small, bite sized pieces like this, it won't seem so overwhelming.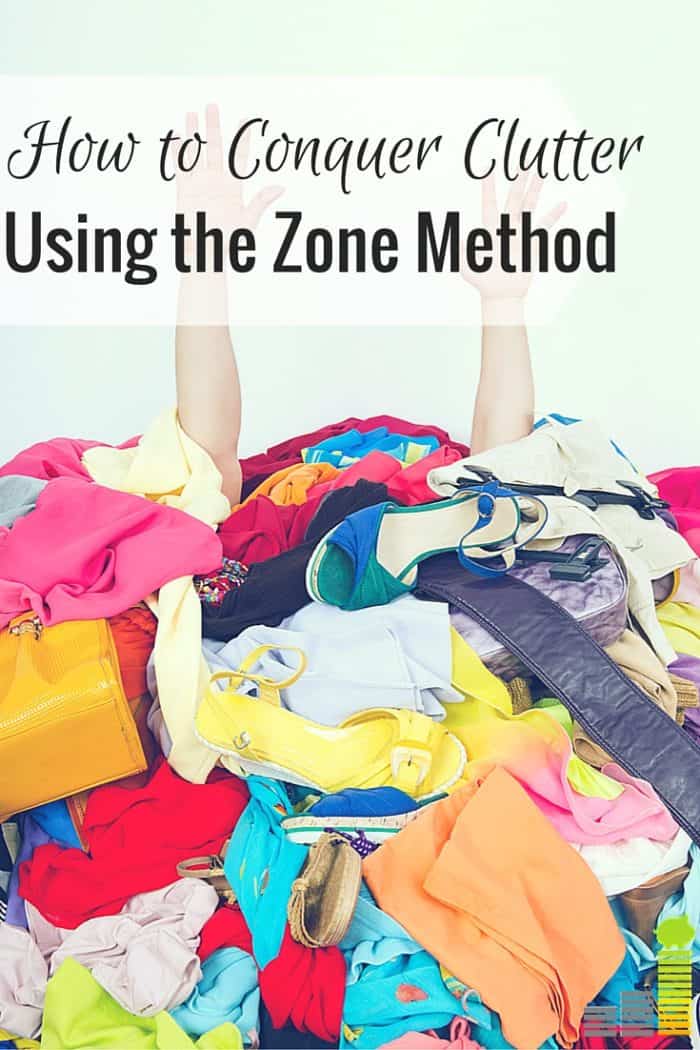 Treat Yourself
The goal is, of course, to minimize your belongings one zone at a time so you can feel less stressed. However, there is a light at the end of the tunnel! In order to stay motivated, promise to treat yourself. For example, promise yourself that you'll buy one really nice outfit if you can get rid of 40 clothing items you no longer need or that you'll buy yourself a nice, new skillet if you can give away the rusty ones you've been hanging on to.
Treating yourself gives you that last little boost of motivation you need to be minimalist once and for all.
Have you decluttered your house lately? What's your favorite way to organize your stuff? How do you part with things you know need to go but are hesitant to let go of?
The following two tabs change content below.
Catherine Alford is the go to personal finance expert for parents who want to better their finances and take on a more active financial role in their families.