How to Have a Minimalist and Frugal Christmas
Thanksgiving is upon us and that can only mean one thing: turkey. family. pumpkin pie. Black Friday shopping! Let the excessive spending and over-indulging begin!
Obviously I'm kidding, because if you read Frugal Rules, then you probably know by now that Black Friday doesn't actually help you save money by getting awesome deals; it only makes you spend more.
As a new minimalist, Christmas can be a frustrating time for me. I'm far from a Grinch, but I don't want to receive a bunch of presents that I wouldn't normally buy for myself, and I hate to think about giving someone a gift that they don't really want. It's ironic to me that someone who wants to focus on the true meaning of Christmas, such as time with loved ones and sharing good food rather than on extravagant gift-giving, can come across as a Grinch, but this is what Christmas has come to today.
Fortunately, Christmas doesn't have to be a source of stress for those who embrace frugal living and minimalism. Contrary to popular belief, you can still give great gifts and have a minimalist and frugal holiday season at the same time. Here's how to have a minimalist Christmas this year.
Give Consumables
Giving consumables is the ultimate minimalist practice because it leaves the recipient nothing that will clutter up their house. A consumable gift is going to be used and thoroughly enjoyed. Give a nice bottle of wine, a homemade batch of cookies, or some gourmet chocolates.
I may not ever wear that sweater you gifted me, but give me a bottle of wine or some sweets, and it is likely to be gone within the week. I'll definitely enjoy it and appreciate that I won't have to dust it.
Give a Service
Another great gift to give is a service that your recipient would enjoy, such as a gift certificate for a massage, pedicure or for a day of free house cleaning. You can also gift services of your own, such as offering to detail someone's car, landscape a yard, cook a gourmet meal or whatever it is that you are good at doing. You can be guaranteed that it will be appreciated by the recipient.
Gift Your Time
If you have little or no money to spend this year on gifts, but still want to give something to those relatives who have everything they could ever want, such as grandparents, simply give them your time. Pay them a surprise visit and catch up. Cook a meal together and talk the entire time. They just want your time, so give it to them while you still can. Your presence is valuable to them.
You can also give your time to others by offering to babysit for new parents so that they can go on a date night. It costs you nothing, and it's worth a lot to the parents because time alone is precious and hiring a babysitter can be pricey. (I know from experience!)
Gift New Experiences
Last year, I got the best Christmas gift I've ever received. My sister and her husband knew I was leaning towards a minimalist lifestyle, so they gifted our whole family an annual pass to the local aquarium. With multiple visits this year, we have gotten maximum value out of that annual membership, and I'll be sad when it runs up at the end of this year. I will always remember that gift because it helped us create so many (free) memories with our daughter, thanks to their thoughtfulness.
Even if purchasing an annual pass for someone isn't in your budget, you can still give someone an experience as a gift. You can purchase single tickets to a zoo, a concert, a sporting event, a movie theater, a Disney park or another local event to give to a loved one. One year I gifted my mom a ticket to an Elton John concert that I attended with her, and the concert itself and the exciting time spent with my mother is not something I'm going to forget anytime soon.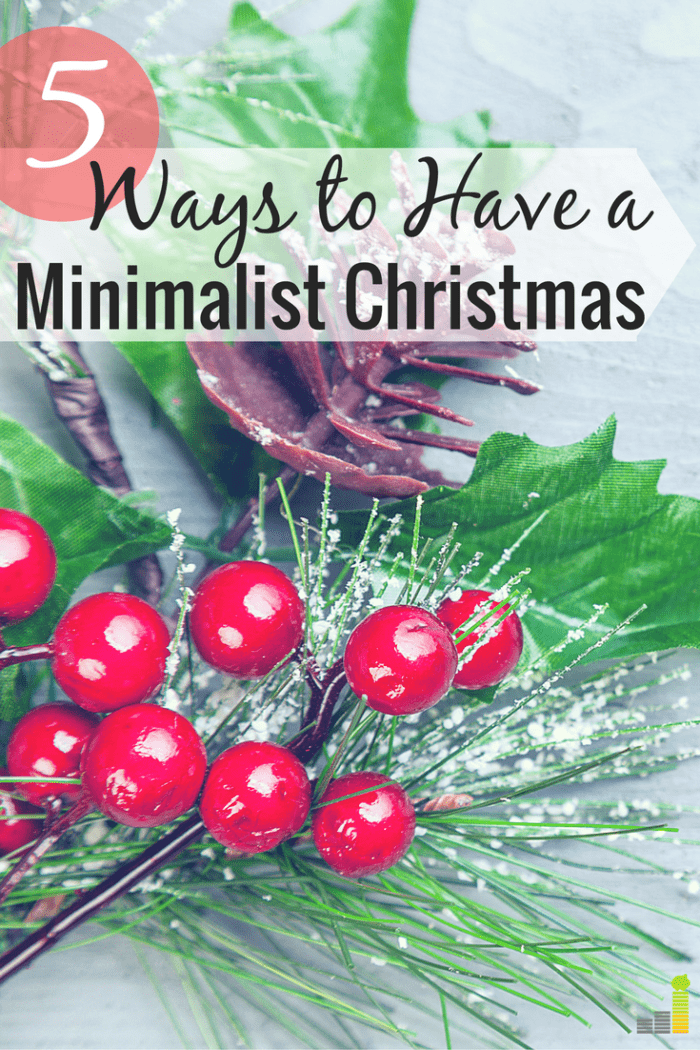 It's Okay to Buy Used
It's time to get over the stigma of giving gifts that are used, because the secondhand market is a great place to find just about anything on your list. Secondhand books, electronics, and toys in great condition are available everywhere, and supporting the secondhand market is not only a frugal practice, but a minimalist one as well. The more we shop for secondhand products, the more money we save, and the more demand we create for used products at affordable prices.
Christmas doesn't have to be about trampling people in line on Black Friday so that you can get your kid that last fill-in-the-blank-here toy. Don't be that person. Be the person who creates good memories for your children and gives thoughtful, appreciated gifts, and actually enjoy your holiday season this year.
How do you keep your gift budget under control at Christmas? Do you appreciate receiving gift certificates as gifts? What was your most memorable gift in the past few years?
Save
The following two tabs change content below.
Robin McDaniel
Robin is a freelance writer who chronicles her financial missteps and victories on her blog www.TheThriftyPeach.com.
Latest posts by Robin McDaniel (see all)