Is Minimalism a First World Problem?
Minimalism, the fancy word we've given for "paring down," "decluttering," and "simplifying" is, admittedly, the cool thing to do right now. It has become quite the trendy movement, with so many people touting its benefits, and I've been working so hard to embrace it myself.
I've loved reading up on it at my library, not worried when I've said no to people to clear out my schedule; relished the process of decluttering my closets, drawers, and cabinets; and even enjoyed helping some of my friends and family members do the same. Simplifying and decluttering are addictive, and the freeing feeling that you get afterwards is like no other.
Is Minimalism a First World Problem?
However, as I was continually cleaning out my cabinets, making numerous runs to Goodwill, and proclaiming the benefits of minimalism to anyone who would listen, a recurring thought lurked in my mind. Is minimalism just a first world problem?
Think about it. We have so much stuff that we now have an entire movement dedicated to teaching us how to get rid of it all so that we can lead better lives. It's sadly ironic, and I can't help but wonder if starving kids in Africa and homeless families in India would look at us praising our "minimalist" lifestyles and just roll their eyes.
After all, minimalism isn't a fad over there. It's not a choice for them. It's a way of life. They don't have so much stuff that they continually have to declutter or worry about Christmas shopping or kid's toy boxes. Even the poorest people in our country are richer than those living in third world countries.
Third World Countries Have No Choice
As an industrialized, first-world nation, we clearly still don't have it all figured out. We don't have a good grasp on how to feel like we already have enough or how to live lightly on the earth because we're too busy stuffing our homes with cheap clothing, fancy gadgetry, hobby gear and all of the stuff. 
We believe we're ahead of the rest of the world with our plastic-filled houses and smartphones that supposedly keep us "connected," but it's all really just leaving us even more miserable, chasing after some unattainable consumerist idea of happiness.
Buy, buy, buy. Declutter, declutter, declutter. It's a vicious cycle.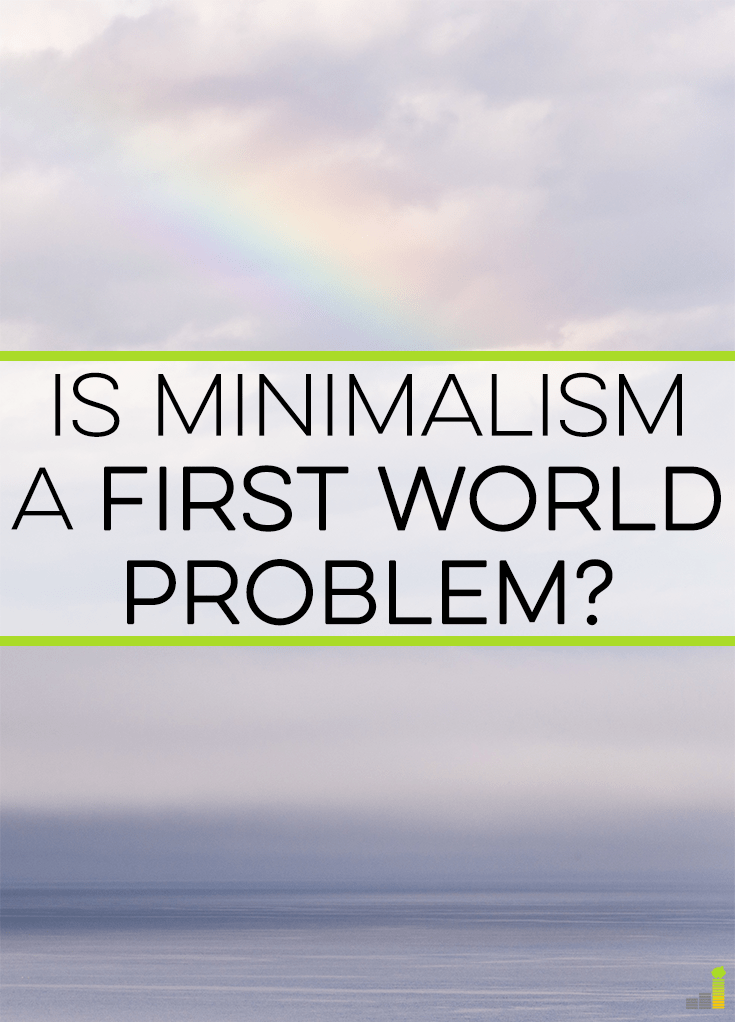 Why I'm Not Giving Up On Minimalism
Minimalism, however, is about so much more than decluttering. It's about simplicity and frugality. It's about conservation and protecting the environment. It's about living consciously, lightly and purposefully.
The minimalist ideal recognizes a problem that we were born into — constant over-consumption of an abundance of resources — and tries to fix it by challenging the wastefulness of our lives when the rest of the world doesn't have enough resources to meet their own needs. We live in a country that doesn't embrace a minimalist lifestyle; our country tracks consumer spending and actually encourages you to spend all your money and shop for the "betterment" of the economy. Minimalists question that reasoning.
The more I embrace minimalism, the more I grow as a person. We never stop learning. Minimalists are good people who want to live their lives simply and frugally. They want to learn to be content with what they already have, and they want to leave a smaller impact on the earth so that others can simply live. That's a group to which I want to belong. So even if it is only a first world problem, it's the one I'm faced with and the one I'm choosing to do something about.
What do you think of minimalism? Is it a movement you would consider joining or have interest in learning more about? How can we achieve a healthy balance between enjoying the things available in America and hoarding so many of them that we can't find a clear path from our bathrooms to our living rooms?
The following two tabs change content below.
Robin McDaniel
Robin is a freelance writer who chronicles her financial missteps and victories on her blog www.TheThriftyPeach.com.
Latest posts by Robin McDaniel (see all)