How Many Miles of Toilet Paper Do You Use Every Year?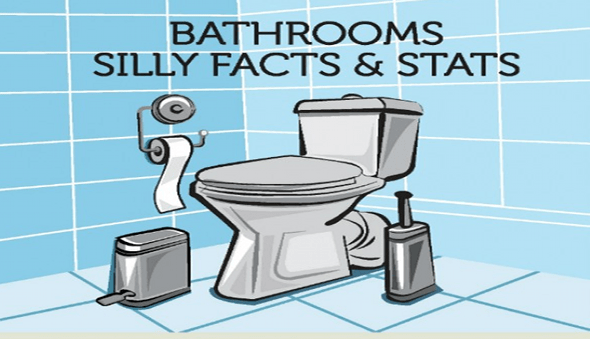 I know, that's not a headline you think you'd see on a personal finance blog, but I like to keep my readers on their toes. 🙂 That said, if you believe this infographic, we spend on average three years of our life in the bathroom, so it applies to all of us – right?! You can probably blame the selection on this infographic on the fact that both my wife and I have spent a lot of time in the bathroom the last few years as we've been in the throws of potty training the little Frugal Rules' and you'd be amazed at how much of life can relate to all things toilet paper and potty training – heck I even wrote a post on it last year – How Budgeting is Like Potty Training. If you don't believe me, then ask pretty much any parent of little ones and they'll tell you that what goes on in the bathroom doesn't necessarily stay in the bathroom. In fact, it can often have a funny correlation with many things in life.
There are a number of things that stood out to me with this infographic, mainly:
The majority of people prefer their toilet paper to go over and not under
1 of 5 people get annoyed when it's facing the "wrong" way…glad I am not the only OCD person out there 😉
70% of houseguests snoop through the cabinets
Americans use 433 million miles of toilet paper each year
85% of bathroom related injuries occur because someone has fallen in the toilet after the seat being left up…now that's something I think I'd keep to myself
Ok, I turn it over to you now…what stood out to you with this infographic? Am I the only OCD one out there?
The following two tabs change content below.
John is the founder of Frugal Rules, a dad, husband and veteran of the financial services industry whose writing has been featured in Forbes, CNBC, Yahoo Finance and more.
Passionate about helping people learn from his mistakes, John shares financial tools and tips to help you enjoy the freedom that comes from living frugally. One of his favorite tools is Personal Capital , which he used to plan for retirement and keep track of his finances in less than 15 minutes each month.
Another one of John's passions is helping people save $80 per month by axing their expensive cable subscriptions and replacing them with more affordable ones, like Hulu with Live TV.
Latest posts by John Schmoll (see all)