Could You Swim In Mashed Potatoes?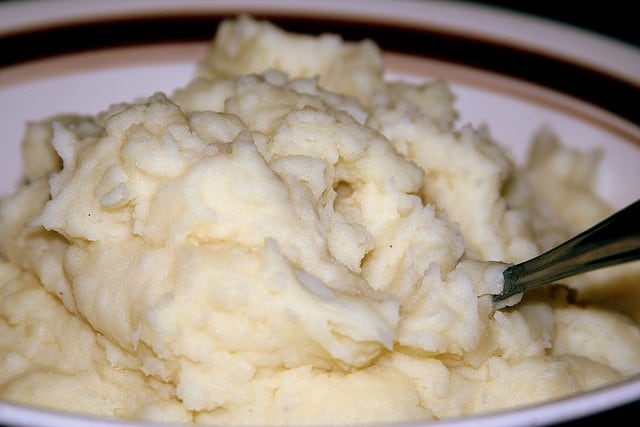 Believe it or not, but Thanksgiving is soon upon us. It feels a little bit like it snuck up on us this year, or maybe it's just that I've been way too busy this year. 🙂 At any rate, Thanksgiving is probably my favorite Holiday of the year.
I love the time spent with friends and family, kicking back to watch a little football and, more importantly, the reminder that we have many things to be thankful for. I believe it's easy for us, myself included, to get discouraged by the issues facing us and not look at all we really do have. Thanksgiving provides a good day, in my opinion, to sit back and realize all we have to be thankful for.
As I love completely random facts this infographic from Visual.ly stood out to me right away. I mean, who doesn't like to have some useless information to share with family members as you dine on your third plate of Thanksgiving goodies? I already knew that the first Thanksgiving celebration included eagle, but how crazy is it that we as Americans eat enough mashed potatoes to fill 2,700 swimming pools?
It's not surprising at all that the overwhelming majority of us will be eating turkey this Thursday, but few know some of the more obscure facts about this main dish. For starters, turkeys can run up to 20 mph and they have a greater field of vision than an owl! When it comes to Thanksgiving dishes, sides aren't immune – we could cover nearly 7,000 football fields with the corn we'll be eating this Thanksgiving.
Anywho, I thought I'd keep it light today with this cool little infographic. 🙂
What was the strangest thing on the infographic in your opinion? What is your favorite dish at Thanksgiving? How far will you be traveling, if at all, for Thanksgiving? Have you ever had Turducken?
Photo courtesy of: David K
The following two tabs change content below.
I'm the founder of Frugal Rules, a Dad, husband and veteran of the financial services industry. I'm passionate about helping people learn from my mistakes so that they can enjoy the freedom that comes from living frugally. I'm also a
freelance writer
, and regularly contribute to GoBankingRates, Investopedia, Lending Tree and more.
Latest posts by John Schmoll (see all)