How to Manage Your Money in the Midst of Chaos
Posted on August 8, 2016 by John Schmoll in
Lifestyle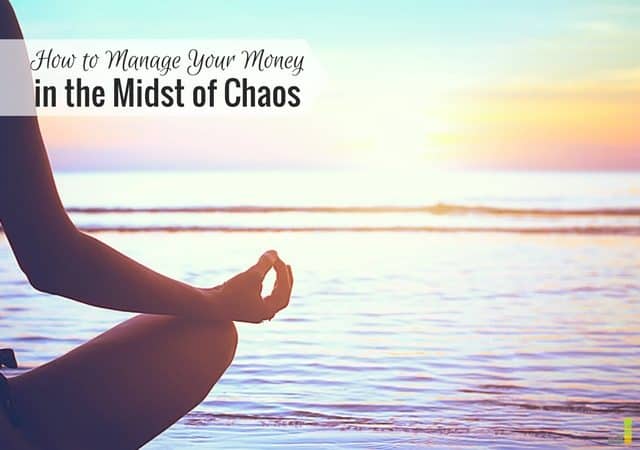 As many know, I lost my father last December. While it was expected, to a certain extent, the way it happened was completely unexpected. Regardless of knowing it will come, death rarely fails to take us by surprise. Never having lost a parent, everything was a new experience for me. That's not even to mention the emotions wrapped up in such a life-changing moment. The first few days, weeks and months were filled with chaos.
Many things had to be put on hold. Projects we were working on had to be completely shelved for an unknown period of time – and some still are. Unfortunately, life is full of unexpected traumatic events – death, loss of a job, divorce, etc., etc. The last thing you want to think of during those times is money.
You want to deal with the more tangible and practical matters at hand, which is understandable. As a result, money can often take a back seat during those times.
Cling to Your Budget
I know that your budget may be the last thing you think of during chaos. I know it has certainly been for me at times over the past 6-9 months. It's inevitable. You're dealing with pressing matters, so your finances get pushed to the back burner.
It may be difficult not to, but don't give into that temptation as it'll only make your personal life worse once the dust settles. How then can you cling to your budget during chaos? It depends on the situation, in my opinion. If you're dealing with something that directly impacts your earning ability it may mean having a desperate measures budget where you cut back everything that's not essential.
If the situation doesn't impact your earning ability, then it may mean leaning on automation – that is if you automate your finances of course. Regardless of the reason and event, find some way to keep on eye on your finances.
We use Personal Capital to track our spending and have many things automated, so that made it somewhat simpler to manage over the past few months. Even if it's a piece of paper on which you record all of your spending during the chaotic time, do that, so you know what you're spending. You can even ask someone to keep you accountable to stick to your budget. Find what works for you and go with it.
Have Cash on Hand
I remember reading somewhere that it's important to have cash on hand specifically for unexpected events. While we actively churn credit cards to supplement our travel budget, we also use a modified cash envelope system in connection with our budget.
We rarely use cash as we're usually working on a card, but having cash I could access was a lifesaver more than once during the past during 6-9 months. There were instances where the only way I could pay for something was with cash or check. If I didn't have cash on hand, in the moment, I would've had to find an ATM from which to withdraw cash. I'm thankful I didn't have to do that.
You never know when you may need cash so it helps to lighten the stress load a bit knowing you can take care of something when it pops up.
Watch the Urge to Soothe With Spending
I'm not much of a spender, but I can tell you that you will be tempted to heal your pain through spending when you face chaos. Like alcohol, to a certain extent, it dulls the pain for a brief bit. We see something we like or want, and it becomes that much simpler to justify buying said item.
It makes sense, on one hand. We think the item will make us feel better by helping us forget the problem we face. There's two reasons spending for that reason hurts more than it helps; it provides only temporary relief and it can lead to overspending. This isn't to say you shouldn't spend, as you need to have balance; just that you want to avoid justifying spending that only leads to more problems.
Replenish Your Emergency Fund
If you've had to dip into your emergency fund during a trial, you obviously want to replenish it as soon as you're able. We had to dip into our emergency fund several times in the first few months after my Dad's passing to cover certain items. We didn't like to, but that's what it's there for, and it was for things that genuinely had to take place.
We knew we'd eventually make ourselves whole, which really should be the goal. When you do that will depend on your situation, but you should seek ways to replenish the finances you've spent – whether that be finding ways to save money or ways to make extra money, after the trial is over.
More Practical Steps to Manage the Chaos
Your Health and Sleep are a Priority
It goes without saying, but your health and sleep are a major priority during the trial. You will only make matters worse by not getting sleep or filling yourself with junk. Find ways to get the sleep and healthy food you need – even if you have to make yourself do it. You'll make much better decisions with a good night's sleep and a stomach full of healthy food – not to mention keeping your sanity.
Seek Help
Don't be afraid to ask for help during a trial. We had friends drive me back and forth to the airport; provide meals; and clean our house while I was gone. Some of it we asked for and in some cases, friends just offered. That's what friends and family are for so don't let your pride get in the way of accepting help from others. It's how they show they love you.
Don't Be Too Hard on Yourself
I think this may be the most important thing to remember. Chaos and trials throw our lives into the unknown. You will be forced to make decisions in a vacuum. You may make mistakes. You may even spend money you wouldn't otherwise spend. I've learned to extend myself some latitude and not be overly critical. Being hard on yourself only makes your time of healing that much more difficult.
How do you manage your money during trials or chaos? What's one thing you do to keep yourself financially on track? What things do you do during a trial to keep yourself sane?
The following two tabs change content below.
John is the founder of Frugal Rules, a dad, husband and veteran of the financial services industry whose writing has been featured in Forbes, CNBC, Yahoo Finance and more.
Passionate about helping people learn from his mistakes, John shares financial tools and tips to help you enjoy the freedom that comes from living frugally. One of his favorite tools is Personal Capital , which he used to plan for retirement and keep track of his finances in less than 15 minutes each month.
Another one of John's passions is helping people save $80 per month by axing their expensive cable subscriptions and replacing them with more affordable ones, like Hulu with Live TV.
Latest posts by John Schmoll (see all)