How to Make Debt Payoff Exciting
Posted on March 20, 2014 by Laurie in
Debt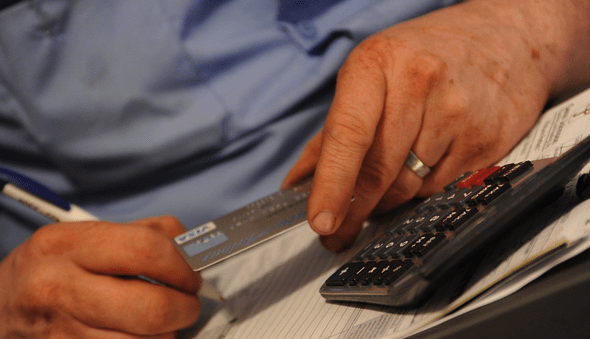 Debt payoff – exciting? Practical, yes. Functional, yes. Necessary, yes. Soul crushing at times, yes. But exciting? Why yes, debt payoff can be exciting when you track your progress. When you're working your way out of an extreme amount of debt like we are, it can be a bit discouraging to track your debt payoff. Watching those debt numbers go down ever-so-slowly can be painstaking, to say the least.  In order to encourage ourselves as we work on our goals, we've figured out a few other ways to track debt payoff that might help you to be a bit more optimistic during your debt payoff journey and help you stay excited about reaching your goal.
Track Your Net Worth
This has been huge for us.  Once we started tracking our net worth, we found ourselves focusing on the positive points of our debt payoff journey.  Instead of just seeing the large number we had left to pay off, we got to see our net worth go up.  Focusing on this positive number of net worth instead of the negative number of debt owed has helped us to be more encouraged during this journey, and more eager to do everything we can to stay on track with our goals.
Liven Up Debt Payoff by Dividing it Up
Another way to track your debt payoff is to divide it up into bite-sized chunks.  Make a chart or a graph that represents $100, $500, $1,000 or $5,000 increments leading up to the total amount of your debt.  Use whatever dollar amount motivates you, and determine a frugal method of celebration for when you reach one of those milestones.  It might be a movie/popcorn night at home with the family, or treating yourself to a rare latte' purchase at the coffee shop.  Just like working toward a weight loss goal, breaking your milestones up into smaller increments will help you to recognize the smaller victories you achieve on your way to the finish line.
Focus on One Thing at a Time
This is another way to track your debt payoff that can be very motivating.  Take one debt, monitor and focus on that amount, and lock the other debts in a safe somewhere, ignoring their existence save for that minimum monthly payment you make.  By focusing on one debt at a time, you're fooling yourself a bit that the pile isn't as big as it really is.  It seems much less daunting, and is easier to get motivated paying off, say, a $4,000 debt than a $40,000 one.  By just focusing on this one debt, you'll feel less outnumbered and more empowered.  Once that first debt you're focusing on is gone, you take another one out of the "safe."
If you've been reading personal finance blogs like this one for any amount of time at all, you likely know that the psychological part of a debt payoff journey is, by far, the biggest mountain you'll need to conquer on your journey to debt freedom and/or financial independence.  By using the above tactics to fool your psyche into thinking you're doing better than you are, you can actually do better, as the perceived victories will likely motivate you to work harder to reach your monetary goals faster.  Try the above techniques and see if they work for you.
What keeps you motivated as you pay down debt? Do you have a different or favorite way to track your debt payoff progress?
Photo courtesy of: Wonderlane
The following two tabs change content below.
Laurie is a wife, mother to 4, and homesteader who blogs about personal finance, self-sufficiency and life in general over at
The Frugal Farmer
. Part witty, part introspective and part silly, her goal in blogging is to help others find their way to financial freedom, and to a simpler, more peaceful life.