Those are words I never thought I'd be saying, much less typing. It was a journey I began on February 24, 2014. Having recently turned 40 I knew something had to change. Having struggled with my weight my entire life I knew that change had to happen and it had to happen now.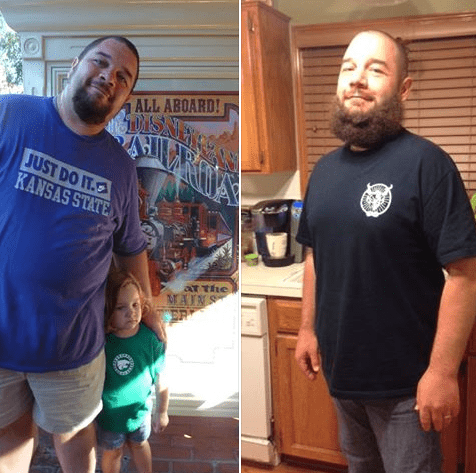 I was tired of going up a flight of stairs and being out of breath.
I was tired of getting winded after playing outside with the little Frugal Rules' for five minutes.
I was tired of having no true options the few times I'd buy new clothes.
I was simply tired…all the time.
That was not a life I wanted to continue living. It was not a life of freedom. It was a life of restriction and burden because of choices I had been making and no one else.
I could easily blame it on having the metabolism of sludge. I could easily blame it on how I was raised. Those, however, would've only shifted blame instead of looking in the mirror to see the cause of the problem.
Once I came to that realization I knew I had to act. I knew that if I didn't act that it simply wouldn't happen. I'd continue to struggle with my weight for the rest of my life and deal with the ramifications of that weight.
That was not an option.
My Secret
I've been asked by numerous friends and family, both online and in real life, what my secret has been to losing 100 pounds. I wish that I could claim some sort of super secret knowledge or secret. The secret is that it really isn't a secret.
That aside, having struggled with diets on and off for years, I knew that I needed to seek out help. I needed someone to manage it for me. I needed something or someone to hold me accountable. Otherwise, it simply would not happen.
Thus, I turned to NutriSystem. On February 24th of last year I had my first meal on NutriSystem and thought there was no way I could do this until I lost 100 pounds. But, a funny thing happened. NutriSystem is not cheap. If you'd like to know more about my time on Nutrisystem, read my Nutrisystem review.
There are ways to save money on NutriSystem, which I did do – my favorite hack was loading up on $100 gift cards for the cost $60 at Costco. Without those gift cards, the plan I was on retailed for $360 per month.
That aside, it was the cost that continued to drive me when I was tempted to give up. If failing in front of my kids wasn't enough, the thought of throwing money in the trashcan is what kept me going day and night. I knew that if I went off the diet or something else I might as well be throwing our money away.
That is what kept me accountable.
Long story short, I turned to NutriSystem as I needed something to manage my plan for me. I needed, or at least felt I needed, something to help keep me on task. NutriSystem did that for me. Truth be told, the food wasn't that great, but I was willing to put up with it to lose weight.
But, as those who have lost weight know, it's not just eating less that helps you lose weight but also exercise. In the past it used to take an act of Congress to get me to exercise. Now, I'm generally working out a solid 60-90 minutes at least five times a week.
I didn't have a high priced gym membership. I've done three things – I walk, I use our exercise bike and I use free Jillian Michaels videos from YouTube. The latter was a bit tough for me to swallow, especially considering being ridiculed by family for using them.
But, she kicks your butt! If you prefer a health club, make sure to learn how to find a cheap gym membership so you don't spend too much money.
Time is a Currency I Want More of
As I approached the century mark, one key thing continued to come to my mind – it wasn't a number, but a mindset that makes the difference. I could loosen my grip on healthy living now that I've hit my goal but it'd be foolish at best and absolutely stupid at worst.
Prior to my starting to lose weight I feared how long I'd have to live a decent life. At the weight I was at I was fairly confident that it wasn't as long as I'd like or want. Of course, life can change in an instant, though I wanted to do all I could to wrestle more time back for myself – nay more time with those I love and losing a significant amount of weight was the only way I could see that happening. Now that I'm at my goal of losing 100 pounds my outlook has changed and I am committed to continuing to pursue that even more.
Things They Don't Tell You About Losing 100 Pounds
I used to shovel snow in my shorts and sandals. Why? Because I was warm blooded (or so I thought). In reality, it was because I had 100 pounds of fat on me, no wonder why I was always warm!
Now, Mrs. Frugal Rules calls me Granny because I'm always so freaking cold!
I have like four articles of clothing I can wear. It's a good thing I work from home as I would've had to replace my wardrobe several times over. I'll be adding several pieces over the course of the next few months, slowly, as I plan on losing another 10-20 pounds total.
I don't sound like a battle-axe at night anymore – my snoring has miraculously vanished along with the fat.
My skin, sadly, has lost a fair bit of the elasticity it had when I was much younger.
Going on NutriSystem has done somewhat of a hard reset of my palate. I used to guzzle processed junk food for sport in my prior life. As an aside, NutriSystem food is still processed though was key in helping me learn to control portion sizes. That being said, I've discovered foods I used to avoid in disgust and it's amazing what I've discovered I enjoy – real food. Not cheap processed food.
It's more than just a number. We are not numbers. We are not what we lose when it comes to weight. I've had to remind myself of that many times, especially as I was on the final stretch of my weight loss.
There are many other things I've learned about myself while losing the weight, but many of them go back to the same thing – the realization that I was being my own worst enemy and slowly digging a grave for myself. That is not something I wanted to continue to do in front of my family. They deserve far better from me.
Your goal may not be related to losing weight. It may not be related to paying off debt. That doesn't matter. What does matter is seeing that time is precious and that sometimes it takes hard work and going against everything you've known to be true to accomplish your goal. Standing on this side of my goal, let me tell you, making the sacrifices to kill the goal are well worth it.