5 Last Minute Tax Tips You Can use Right Now
This post is part of the TaxACT #BeatTheDeadline blog tour which shares tips on how to make tax time a smooth and easy process before the tax deadline. TaxACT provides the tools and guidance to help you confidently file taxes easy and fast. Do your own taxes today at TaxACT. You got this.
If you haven't looked at a calendar lately then allow me to let you in on something – taxes are due in less than a week. Shocker, I know, but if you've been putting off filing taxes then you may want to get moving today. I know when I worked in the finance industry I was always surprised by the number of people who put off doing their taxes until the last minute. It never failed and always made me wonder how many mistakes happened as a result.
That aside, today's post is about some of the top last minute tax tips to help you get things taken care of this year. It doesn't stop there though. If you implement these tax tips going forward they should help you in future years to stay on top of your taxes and give you more confidence when you do file.
Organization is Key
If you're looking for last minute tax tips, it starts and ends with organization in my opinion. Organization is the backbone of filing taxes and can be relatively simple to accomplish. We keep organization simple in the Frugal Rules home and use a folder system.
We have one for any 1099s we receive, one for expenses, one for charitable donations, one for things like our retirement contributions and a miscellaneous one that holds everything that can't be categorized.
Having this system allows us to go through each folder quickly as we fill out paperwork our CPA sends us at the beginning of each year. Not only does this save us a considerable amount of time, but we also know where to look if we have a question.
Check Everything Twice and Early
Being self-employed, we get a high number of 1099s. I know your situation is likely different, but you probably still have a lot of paperwork. When we receive each 1099, or any other paperwork, we double-check it against our records as soon as we can.
This might seem like a hassle, but the last thing you want is to get a form with incorrect information when you're filing your taxes at the last minute. By following this tactic this tax year we were able to catch two incorrect 1099s and get corrected ones as opposed to being in a pinch at the end of tax season.
Don't Forget Retirement
Retirement might seem odd in a list of last minute tax tips, but it very much belongs. In most cases, you have up until the tax-filing deadline to add contributions to your retirement accounts for the previous year.
The benefit is two-fold – not only does it allow you to put more money away for retirement, but it can also lower your taxable responsibility. We add to our retirement accounts throughout the year but always have to wait for our tax person to tell us how much more we can put in our SEPs to get them fully maxed. Thankfully this year it was nearly $3,000 more dollars!
Take Your Deductions
If you're sweating the possibility of owing, then one of the things you should look at is any overlooked tax deductions you might be missing out on. There are a variety of things that can qualify, such as:
Charitable contributions
Annual fees for business credit cards
Student loan interest
Union dues
Uniforms required for your job
I will note that many deductions only apply if you itemize, but you never know – some of them may push you to where you'd benefit more by itemizing.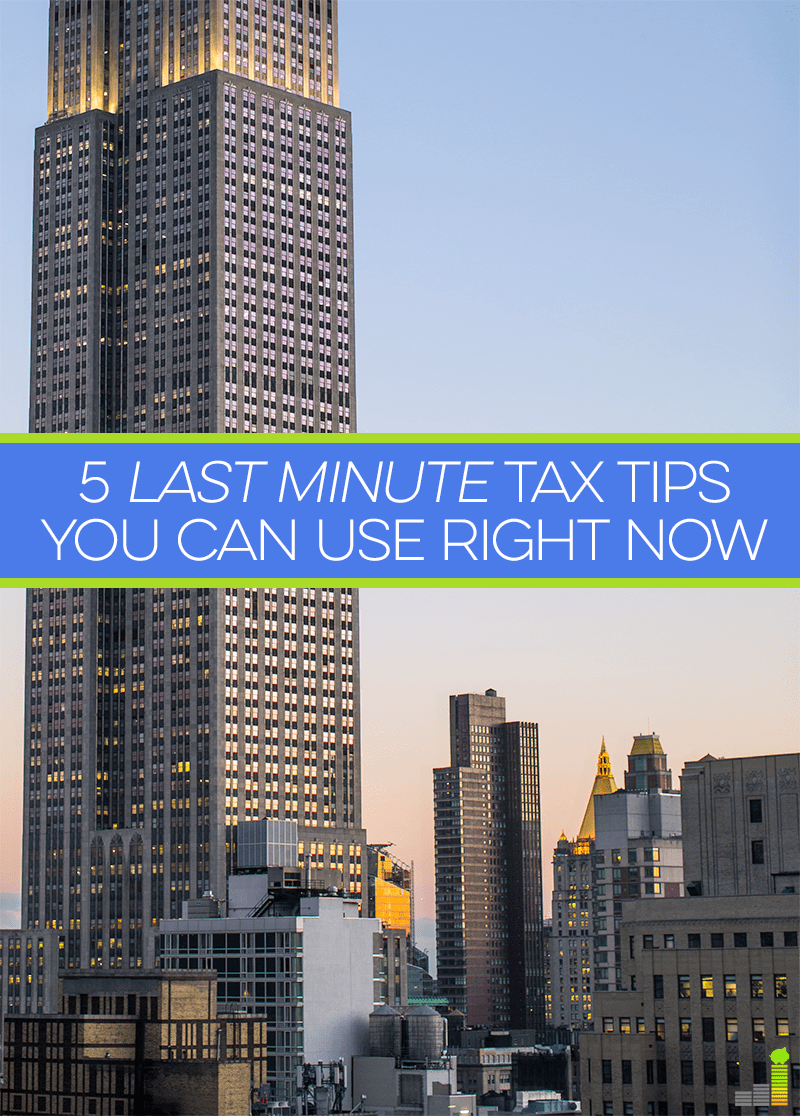 File an Extension
It never failed; at least once per week during tax season I'd speak with someone thinking that filing a tax extension would mean they didn't have to pay their taxes. That's simply not the case.
In fact, if you use it for that and don't pay you could incur some fines. If you are running into a situation of where you might not be able to get all the paperwork done on time, or have missing information, then filing an extension until October 15th could be an option for you. However, if you do owe, keep in mind that you must send at least 90 percent of what you owe to the IRS – otherwise you'll be paying even more.
What are some other last minute tax tips you can think of? When do you usually file your taxes? How organized are you when it comes to taxes?
Beating the tax deadline doesn't have to be stressful. With TaxACT, everything you need to confidently prepare and e-file your taxes is right at your fingertips. You got this. File your simple or complex federal return FREE today with TaxACT Free Edition.
The following two tabs change content below.
John is the founder of Frugal Rules, a dad, husband and veteran of the financial services industry whose writing has been featured in Forbes, CNBC, Yahoo Finance and more.
Passionate about helping people learn from his mistakes, John shares financial tools and tips to help you enjoy the freedom that comes from living frugally. One of his favorite tools is Personal Capital , which he used to plan for retirement and keep track of his finances in less than 15 minutes each month.
Another one of John's passions is helping people save $80 per month by axing their expensive cable subscriptions and replacing them with more affordable ones, like Hulu with Live TV.
Latest posts by John Schmoll (see all)