Best Ways To Keep Your Money Safe When Traveling
Posted on June 25, 2013 by John Schmoll in
Guest Post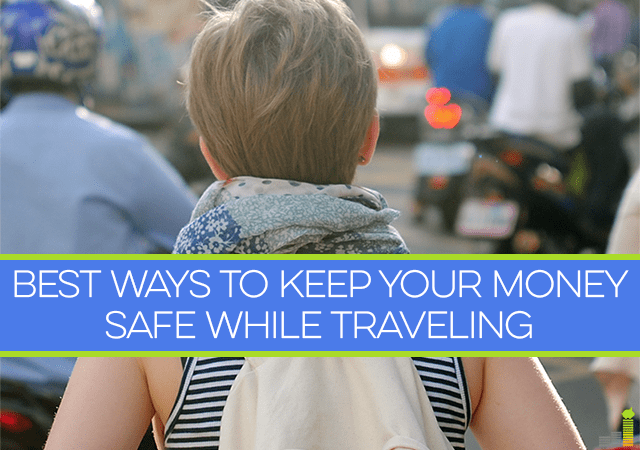 The following is a contribution from Gary Dek at Gajizmo.
Summer is here and most of you are just counting down the days to your awesome summer vacation in Europe, Latin America, the Caribbean or some exotic getaway. Vacations are meant to be fun and relaxing, but travelers should always take precautions to protect themselves and their property.
The theft of your spending money and identification cards, including cash, credit cards, driver's license, and passport, can quickly spoil all your fun and leave you scrambling to get money from home. Smart travelers know how to keep their money safe from pickpockets and thieves while enjoying their vacations.
There are a number of options for safe travel, and using more than one is a way to insure you won't lose all your money while you enjoy your vacation.
Carrying Cash
While most of us like to carry some cash to cover small expenses and buy items from street vendors that may not accept credit, if cash is lost or stolen, it is irreplaceable and gone for good. The alternatives are traveler's checks and credit cards.
Traveler's checks are replaced if they are lost or stolen, but not every business accepts traveler's checks the way they accept cash. Using credit cards can encourage overspending, especially when you are feeling relaxed and having a good time, but you are not responsible for unauthorized charges if your credit card is lost or stolen.
Although ATM cards have largely replaced traveler's checks, checks still have some advantages, especially if the ATM is down and you need cash right away. Traveler's checks can be purchased through banks and are issued by the credit card companies, like VISA and AMEX.
There is a 1% to 5% charge for purchasing the checks and they are not as widely accepted by businesses as credit cards. If you run into many restaurants or businesses that do not accept traveler's checks, you may have to exchange them for cash at a bank or hotel service desk.
On the plus side, you can convert checks to cash slowly throughout your trip, the checks are fully insured against loss, and are safer to carry in wallets or leave in hotel rooms than cash.
Furthermore, not all credit cards are accepted in all foreign countries, so before traveling, it is prudent to make sure that your credit card is recognized in the country to which you are traveling. Many credit cards have foreign transaction fees of 2% to 3% and higher interest rates apply to cash advances. Before traveling overseas, consider applying for cards that waive the foreign transaction fee.
Additionally, the conversion rate on credit cards may not be as favorable as the rates offered by banks, so inquire with your credit card company beforehand and shop around to compare rates from credit unions vs. banks.
Do Not Put All Your Eggs in One Basket
Are your credit cards, ATM cards, identification, passport and cash all in your wallet, purse, or traveling bag? If so, you are a pickpocket's dream. It is best to stash money, important documents and your credit cards in different places so if you are robbed, you don't lose everything at once. One tip is never carry your wallet in your back pocket since it is the easiest place for a thief to access.
Carry your wallet in a front pocket where it is more difficult to reach and plainly in your field of vision. Also, split up your cash by carrying some in a money clip in the other front pocket, a hundred in your sock or shoes, a couple 20s in your back pocket, and some with other members of your group.
Another good way to keep papers and money safe is to use a money belt worn under the clothes for items you do not need to take out regularly.
How about your credit cards – do you know your credit card numbers and the number for reporting stolen or lost cards? If not, it may be difficult and time consuming to contact the company to cancel and replace stolen cards, meanwhile the thieves are spending hundreds or thousands at your expense.
Keep a copy of the front and back of your credit card in a safe place, like your laptop or a pocket in your suitcase. If you save these files on your laptop, make sure to encrypt the files or require a password to access them. In the event that the card is stolen, you will have the information you need to cancel and replace the card immediately.
Cell phones and laptops are also favorite targets for thieves, and if you are like some people, you may have your banking, credit card and other financial information on your mobile phone and/or laptop. To avoid identity theft, make sure that your phone and laptop are password protected to keep your personal information exactly that – personal.
Do not keep written records of passwords with phones and laptops since this negates your security. If your phone or laptop is stolen, take precautions by changing account information.
Never Flash Cash
A day of shopping at street markets can be lots of fun, but make sure you never take a large amount of cash out when paying a vendor. Keep your money split up and take out only as much as you need to avoid unnecessary attention.
One way to accomplish this is to carry a small amount of cash in your wallet or handbag, and keep the rest in a money belt or your sock for emergencies only. Find a private spot, like a restroom, if you need to get extra cash from your money belt.
FYI ladies – it's not a good idea to keep any valuables in a handbag or purse since they are easy to grab. Try to wear clothing with pockets and keep your valuables on your person. If you must carry a bag, one with a cross body strap is best. This goes for laptop and camera cases, too.
Be especially careful in buses and taxis that require a group of people to be in close proximity. It is the perfect time for pickpockets and thieves to rifle through your purse while you mistakenly think someone is shifting their feet or crowding your space.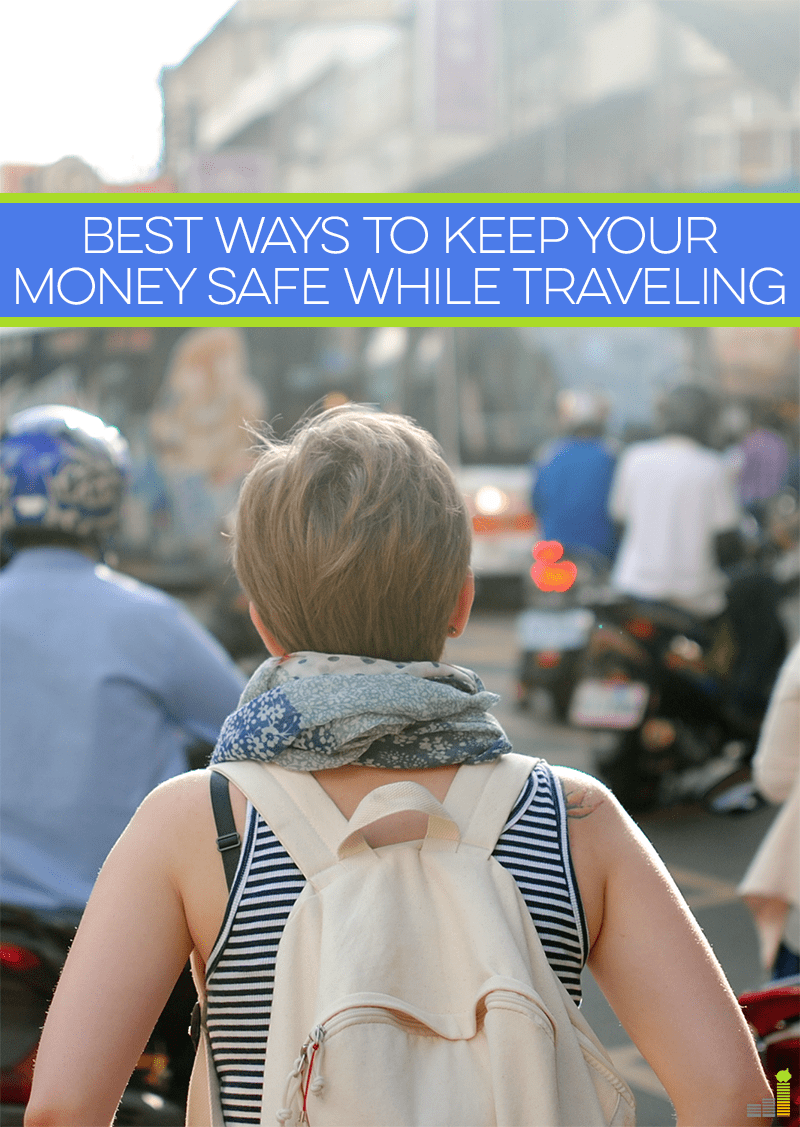 Stay Safe With Your Money
Whether you are on vacation or at home, it is best to avoid secluded ATMs. Instead, use machines that are in public places. Try to make transactions during the day since even busy locations may be deserted late at night or early in the morning.
Most hotels have ATM machines in their lobbies and the machines are also found in shopping malls and other high traffic areas. Drive up ATMs offer more security than those which stand alone and are hidden from the street. Take a friend if you are concerned for your safety since most robbers prefer easy targets and will not attack two or more people.
Using sensible precautions can help make vacations a fun break from daily routine, but it is important to remain alert to the physical and financial dangers that can occur when traveling. In addition to using caution with cash, be sure to monitor credit and bank accounts since using a debit or credit card for payment can give identity thieves all the information they need to steal your money and ruin your credit.
The last thing you'd want is to end a beautiful, happy vacation and come home to find your good credit history destroyed in a week.
Gary Dek is a former investment banker and private equity analyst. Don't hate him – he had nothing to do with the mortgage crisis and the recession. He writes at Gajizmo.com and is always looking for ways to make and invest money.
Editor's note: Gary offers some very practical and important to follow tips to keep your money safe while traveling. As someone who has traveled abroad, keep an eye on those credit cards to make sure you're not surprised when you get home.
The following two tabs change content below.
John is the founder of Frugal Rules, a dad, husband and veteran of the financial services industry whose writing has been featured in Forbes, CNBC, Yahoo Finance and more.
Passionate about helping people learn from his mistakes, John shares financial tools and tips to help you enjoy the freedom that comes from living frugally. One of his favorite tools is Personal Capital , which he used to plan for retirement and keep track of his finances in less than 15 minutes each month.
Another one of John's passions is helping people save $80 per month by axing their expensive cable subscriptions and replacing them with more affordable ones, like Hulu with Live TV.
Latest posts by John Schmoll (see all)