I've Gone 3 Years Without a TV (And I'm Still Alive)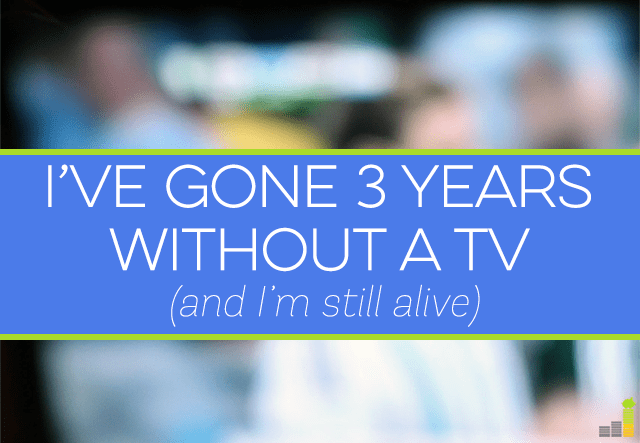 Just recently, I wrote a post about ways to cut costs in 2014, and one of my suggestions was to get rid of your TV altogether. I'm not talking about canceling cable or anything like that. I'm talking about a 100% sell-your-TV-on-Craigslist extravaganza. You know, ninja style.
Unfortunately, no one else thought life without a TV was a good idea, especially not the gents. Many of you said you could never give up football, and I admit, that didn't cross my mind at all. Still, I like watching The Bachelor/Bachelorette a lot, and that's somewhat seasonal, right? I just stream it online. Can't you do the same with with football or am I just ridiculously uninformed? (Editor's note – unfortunately not…at least not on a large scale and "legal" way 🙂 )
Anyway, after making that suggestion, I was surprised that not one person out there shared my thoughts about the TV or the lack thereof in my house.
So, let me just make this statement: I've gone three years without a TV in my house, and I'm still breathing!
Deciding To Go Without A TV
It all started when I went to grad school in 2009. I was living off of a $14,500 per year stipend, and I was really struggling to keep all the bills under control. I bought a TV off of Craigslist but never paid to hook it up. I used it to watch movies with a DVD player, and when I moved out of that apartment in 2010, I left it there.
Similarly, my husband was living in a studio apartment at the same time without a TV. His schedule was all wacky with alternating 12 hour night/day shifts, so he never really got into watching any shows with regularity.
Going Way Overboard
After two years where neither one of us had a TV, we had a brief break with reality where we bought a 50″ plasma with all of the extras. It was completely obnoxious, and to this day, I have no idea how I agreed to it. Soon, we were eating our dinner in front of the TV, not talking to each other at all, and watching about 7 episodes of Cake Boss in a row.
We knew we had gone way overboard, and when my husband got accepted to medical school later that year, we sold the 50″ to a good friend and moved to Grenada without one.
Three Years In The Making
If you are familiar with the journey I've been on over the past few years, you know that I lived in the Caribbean for about three years and just recently moved back to the United States. My lifestyle in the Caribbean was very, very bare bones. No TV and no car for the first year and a half. I got so used to watching shows on my computer, I had no real reason to buy one when I got back to the U.S.
Honestly, I enjoy my life without a TV, and as evidenced, I have for years now. I don't think I would have had the discipline to build a business on the side while working full time if I had a TV in my house. That's just me though.
Sure, there are times when my husband wishes he could watch a college ball game or when I'd rather watch Miss America on a bigger screen and not in a tiny streaming online video. However, these moments are so few and far between that we just can't justify getting back into the TV habit again.
Would you ever try to go cold turkey and live without a TV?
The following two tabs change content below.
Catherine Alford is the go to personal finance expert for parents who want to better their finances and take on a more active financial role in their families.