6 Inspiring Quotes from Successful Entrepreneurs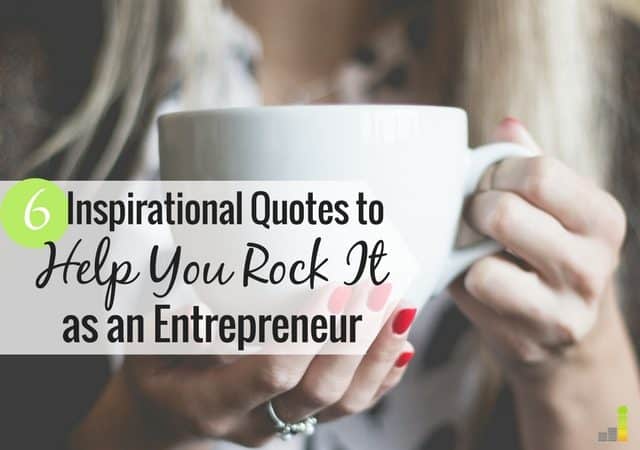 I've been self-employed for three years now, and I'll be the first to tell you that it's hard. However, when it's harder than you expect, sometimes a few inspiring quotes can help you keep going. The truth is that even though you know running your own business will be challenging, difficulties can arise that you didn't expect or for which you weren't prepared.
For example, I enjoy writing and thus I enjoy my work, but I could do without the stress and self-doubt. I could also leave behind the constantly changing rules and onslaught of ads trying to get me to buy x, y and z to make me a better marketer, blogger, speaker, etc. These were all things I didn't anticipate dealing with on a regular basis as an entrepreneur. I'm not sure why I didn't but regardless, they are now regular companions along my journey to creating and sustaining a successful business. 
Sometimes, there is so much information for entrepreneurs out there that it's easy to get a little stuck. At times, it seems like everyone else has so much success that it's hard to be proud of your own.
Whenever I'm feeling this way, I try to look to other entrepreneurs who have been successful. Sometimes their words and tories of hardship are motivating for me. So, if you're looking for an extra push today too, I hope you enjoy some of my favorite inspirational quotes below. 
"I'm convinced that about half of what separates the successful entrepreneurs from the non-successful ones is pure perseverance."
While we may lose motivation as entrepreneurs sometimes, it is important to persevere and keep pushing yourself. It's okay to take a break and collect yourself, but don't wait too long or opportunities may pass you by.
"Continuous learning is the minimum requirement for success in any field."
This and other inspiring quotes remind me that you don't have to stay in school for the rest of your life to continue learning. In fact, with an endless supply of online courses and websites like Pinterest and Youtube, you can always find something new to learn. In fact, I have to frequently stop myself from buying new classes all the time.
"If you do what you've always done, you'll get what you've always gotten."
You can't keep doing the same things and expect a different result. As entrepreneurs, we need to be willing and able to try new things and step out of our comfort zone every now and then. This inspirational quote from Tony Robbins hit me particularly hard. I get in ruts on and off, but rarely do I try something completely different to try to change things up and shake out some more success.
"The last 10% it takes to launch something takes as much energy as the first 90%."
Have you ever been so afraid of launching that new course, ebook or project? Don't be! Press the button, launch that thing, and be proud that you accomplished something that a lot of people won't. Launches take a lot out of us, but that shouldn't stop us from going after bigger dreams. I launched a course last year, and it took a significant amount of work, but the week before my launch was the hardest. I was constantly updating and perfecting everything until the very last minute. This and other inspiring quotes like it remind me it's okay to land slightly short of perfect.
"Failure is an option here. If things are not failing, you are not innovating enough."
I know I can't be the only Elon Musk fan in here. Do you remember when a Tesla caught on fire and all the stocks dropped or when Elon Musk had to use his own personal fortune to keep the company going? He's truly an incredible entrepreneur and I love that he give us all permission to fail. If we never fail at anything, life is just too cookie cutter and easy to make a big impact.
"Timing, perseverance, and ten years of trying will eventually make you look like an overnight success."
All anyone ever sees is the end result. They might look at you and think they want your life or your flexible schedule, but they have no idea what you put into it. If you're looking for the reward for all your hard work, know it's coming, but it might take a few years of perseverance to get to that end result.
Who are some of your favorite entrepreneurs? What are some of your favorite inspiring quotes from successful people? What's something you do to motivate yourself when you want to give up in business or money?
The following two tabs change content below.
Catherine Alford is the go to personal finance expert for parents who want to better their finances and take on a more active financial role in their families.