How Insecurity Damages Your Ability to Save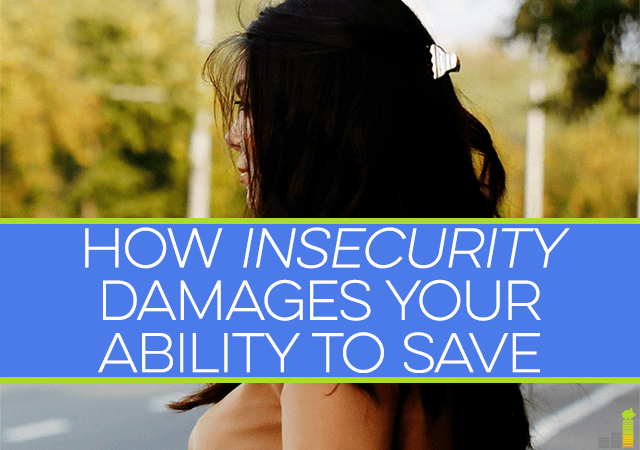 Have you ever thought about how your level of confidence or insecurity influences your spending?
There's a clear correlation in most cases. Think about it – how many people try and keep up with a certain lifestyle just because it's the one all their friends and families have chosen? How many people go into debt to afford it?
How many people have a horrible shopping addiction because they're trying to fill a void in their life? Or because they want to feel nice?
Most of this boils down to feeling insecure. That's why, to a certain extent, frugal living takes a bit of confidence. It's about going against mindless consumerism and embracing alternatives. It's about not caring what other people's opinions are of your unconventional lifestyle.
Unfortunately, it's easier said than done. If you want to reach that point, it helps to recognize how insecurity damages your ability to save.
The Act of Fitting In
From an early age, many of us realized that to "fit in" with the "cool" crowd, we needed to have the best stuff. Designer clothes and the latest toys and gadgets were a must. The bigger the house we grew up in or the nicer the cars our parents drove, the better. (Heck, one girl I knew got chauffeured to elementary school in a limo. We were talking about it for days.)
It's no surprise this trend continues into adulthood for many people. It's how we were conditioned to think. Shiny, expensive things = success. If we have something less, we feel insecure because we're not that successful (according to society).
We grow up thinking we need to have the big house and the fancy car in order to make ourselves look better. Our insecurity drives us to shop at places out of our price range. We're terrified to expose our "real" selves out of fear of what others will think.
As many of you know (since you're reading Frugal Rules!), that's not a good way to live. It's an almost surefire way to get into debt. Your ability to save? You're probably not even thinking about saving money. You're only thinking about how to elevate your status in life with things.
Do Women Have it Worse?
I don't like to get into the whole debate about whether or not it costs more to be a woman, but women do generally have to spend more to maintain themselves than the average man does.
Again, it comes down to society's expectations. That's why the beauty industry does so well. The media tells us to look beautiful, that we need to have perfect hair, teeth, nails, bodies, wardrobes, faces, etc.
I'm not going to lie – while I've had my nails done all of three times in my entire life, I've fallen prey to the "necessity" of makeup. I normally don't leave the house without at least foundation on, if not everything. Yes, even when going to the grocery store.
Where does this "need" come from? Insecurity.
I was bullied throughout school. Someone always had something to say, and I had a decent amount of self-image issues by the time I graduated. This was only perpetuated by society's definition of beauty. Actresses, models, singers – they all looked more beautiful (and ahem, manufactured) than I could ever hope to be.
Wearing makeup was the only solution I found to giving myself a bit more confidence, and I know I'm not the only one out there that feels this way. It's horrible. While I'm confident I have a fairly lovely personality, I can't get past my looks, even though people probably care much less about it than I do.
Of course, maintaining a certain style or look can cost you a ton. When I was actually buying makeup regularly, I'm sure I spent hundreds, if not over $1,000, on beauty products in one year. And that's at the low end of the range.
Considering I've been battling my student loan debt, throwing all that money away just to look and feel better about myself was, in part, a waste. I'd much rather be debt free than have a crazy collection of makeup.
Insecurity in the Workplace
This isn't just a problem in our personal lives, but our professional lives as well.
I worked in an office full of salesmen. They were all trying to compete with each other to see who could get the biggest deals.
Our bosses did away with "casual Friday" for them, insisting they needed to be dressed in professional attire at all times to be more successful. Those bosses also leased cars that cost them at least $500 per month, if not more.
Actually, one of my bosses joked around with me one day when I asked him which model of a pen he wanted. "The fanciest, of course, that's how we do things here!"
Oh yeah, not to mention the time one boss got his new iPhone before everyone else…he was going around the office waving it around in an attempt to incite jealousy.
Should I even mention not wanting to order lunch with everyone got me weird looks?
This is why company culture is so important to consider when looking for a job. As I wasn't a salesman, I wasn't all that concerned with looking "fancy," but I have to imagine a lot of them felt a certain pressure to have nice cars, nice clothes, and money to drop on drinks after work.
Outside of that, I felt a tad insecure because I didn't have as many clothes as my female co-workers. That's right – just clothes. Not even fancy clothes. It seemed like they had new outfits every week, when I was wearing the same 5 or 10 different outfits I had.
This all leads to needless spending because we're influenced by the people we're around the most. We're constantly comparing ourselves to them and it's usually a losing battle.
How to Gain Confidence so you can stop spending
I know most people don't want to hear it, but the simple answer is "stop caring." So what if you drive the oldest car out of everyone you know? You probably don't have a car payment! So what if you're a minimalist? You have less stuff to maintain. So what if you never go out to eat because it doesn't make you happy? You're saving money where it matters.
To stop being insecure, you need to be happy with what you have and where you're at in life. I may not own a house like some of my friends, but that doesn't mean I'm any less successful than they are. I may not have the most stylish wardrobe ever, but clothes don't indicate how hard of a worker I am.
The best thing you can do is surround yourself with like-minded people who support you no matter what. Those who love and care about you regardless of what you own matter the most. Those who want to judge you based on material items or appearances aren't worth your time.
You can't take your stuff with you, and more than likely, you'll never be remembered for it anyway. You will be remembered for the person you were, though. Do yourself a favor and start realizing how awesome and successful you are based on what matters. Spending out of insecurity will soon become a thing of the past.
Have you ever faced a time where you spent out of insecurity? Why did you feel insecure? How did you get over it? Do you care about the opinions people have on your financial habits?
The following two tabs change content below.
Erin M. is a personal finance freelance writer passionate about helping others take control over their financial situation. She shares her thoughts on money on her blog
Journey to Saving
.