Why I'll Always be a Fan of the Dollar Store
When it comes to saving money, I'm always on the hunt for creative ways to reduce my expenses and keep more dollars in my pocket. This is especially true when it comes to shopping. Never one to shy away from doing a bit of work to score great deals, I've developed a bit of a love affair with dollar stores over the years.
Forced to Save
I'm not shy about sharing my journey as a reformed spendaholic. If  ever there was the epitome of the definition of a financial disaster, it was me about a decade ago. At one point, I found myself penniless, without direction, and nearly homeless. It was clear that something needed to change and the biggest factor impacting my inability to manage my finances was my over the top, mindless spending. Shopping for sport was fun, but barely being able to pay those credit card bills was hell.
In an effort to curb my reckless ways, I went cold turkey on spending. That lasted all of 72 hours before reality set in and I remembered that I'd still need to buy things such as groceries and household items. As I scrambled to create a budget that would keep myself in check, I realized that I no longer had the luxury of shopping at high-priced, gourmet stores. I needed to cut back, and I needed to cut back in a severe way. The next day, I made my first trip to the local dollar store.
Dollar Store Mania
At first, I was mesmerized by the low prices. $1 for this? $2 for that?! How could I possibly bust the budget with these crazy low prices?! I quickly learned just how much damage one can do when clouded by the guise of cheap prices, and I inevitably was dismayed by the quality of some of the products once I got home.
Not one to be deterred from any mission I set out on, I returned the following week with a list and a game plan. There had to be ways to make this work for me; both in price and quality. I would figure out the dollar store secrets, and I would conquer the world of discount products if it killed me! Over the following months, I honed my ability to pick out the stars from the crap, and I saved hundreds of dollars along the way.
Because I was making an honest attempt to budget, save, and cut my spending, I began tracking every penny I spent. As I reviewed my spreadsheets, I noticed that the products I was buying at the dollar store were the same products I had been spending nearly triple on at other stores. Seeing the numbers dance in front of my eyes changed my views on dollar stores forever.
As I began to frequent dollar stores more and more for the things I needed to buy, I learned that shopping at these stores is a great way to save money if you adhere to the following guidelines:
Shop the Brands
Nearly all of the major dollar store chains carry name brand products for a fraction of the price. To me, Tide is Tide no matter where I buy it. If I can buy it at a dollar store for 20-30% less than a grocery store, I best be doing so!
Check Expiration Dates
While I do the majority of my food shopping at a traditional grocery store, I have purchased pasta and other non-perishables at dollar stores in the past. Just make sure to check all expiration dates and buy items that will last until you decide to use or consume them.
Avoid the Medicine and Vitamins
While I love a frugal shopping trip, I draw the line at anything that could be hazardous. Unfortunately, that means medicines and vitamins from a dollar store are a no-go for me. This is due to inaccurate packaging, expiration dates, and quality of the product.
Appreciate the Adventure
Each time I walk into a dollar store, the inventory is somewhat different. While this can be a temptation to spend frivolously, I've found that as long as I have my list with me, I generally just enjoy perusing the random selection without buying. After all, one can only have so many lawn ornaments before the yard begins to look like the set of the Beverly Hillbillies.
Pile on the Coupons
Some dollar store chains (Family Dollar and Dollar General to name two) accept manufacturer's coupons–it's a win-win!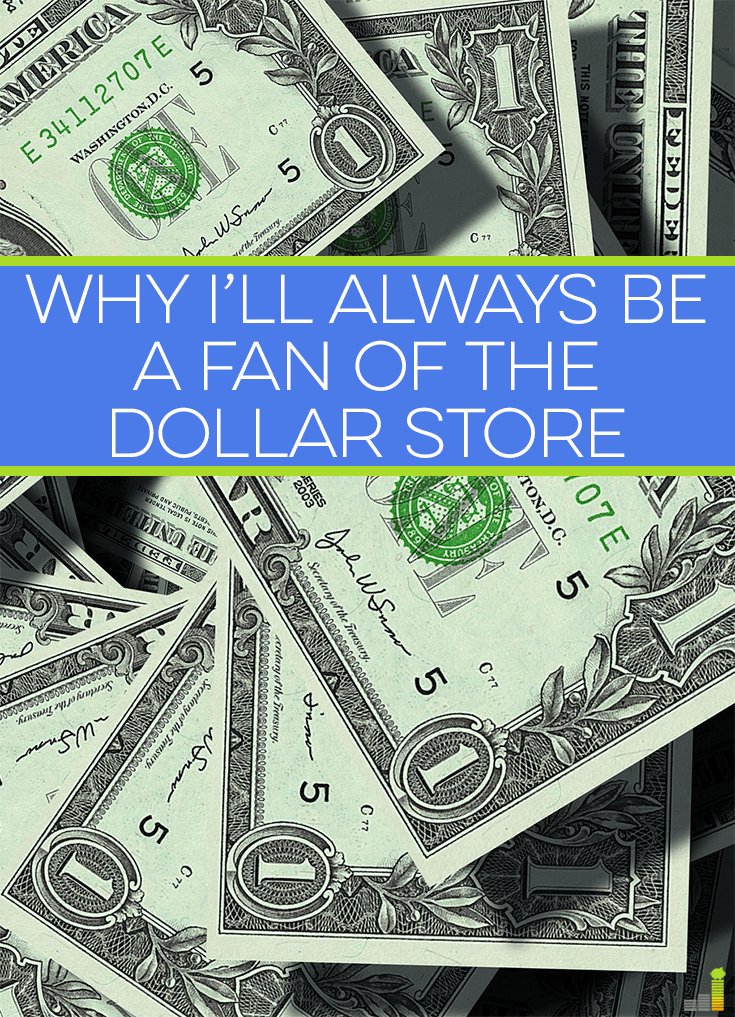 Buy in Bulk From the Comfort of Home
If you buy the same things each month such as paper towels or TP, head over to the store's website. Most of the large chains have online stores now where you can order those items in bulk. Not only will you get free shipping (some do require you to pick up at the store), but you'll get a bulk order discount on top of the already low prices.
Save Time
On most trips to the dollar store, I'm able to get what I need and check out within minutes. Say good-bye to long checkout lines and save yourself money at the same time!
Do you shop at dollar stores? Why or why not?
The following two tabs change content below.
Jen is the owner of
The Happy Homeowner
, where she writes about living a healthy, balanced life one cent at a time. Previously, she paid off $14K in credit card debt in less than a year and hasn't looked back since. Follow her on
Twitter
and
Facebook
.