How We Were Able to go to Vegas for Free on My Birthday
As many regular Frugal Rules readers know already, my wife and I were able to go to Vegas for free to celebrate my 40th birthday about six weeks ago. Truth be told, the trip wasn't entirely free as we did take some money to gamble as well as to see a show, but outside of that we were able to travel to Vegas basically for free. How you ask? Well, it was all thanks to rewards points that we earned by churning credit cards over the past year.
Through credit card churning, we were able to fund a trip that would've normally cost roughly $3,000+ to fund on our own. I had read about numerous people who were taking trips all over the world and were able to travel for free and I seriously questioned it working, not to mention the ease of which it could be done. After going to Vegas for next to nothing, I can safely say I've been hooked on free travel! In fact, I'm currently working on a way to get us our fall vacation for free and a trip to Europe for 2015.
I've been asked numerous times how we were able to fund this trip, so I thought I'd just share it in the form of a blog post. That said, if you do struggle with credit card debt, then no free trip is worth racking up more debt – plain and simple! We were able to earn rewards through our everyday spending that we'd normally be doing anyway which is great considering we didn't have to spend like crazy to earn the trip.
Where Did We Stay in Vegas?
Mrs. Frugal Rules and I enjoy going to Vegas every so often as you can usually get a really nice room for a pretty reasonable rate. We've stayed at a number of hotels in Vegas, with the Bellagio being our favorite, hands down. We've only been able to stay in the "normal" room in the past, but wanted to do something nicer for my birthday. So, we ponied up for the Salone Premier Fountain View Suite. An aside, we used the $20 sandwich trick (well, it was more than $20) to upgrade from this room to get an even better room. There'll be a post in the near future on that.
All that said, we wanted to get our week started a little early though (as we had originally planned on getting to Vegas on a Monday) so we stayed that previous Sunday night at The Monte Carlo as we like to try a new place each time we go there. All totaled, the four nights of lodging would've cost us nearly $1,700.
Ouch, that is a chunk of change! However, it was all paid for thanks to three different credit cards. The first card we churned was the Barclaycard Arrival World Mastercard. This was my wife's card as we had used mine to cover our FinCon hotel costs. We had just over $500 in rewards point on that card, thanks to the $400 you get after spending $3,000 in the first 90 days.
The balance of the rewards points came from our American Express Blue Sky cards. The current offer ($100 in rewards after spending $1,000 in the first 90 days) isn't as nice as the one we scored ($400 in rewards after spending $1,000 in the first 90 days and no annual fee to boot). We had roughly $1,100 in rewards on all our cards added up to us getting the rooms for free. (Well, we had to cover the resort costs of about $100 for the trip, but not too shabby in my opinion.) 🙂
How Did We Go to Vegas?
Living in Omaha, we definitely had to fly to Vegas and we can usually get fairly good rates in doing so. We love to fly Southwest, but the cost was going to come in at just over $700 for the two of us to get there. This is where the Southwest Rapid Rewards card by Chase came into play. The Southwest card is one of the best airline credit cards available as the points are just so valuable. We managed to get the card when they offered 50,000 points after spending $2,000 in the first 90 days. This is what the spending got me:
$800 worth of air travel rewards for me and anyone else traveling with me
The points can be used for any of their destinations
6,000 bonus points every year on Anniversary – this works out to a wash when you consider the $99 annual fee
Rewards points can be used on other things like gift cards, hotel stays or car rentals
I will stress that you will need to sign up for Southwest Airlines Rapid Rewards frequent flyer program first, which is free, in order to take advantage of the free travel. Once I met the minimum spend, I called Southwest to book the airfare and it was a painless process which was done in about 10-15 minutes.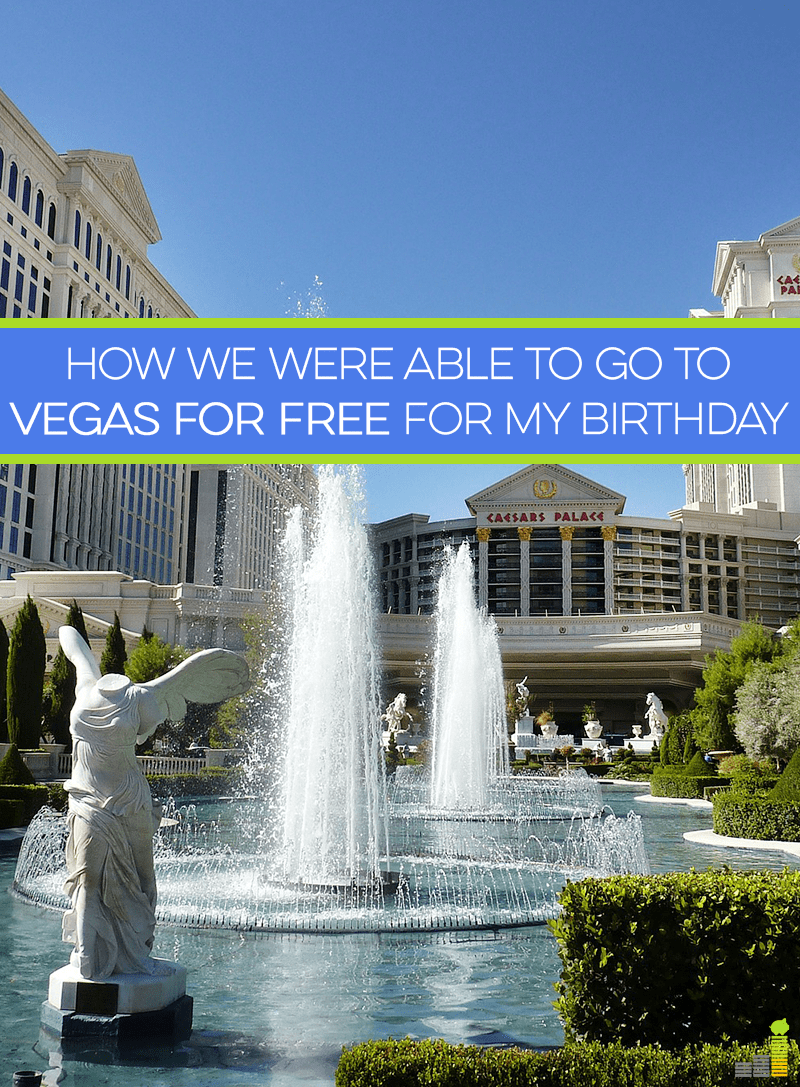 Nothing in Vegas is Cheap
If you have gone to Vegas, you know nothing there is cheap and I mean nothing. But, there are ways to save money while there. The final piece to our credit card churning was our Chase Freedom cards. We love the Chase Freedom card as you get 1% cash back on everything with rotating 5% categories every quarter. For that reason, along with no annual fee, it's our daily go-to card. Between the two of us we had a little over $700 in rewards cash that we had accumulated over the past year or so, which we used as our spending money for this trip.
We wanted to have fun since we were there for my birthday, but didn't want to go hog wild either. The first and main cost was food. We wanted to enjoy a few nice meals, but also wanted to cut down on the number of meals we had to two per day. To help towards that end, we discovered the Buffet of Buffets. That is a grouping of a number of buffets you can dine at for roughly $50 per person over a 24 hour period. We were able to time it ahead so we could have lunch, dinner, breakfast and lunch the following day and get four meals out of it. We did drink while there, but kept it to getting drinks while we gambled (for the most part)so we only had tips to deal with as opposed to the cost of the drink itself.
The other big spending cost was entertainment as we knew that we wanted to see a show while there. Cheap tickets can cost in the $100 per ticket range, but I was not willing to accept that. So, I did some searching online and on Vegas.com to locate some discounts. Vegas.com had some very nice discounts, but the best one we found was through Travelzoo that got us Penn & Teller tickets for just over 40% off. So, tickets that would've normally cost us $200 cost us a little under $120.
Outside of the resort fees, the only real cost we incurred was the money we took for gambling which was a couple hundred dollars which we basically viewed as entertainment and the cost of the show. Taking a look back at what we got to do while staying in Vegas and that it was nearly all on rewards points I can say that I'm hooked and finally hooked Mrs. Frugal Rules as well – which is the real win in my opinion ;-). We normally wouldn't take such a "nice" trip, but thanks to some credit card churning we were able to go on one for virtually free. Now that we're looking at some longer trips, we're on to our next churning exploits and hoping to be able to do it more often now. 🙂 If you're interested in finding a card you can use to churn for your next trip you can check some out here.
When was the last free trip you were able to take thanks to credit card churning? What's the latest card you're working on, I want to know!
The following two tabs change content below.
John is the founder of Frugal Rules, a dad, husband and veteran of the financial services industry whose writing has been featured in Forbes, CNBC, Yahoo Finance and more.
Passionate about helping people learn from his mistakes, John shares financial tools and tips to help you enjoy the freedom that comes from living frugally. One of his favorite tools is Personal Capital , which he used to plan for retirement and keep track of his finances in less than 15 minutes each month.
Another one of John's passions is helping people save $80 per month by axing their expensive cable subscriptions and replacing them with more affordable ones, like Hulu with Live TV.
Latest posts by John Schmoll (see all)