A House is Not Always an Investment
As we sat there in our lenders office I had a sick feeling in the pit of my stomach. That feeling? That we were going to get very little, if anything, from the sale of our house. In all honesty, it's not that surprising that our house was not the cash cow many believe they can be.
We bought at the height of the housing boom. We put nothing down and got a lovely starter home. As you can understand, it was only inevitable we wouldn't realize any sort of gain.
The gain, if you can call it that, came out to a robust 1 percent per year. Then came the words from our lender, "A house in Omaha, or many other regions for that matter, is simply not an investment."
Why A House Isn't an Investment…in Most Places
We're told in many circles that a house is an investment. 'If you want to go anywhere in life,' they say, 'you must buy a house.' It's as though buying a house has become a right of passage in many circles. A lot of this goes back to the foregone belief that owning a house is part of the American Dream. This message is spread by the media, politicians and beyond.
There's one small problem with that message. A house, in many instances, is simply not an investment – it's quite an expensive luxury in fact. Unless you live in a high demand area, or some other unique circumstance, a house isn't going to be an investment in the true sense of the word.
An investment, in the purest sense of the word, should provide you a tangible return. Whether that is investing in yourself to advance in your career (and make more money), investing in the stock market to create income flow or some other income-producing venture, an investment is something that provides real return on some sort of regular basis.
This isn't to say you can't invest in real estate. There are many who do quite well at that, but that's not my point here.
Put Yourself in a Winning Situation
There's one major problem with the belief that you need to buy a house to follow the American Dream. It's assuming everyone wants the same thing and if you don't follow the crowd there's something wrong with you.
We saw it ourselves when looking for our new house. We were told that if you're truly middle class your new house will have a three-car garage. Really? Class level is determined by the number of cars you can house in your garage?
I get the argument on one level since bigger is usually viewed as better, but why concern ourselves with what the Joneses are doing? They aren't paying your mortgage, so you need to do what's best for your situation.
In some instances that may mean it's time to buy a house. In other instances it may mean it's better to rent. Ultimately, it comes down to doing what's right for you.
You need to put yourself in a winning position and many times that may mean the flexibility that renting affords will suit your needs best. But, in order to know what will be best, you need to look at what's best for you and run the numbers to ensure it makes sense.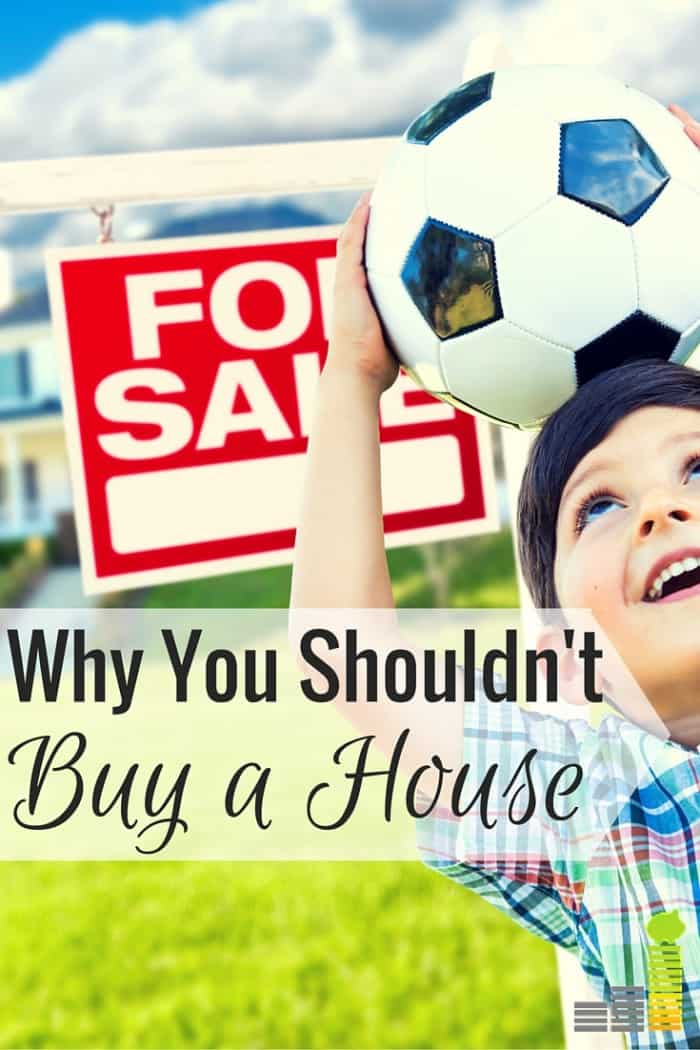 Why We Chose to Buy Another House
We spent substantial time debating if we should buy a house or not. We looked at our finances, our goals and what we want in our daily lives. We knew going into it that we won't see a meteoric increase in the value of our new house in the near future.
That negative aside, we chose to move forward with buying a new house. In terms of an investment standpoint, we're not viewing it as a traditional investment. Life, however, isn't always about money but it's about putting yourself in the best situation possible.
We have a relatively unique situation with three young children and we work from home running virtually two businesses, as a result, we need something to fit with that. That must also fit with our desire to be completely debt free within the next ten years. As such, a rental was not the best fit for us. We wanted something that provides the flexibility we desire while at the same time putting us in the position to reach our goal.
This is where the house as an investment hype gets lost. You need to do what's best for you not what's best for someone else. In a changing culture the flexibility of renting may very well be the best thing for you, especially if the other option will saddle you with something that holds you back – and there's nothing at all wrong with that. Rather, you should focus on ways to increase your income to help you reach your ultimate long-term goals.
Do you believe you need to buy a house to pursue the American Dream? Are homes in your area considered a true investment? If you currently rent, do you ever see a time when you'll buy a house?
The following two tabs change content below.
John is the founder of Frugal Rules, a dad, husband and veteran of the financial services industry whose writing has been featured in Forbes, CNBC, Yahoo Finance and more.
Passionate about helping people learn from his mistakes, John shares financial tools and tips to help you enjoy the freedom that comes from living frugally. One of his favorite tools is Personal Capital , which he used to plan for retirement and keep track of his finances in less than 15 minutes each month.
Another one of John's passions is helping people save $80 per month by axing their expensive cable subscriptions and replacing them with more affordable ones, like Hulu with Live TV.
Latest posts by John Schmoll (see all)