How to Homeschool on a Budget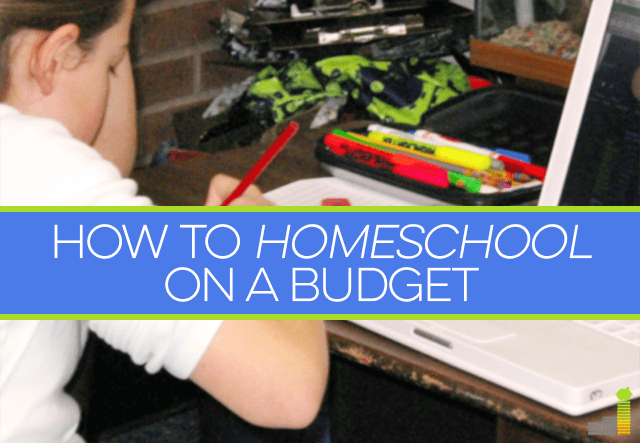 The number of families choosing to homeschool their children is growing each and every year. According to this report, nearly 2 million U.S. children are homeschooled these days.  Families choose to homeschool for a variety of reasons. Some parents believe they can provide a better education at home than their local school can. Others want to provide a religious-based education and still others want to offer one on one instruction and attention to their children without paying the hefty price tag that comes with private school. Some think that homeschooling is expensive, and don't get me wrong: it can be expensive, but families can learn to homeschool on a budget.
Since starting our journey to debt free, we've had to get more creative than ever in terms of learning how to homeschool on a budget. Here is how we save money while teaching our children at home.
Homeschool on a Budget
Utilize Free Resources
The library, Netflix documentaries and curriculum-sharing among homeschooling cohorts are all valuable ways to teach your child at home for free. Along with that, many of the things you do at home on a regular basis are free and can also be considered part of your homeschool curriculum.
For instance: think about the things you learned in Home Economics. Those are things that many moms and dads do on a regular basis at home. Take your child under your wing and teach them how to bake, can and preserve foods, how to iron, how to do laundry, etc., and you are indeed giving your kid a Home Economics education, for free! Take advantage of all of the free resources available for teaching your kids all that they need to know to graduate college-ready, and save your money for the things that most people can't teach on their own, such as math and science.
Buy Curriculum Wisely
There are many expensive curriculum programs out there for the homeschooling family, but there are also many very affordable curriculum choices. We choose to buy math programs, for instance, that are replaceable for the elementary age kids. Singapore Math workbooks are about $9 a piece and are of the highest quality learning. For secondary math, however, we chose Teaching Textbooks, a computer-based program.
Teaching Textbooks runs us about $180 for each course, but we can use it for all four kids, so it's worth the money. The most expensive curriculum is not always the best, so do your research, get the opinion of homeschooling mentors, and buy wisely. Too many homeschooling families get caught up in the "new and shiny" curricula they see at the homeschooling conferences and buy a lot of curricula they never end up using.
Be Choosy About What You Teach
Many homeschooling families feel that if they're going to be "successful" homeschoolers, they've got to teach their kids every living piece of knowledge on the face of the earth by the time they graduate high school. This is simply not true, and it's that overzealous view that causes many homeschooling parents to quit homeschooling long before they want to, simply because they're burnt out.
Make a list of the ten most important subjects you want to send your child out into the adult world knowing about, and base your curriculum choices on that list. For instance, do your kids really need a comprehensive 3-year course on Art History when they have no interest in an art-based career?
No, not really. So don't spend $300 on a course that will teach them that. Make a list of your education priorities and then do your research from there. Not only will you have a more successful homeschooling journey, you'll save huge cash in the process.
Whether you're a veteran homeschooler, a newbie, or simply considering homeschooling, know that you can homeschool on a budget and still give your child a fantastic education.
Have you ever considered homeschooling or do you homeschool? How do you save money on your kids' education? What are you willing to spend more on when it comes to curriculum or education?
The following two tabs change content below.
Laurie is a wife, mother to 4, and homesteader who blogs about personal finance, self-sufficiency and life in general over at
The Frugal Farmer
. Part witty, part introspective and part silly, her goal in blogging is to help others find their way to financial freedom, and to a simpler, more peaceful life.