When and Why You Should Consider Hiring a Financial Advisor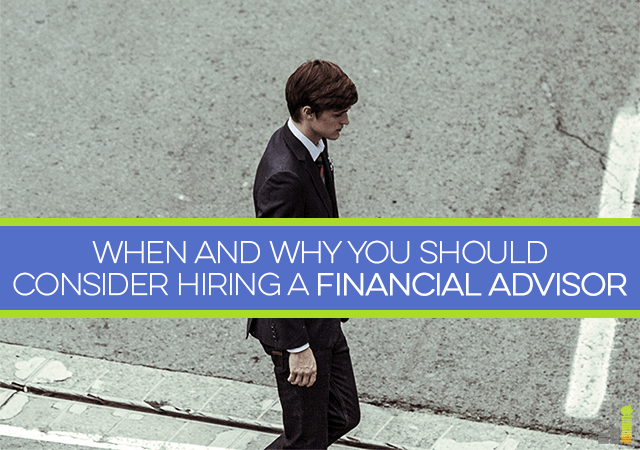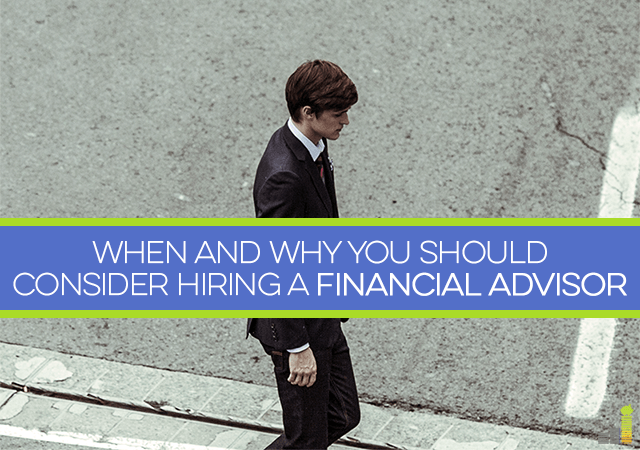 Have you ever thought about investing in your financial future by hiring a financial advisor?
Lately, there has been a lot of talk about the rise of robo-advising. John has even reviewed several online solutions that are convenient for the DIY investor.
However, there are arguments being made against robo-advising, as it falls short of providing the total solution financial advisors can.
For that reason, I thought it would be interesting to take a look at when and why we should consider hiring a financial advisor. Many of us in the personal finance community are fans of a DIY/hybrid approach when it comes to managing our portfolios, but perhaps we stand to benefit from enlisting help.
Can Everyone Use a Financial Advisor?
When you think about a financial advisor's typical client, the image that probably comes to mind is some old, rich, slightly snooty person.
That's no longer true.
Financial advisors are trying now, more than ever, to appeal to everyone. They're making their services more accessible by working virtually and becoming more affordable.
Not all financial advisors are interested in serving the ultra-wealthy, either. There are quite a few out there interested in helping Gen X and Y manage their savings and meet their financial goals.
Recent studies predict Baby Boomers will be transferring an enormous amount of wealth to millennials over the next 30 years, which means the need for financial services will be even greater.
As a millennial, this is something I'm glad to see. I know not everyone wishes to manage their investments and savings on their own. Some of us need affordable guidance!
I think just about anyone can use the help of a financial advisor. There's nothing like having a second pair of trained eyes review what's going on with your money. When it comes to securing our financial futures, we shouldn't take chances.
Unfortunately, there seems to be an issue of trust with financial advisors. You may be aware that certain advisors get paid to recommend financial products to us because they get a commission from the sale, not because the products will help us.
What You Should Look for in a Financial Advisor
That's why it's so important to know exactly what to look for in a financial advisor. You shouldn't trust just anyone with your money!
First, you need to know the basics of how financial advisors get paid. The three most popular fee structures are fee-only, commission-only, and a hybrid of both (fee-based with commission).
A fee-only financial advisor is your best bet. Why? They have a fiduciary responsibility to keep your best interests in mind. They don't make a commission off their recommendations, so you can be sure they're not suggesting products to you for the wrong reasons.
As you can tell from the name, commission-only and fee-based with commission advisors can make money from the products they recommend to you. There's an inherent conflict of interest there.
If you are looking for a financial advisor (or have one), ask them how they get paid. They shouldn't be hesitant in telling you this information – it's your right to know.
You want a financial advisor who is willing to be completely transparent with you.
What's Their Background and Area of Expertise?
You need to know the background of your financial advisor, such as what their track record looks like, what their values are, the type of clients they usually service, what degrees and certifications they have, and how much experience they have. (Editor's note: A great way to find out a lot of this information is by using the FINRA Broker Check. The site allows you to research either firms or individuals and learn more about their standing within the community.) 
You should be able to connect with them on a somewhat personal level. After all, they're not only helping you manage your investments,they're (hopefully) helping you figure out how to live the life you want with the money you have. They should be right there with you celebrating any wins you experience!
Consider this: if you're looking to retire early, you want a financial advisor who will help you get there, don't you? You don't want one who thinks the concept of early retirement is silly.
Also, consider your personal financial situation. Is it a bit out of the ordinary?
If you're in a same-sex marriage, are self-employed, or own a large business, you want to make sure your financial advisor is an expert in those areas. They all require specialized knowledge that other financial advisors may not have.
For example, tax implications are going to be different for each of the above situations. If you're self-employed or are a high earner, how you invest for retirement might look a bit different.
When Should You Consider Hiring a Financial Advisor?
Finally, we need to cover when you should think about hiring a financial advisor.
I'll admit I'm not currently thinking about it, only because my finances are fairly simple to manage right now.
I'm in the middle of paying off my student loan debt, and I've only opened a Roth IRA so far.
However, once I'm able to move full steam ahead on saving for retirement, you bet I'm going to ask for help.
Investing is not my strong suit – I have no problem admitting I'm better off having a professional guide me.
If you're in any of the following situations, it could be a good idea to meet with a financial advisor:
You're nearing retirement and aren't sure if you'll be able to live off of your savings.
You're too busy with work, family, and other commitments to dedicate the necessary time to managing your portfolio.
You're not sure what investment vehicles are best suited for your needs.
You want to save for short and long-term goals, but aren't sure what actions you should take to get there.
You're younger and want to take control of saving for retirement early on, so you don't have to worry about making ends meet in your golden years.
You just received a large windfall and don't know what to do with it.
Generally, if you don't think your net worth or investments are growing at the speed you think they should, it might be time to enlist the help of a financial professional.
When you do, make sure you go about it in a responsible way. Hiring a financial advisor should be an investment in your financial future. You want to get the appropriate amount of value from their services.
Have you hired a financial advisor, or are you planning on hiring one in the future? Do you prefer to take a DIY approach? What's your take on planning for retirement? Are you hoping to retire early or at the traditional age? What's your plan for saving the money you'll need in retirement?
The following two tabs change content below.
Erin M. is a personal finance freelance writer passionate about helping others take control over their financial situation. She shares her thoughts on money on her blog
Journey to Saving
.