Like Homemade Pizza? Try My Healthy Pizza Recipe
Posted on December 21, 2014 by Nicole in
Lifestyle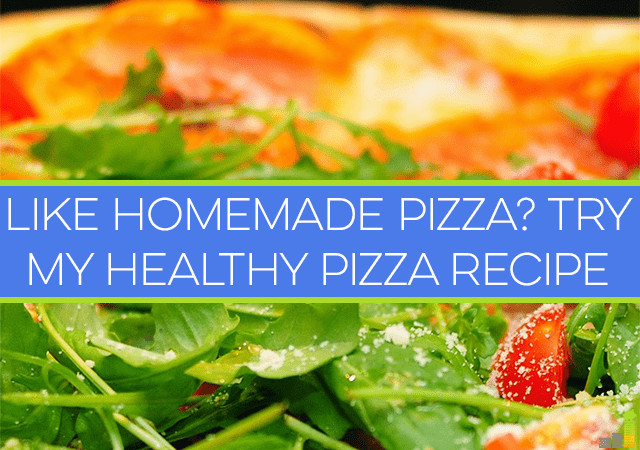 For as long as I can remember, pizza has been my favorite food. When I was a kid it was Chuck e Cheese's. When I attended college it was Round Table and BJs. After I met Mr. Frugal Rules, it was Pizzeria Uno and Pequod's in Chicago. (As you can see, my tastes have grown better with age 🙂 ). Today though, the pizza I eat most often is the healthy pizza recipe I make for myself every Saturday night.
It Starts with the Crust
My crust isn't as good as UNO's or Pequod's or probably even Round Table, but I bet all the nickels in my pocket that it's considerably healthier. I start with organic, whole wheat flour that I buy in bulk from Montana Wheat. Twice a year, I buy a 50 pound pail for $40 and split it with a friend. This gives me all the flour I need to make healthy, whole wheat pizza crusts all year long. I love the way it tastes and love even more how it makes me feel when I'm done eating it – satisfied and not guilty. We also use the Chicago Metallic Non Stick Pizza Pan fairly regularly as we do enjoy a good deep dish pizza.
If you're wondering how I keep all that flour fresh, I'll share my secret – a $3 bucket from Home Depot.
Whenever I need some flour, I just open the airtight pail and get what I need. I also have a stand up freezer in my garage that I can store flour, milk and other items I buy in bulk as needed. At the end of the day, I know I'm not using the cheapest flour on the market but I am getting a good deal on healthy, great-tasting flour.
How to Make My Healthy Pizza Recipe
While I've experimented with a variety of pizza recipes, my standby favorite is Barbeque Chicken. I've tried pepperoni and pineapple, vegetarian and many other types in between. Ultimately, my healthy pizza recipe is a combination of something good I found from online sources like this #YahooDIY article and tweaks I made myself. (As an aside, if you're looking for a great resource for healthy baking recipes that taste good, check out Sally's Baking Addiction – she's my go to for healthy pancakes and cookies 🙂 ).
Healthy, Whole Wheat Crust
Add the following ingredients to the bread pan of your bread machine in this order:
¾ C. warm water
1 TBS olive or coconut oil
1 TBS sugar
1 ½ TSP salt
2 ¼ C. organic whole wheat flour
1 TSP yeast
Select the "dough" setting on your bread machine.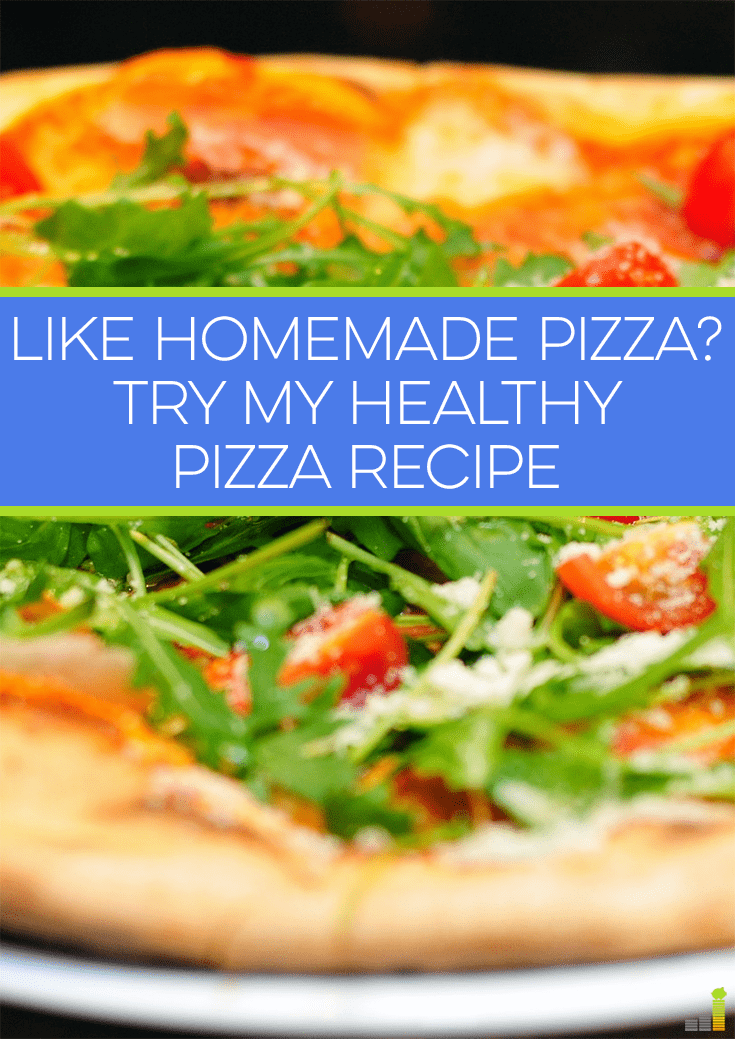 Nicole's Barbeque Chicken Pizza
I've experimented with a lot of different kinds of barbeque sauce and my two favorites are Stubb's and Gates because they are low in sugar and provide a good flavor without an overly strong vinegar taste.
Here are the ingredients for the pizza and how to prepare it:
1 bottle low sugar (6 grams or less of sugar per serving) barbeque sauce
1 chicken breast, cut into strips
1 bunch cilantro, chopped
1 red onion, cut into strips or diced
2-3 C shredded cheese blend
*Preheat oven to 425 degrees
Roll out the dough and put it into a pizza pan. Spread barbeque sauce onto the dough.
Set the pizza aside and grill a chicken breast, cut into strips on the stovetop. For flavor, I spread some of the barbeque sauce on the chicken. Once the chicken is cooked, cut it into bite size pieces and remove it from the stove.
Spread the cooked chicken on the pizza, followed by the diced red onions, chopped cilantro and shredded cheese.
Bake this bad boy in an oven that has been preheated to 425 degrees for 15 – 17 minutes or until the cheese is bubbly and the crust is golden brown. My oven is wonky so just keep an eye on it and check it at about 14 – 16 minutes in.
Pull the pizza out, let it cool for 3 – 5 minutes, slice it and serve. In our house, we enjoy pairing it with one of our homebrews or a new beer we're trying.
Wrap up the rest of the pizza in foil, pop it in the fridge and enjoy the leftovers throughout the week (if you have any left over that is). 🙂
That's it – my healthy pizza recipe. If you decide to make it for yourself I hope you enjoy it as much as I do. If you tweak it and think it's awesome, let me know in the comments. I'm always open to suggestions when it comes to pizza!
What's your favorite pizza recipe? Would you buy organic whole wheat flour in bulk? What are some of your best resources for healthy recipes of your favorite foods?
Thank you Yahoo! for sponsoring this post. While this was a sponsored opportunity from Yahoo!, all content and opinions expressed here are my own.
The following two tabs change content below.
Nicole Schmoll is an experienced professional copywriter who writes regularly for clients in the finance, IT, healthcare, trades and retail industries. Check out samples of her work and services at
Ink Harmony
.