Happy Labor Day!
Posted on September 2, 2013 by John Schmoll in
Holidays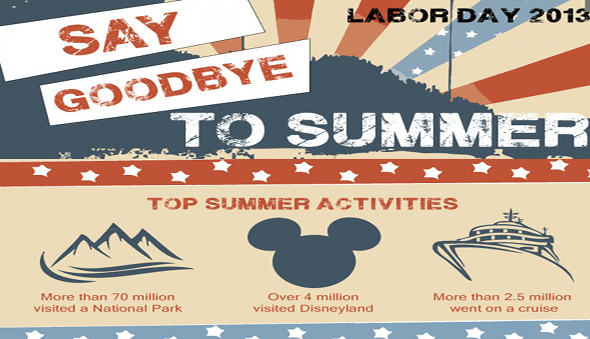 Happy Labor Day to all my American readers, and to my non-American readers, Happy Monday! Being as it's a holiday for many of us, I thought I'd spare you all from my normal and sometimes verbose prose and share this cool little infographic I found last week. What I like about Labor Day, other than the day off I would get while in the corporate world, is that it's the unofficial beginning of fall for many of us. I don't know that I'd agree with that this year though, as it hit 100 degrees in Omaha last week and shows few signs of letting up.
While that weather is perfect for the watermelons, tomatoes and peppers growing in our back yard garden, it's not as good for me. That said, I love fall and everything it brings. I love the cooler weather, the changing colors of the leaves, the upcoming holidays and football! For those of us, like me, that love watching a good football game, the summer is long and arduous as we await the new season. That said, I do like summer because of things like grilling and travel, which is part of what this infographic touched on. So, as many of us march towards the fall, I hope you're enjoying your three day weekend. Ours will likely be filled with some sort of grilling and enjoying time with family.
What stood out to you most about the infographic? Am I the only one that thinks 162 cans of soda in one summer is a bit much for someone to consume, or finds $635 on back to school supplies just a bit much?
The following two tabs change content below.
I'm the founder of Frugal Rules, a Dad, husband and veteran of the financial services industry. I'm passionate about helping people learn from my mistakes so that they can enjoy the freedom that comes from living frugally. I'm also a
freelance writer
, and regularly contribute to GoBankingRates, Investopedia, Lending Tree and more.
Latest posts by John Schmoll (see all)