Happy Birthday Frugal Rules!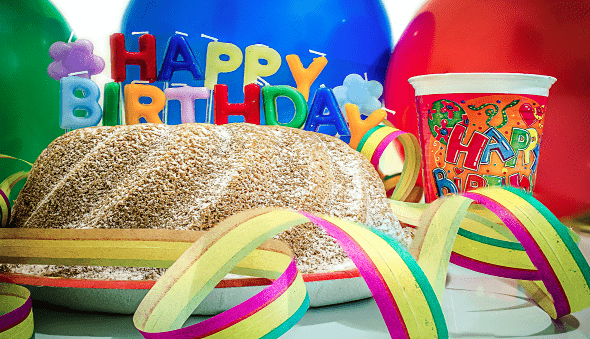 Happy Monday everyone! It's hard to believe that it was a year ago this Wednesday that Frugal Rules first saw the light of day. What was intended to only be something I did on the side so I could continue to talk with people about money quickly showed me what happens when you make assumptions. 😉 I had no idea how to start a blog as this was the first website I ever started and had only been reading personal finance blogs for a few months.
Now, one year later I have published 377 posts and have had the pleasure of virtually meeting a quality group of people and even meeting a few in person. I look forward to connecting with many of these same friends in person at FinCon next month.
One thing I did not realize before starting this little site was just how much of a role networking played and how there are many other bloggers out there who're willing to help out and who are great to work with. I could take a page to highlight some of those bloggers, but I'll spare you a list.
Of course, it hasn't been just other bloggers that have been very helpful, but you my readers are what bring me back day in and day out. My desire when I started Frugal Rules was to help others avoid the same crazy mistakes I've made in the past and commit themselves to living financially disciplined lives of avoiding credit card debt like the plague, being frugal when it calls for it and investing for their futures. The regular emails I get from readers show me these topics are relevant and timely. To those readers who come to find wisdom from the community we have built here, I thank you as you're the ones I am writing for.
Last, and certainly not least, I'd like to thank the love of my life – Mrs. Frugal Rules. While she may refer to the blog as my mistress, she is the life blood behind this site. Not only has she put up with me working on the site at all hours of the night, but she is also my editor. If it were not for her, then I am certain large numbers of people would be quickly running from the site due to bleeding from their eyes because of my wordy phrases and run on sentences. So, to you my dear, thank you! I know…I am a romantic at heart. 🙂
It's been said that making it through the first year of blogging can be an accomplishment. Many see it as a potential get rich quick scheme and that all you have to do is throw up a site and the money will instantly start falling from the sky. Of course, you can make money blogging, but it's not the get rich quick scheme that some assume it is and thus why I assume many give up on blogging long before they hit the year mark.
As I look to the future of Frugal Rules, I am excited to see what's in store. There will be some changes (hopefully only good ones) but the same sentiment will be prevalent throughout – living a financially balanced and disciplined life.
As a thank you to all my readers, I am throwing a little giveaway to show my appreciation for you coming to my site each day. The giveaway runs through the end of September, which means you have about three weeks to win. The prize – a cool $150 – payable in PayPal cash!
There are many ways to win, as you'll see in the Rafflecopter below. It is open to anyone worldwide. If you're a US citizen, you have the option of choosing an Amazon gift card if you do not want the PayPal cash. You will also notice that the big point earner of the giveaway is the new Frugal Rules newsletter that I plan on starting this month. The newsletter will be an extension of the site with money-saving tips and ways to grow your money.
The newsletter is free and there will be a $25 cash prize drawing every month and are open to win each month you're a subscriber. Good luck everyone and thanks again for being a part of the positive, empowering personal finance community we're building together. Here's to many more years of Frugal Rules!
Photo courtesy of: Dennis Skley
The following two tabs change content below.
John is the founder of Frugal Rules, a dad, husband and veteran of the financial services industry whose writing has been featured in Forbes, CNBC, Yahoo Finance and more.
Passionate about helping people learn from his mistakes, John shares financial tools and tips to help you enjoy the freedom that comes from living frugally. One of his favorite tools is Personal Capital , which he used to plan for retirement and keep track of his finances in less than 15 minutes each month.
Another one of John's passions is helping people save $80 per month by axing their expensive cable subscriptions and replacing them with more affordable ones, like Hulu with Live TV.
Latest posts by John Schmoll (see all)