7 Habits of the Rich Anyone Can Adopt
Want to be rich? Don't we all. It's easier said than done, but it all begins with your mindset and your habits.
Yes, it helps to have an inheritance, wealthy parents or a successful family business you can one day take over, but it's not absolutely necessary.
I used to think I could never become rich because I grew up not having much money, but now I know that's not true. If you start off with nothing or when you're paying off debt, it may take longer but it's not impossible.
Having more money won't necessarily make you more happy or a better person, but I believe it will help eliminate a lot of stress related to money and help you live a life that caters to your values.
If you want to become rich some day, here are a few simple habits and characteristics you can adopt to get there.
1. Spend Less Than You Earn
Spending less than you earn is where it all starts. If you live paycheck-to-paycheck, you'll never get anywhere financially and you'll probably be stressed out about money all the time so it's imperative to either lower your expenses or increase your income (or both) so you always have money left over after you meet your basic needs.
If you have trouble spending less than you earn, you can fix that by making a realistic budget. A budget is basically a plan for your spending so instead of spending money blindly each month, you know exactly where your money is going. It's a great way to see your entire financial picture each month, regain control over your money and keep your spending in certain categories low. If you're looking for help starting a budget, a free online tool like Personal Capital makes it easy to track and analyze expenses and find opportunities to save.
2. Be Frugal
Being frugal and spending less go hand in hand. In order to spend less than you earn, you most likely need to adopt a frugal mindset. Frugality not only involves spending less on things you don't need, it also involves spending mindfully on what you value so you don't feel deprived.
Sometimes people become frugal out of necessity and that's how I started adopting a frugal mindset. I needed to spend less money to get ahead financially but not at all costs so I decided to live a frugal lifestyle and cut back on my spending for non-necessities.
Frugal living helps you save more and saving is key if you want to build wealth. Frugality will help you get out of debt, start an emergency fund, save money for retirement and do so much more with your finances and your life.
3. Start Investing Early
I mentioned before how important it is to start investing early rather later by sharing some scary statistics. Aside from having enough money to retire or send your kids to college, investing early can also contribute to your overall wealth.
It's nearly impossible to become and stay rich if you don't invest. While you shouldn't invest blindly, you can start by maxing out your retirement account.
Then, you can look into opening an account with a trusted brokerage firm that will allow you to build and diversify your portfolio. John has blended research and personal experience together to create some extensive reviews on the top brokerage firms so you can compare their features and services to your current needs.
4. Have an Entrepreneurial Mindset
Many wealthy people have an entrepreneurial mindset. This doesn't mean they are running around starting businesses left and right (even though it can). It just means they are often drawn to entrepreneurial activities and outcomes that involve innovation and provide value to themselves and others.
In order words, they think past the 9-5 mindset. Working a traditional job has many benefits, but someone with an entrepreneurial mindset may have a side hustle or invest in real estate in addition to working their job to diversify their income and earn more.
The average millionaire has seven different streams of income so whether you want to run a business, have side hustles, invest, etc. all of these actions can help you get closer to becoming rich.
5. Be a Networking Genius
Wealthy people are often great networkers. Whether they love to network and meet people or not, they do it because it helps them get ahead. Despite the very digital world we live in today, it's still important to continually create and build relationships with other people face-to-face because business often comes down to who you know.
The more people you know, the more you learn and sometimes you never can tell if the person you meet will be your next business partner, connection, employer, client, customer etc. You can network on and offline in a number of ways including attending webinars and connecting over social media, going to conferences, and attending meet-ups or local events.
Even if you're an introvert like me, networking gets easier the more you do it.
6. persevere
I'm sure we all learned about perseverance in grade school. When I was growing up, I learned this song about never giving up and I can't get it out of my head right now. But that's basically what perseverance is – never giving up and sticking to your goals even when things don't go as well as you planned.
It's easy to set high standards and then back out when you can't reach them or encounter some unexpected bumps in the road. It's important not to give up even if you fail a few times. Rich people fail all the time, but they don't let it stop them from pushing forward.
If you set clear goals for your finances and understand that the path might be rough at times, you'll have a better chance at persevering in the long run.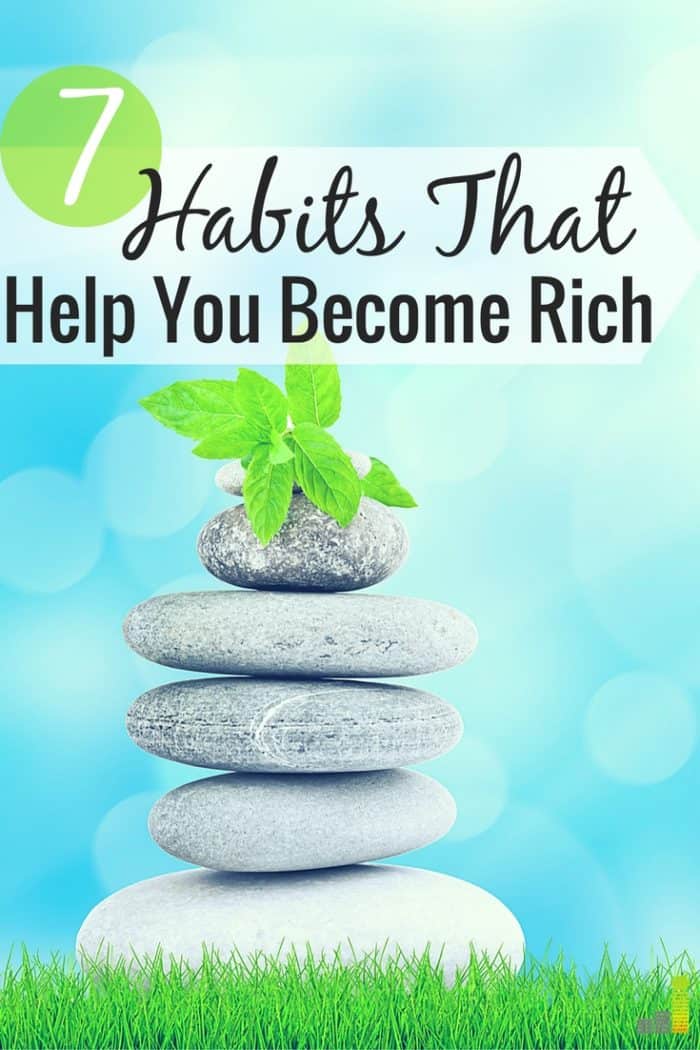 7. Be Modest
Modesty is key. Most rich people are not like the celebrities you see on TV flaunting their houses and mansions. If you follow some of those celebrities closely, you'll see that quite a few of them have had money problems because they were too busy showing off and putting forth an image as opposed to managing their money properly.
I love the phrase 'millionaire next door' because regular rich people look and act just like you and me. They drive basic cars and engage in frugal activities so no one would ever guess they were rich.
Being modest, no matter how much money you have or don't have is the best way to live because it helps you avoid undesirable qualities like bragging and focus on maintaining and growing your wealth (instead of trying to keep up with the Joneses).
Do you have any of these habits or characteristics? How have they helped you improve your finances? What are 1-2 habits you see that hold people back from building wealth?
The following two tabs change content below.
Choncé is a freelance writer who's obsessed with frugality and passionate about helping others increase their savings rate, eliminate debt, and work toward financial stability. She chronicles her journey with balancing motherhood, work, and finances on her blog, MyDebt Epiphany.com