Saying Good-Bye to the Spender and Hello to the Saver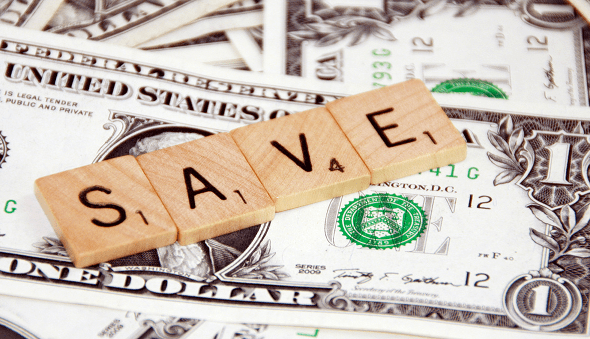 The following is a contribution from my good blogging friend, Mr. CBB from Canadian Budget Binder.
We don't have to look at our bills to know whether or not we are a spender or a saver. We either are or we aren't. Not everyone has the ability to spend and save at the same time but it is possible to do. If you find that your debt isn't going anywhere but up then making a change is likely a step in the right direction. Saving means just that, saving money so it grows, not saving money on something you buy because it's on sale.
I remember a time when we used to think that we were big time savers and that we couldn't do any better than we were at the time. We were wrong. We were spending more money than we should have been and saving less than we thought. This is the wrong kind of attitude to adopt and essentially what manufacturers love from consumers. In all honesty we didn't know how much we were saving each month. All we would do is look at the bank account numbers and do a high-five because the number was higher than the month before.
The Easy Life
Sure many people might be saying that's what we do and it works for us. It did work for us. I mean we didn't dig ourselves into any major debt holes but we potentially could have after we bought our home.
When we were renting we didn't have many bills to pay so life was good. It wasn't until we bought our house that we went from being spenders without an agenda to savers with long-term and short-term goals.
Even though we had both previously owned homes it was so easy to get back into the "no responsibility" mode when we were renters. There wasn't much care in the world to be honest but we did want to save as much money as we could. We would come and go as we pleased and the only bills we had were the ones we created on our own such as credit cards, cell phone, gas, car insurance etc.
Spending with our Eyes Half Open
We knew what we were doing but there were no goals or no money plan in effect for us. Although we didn't go out to eat often we did go out on occasion and essentially just picked anything off the menu that we fancied. Our "live a little" mentality motivated us to chill out and take a break.
We still do this today but on an entirely different level, with a budget. There's nothing wrong with that as long as you know where the money is going. We thought we did but now that we look back we realize that we really didn't.
When we needed shoes we would go and buy shoes but hope that they were on sale and getting the best price in town. The flyers would come to the place we rented but we didn't so much go through them because we didn't need much.
There was no set way that we looked for deals nor did we really push ourselves to the extent we do today. It was easier to pick the best product for the cheapest price when we went shopping.
Times have changed but that only comes with experience and knowledge, I think. I guess that was as far as we went when it came to comparison shopping. I'm sure we blew more money than we should have looking back but hey, you can't win them all. Financial education is so important to us now.
It wasn't until we started budgeting that our world stopped for a moment and we said, "wow, what have we done?" that things started to change.
Spending to Saving
From spending money to saving money all in one year it happened with the start of a budget and the drive to balance our lives. There is no need to take away spending because it doesn't have to be a "naughty" word in the budget. Spending for us now is fun because we know the money is ready to be spent and all our other bases are covered.
Now we know how much money we are investing, how much is going to all of our future purchases which we call projected expenses. Although we can't turn back time if we were to do it all over again we'd go back and change three things to make it right.
#1 – Plan
If we would have taken steps to plan better for our future by setting realistic goals both long and short-term and working towards achieving them it would have helped us to see areas we needed to improve.
It's not just about saying it and doing it, it's about writing it down and visiting the plan and changing it as you see fit.
#2 – Budget
What can I say about a budget that I haven't said before? I'm sure we could have saved much more money if only we were using a budget. We are both quite disciplined individuals who can appreciate patience while working towards the end results. Although it's different for everyone a budget was the cornerstone to the success of our current finances.
I don't think we will ever stop budgeting although we do plan to continue making the process as simple as we can.
#3 – Educate
If only we knew more about personal finances, whether through reading more books or simply asking questions. One of the hardest things for me to understand is why I never did learn more about who was handling our money and what they were doing with it.
We simply rely on others to do the best they can with our money to help us live a happy retirement, free from money worries. What we didn't do was take control by learning more about where the money is going and how it's being invested or saved.
Now I do my best to read books and read other personal finance blogs and newspapers to keep on top of as much finance as I can. It's all a part of learning.
We realized that we really didn't need to say good-bye to the spenders that we were in order to save money. All we needed to do was plan what we wanted to achieve, document it and follow through. It was a simple concept and it still is today; in fact, it's even easier now that we've been working on it together learning about our money over the last few years.
I think if we hadn't stopped to analyze our spending habits a bit closer we may not have realized just how much we were actually spending and not saving.
This is a Guest Post By: Mr.CBB is the voice behind Canadian Budget Binder who says that "It's not about how much money you make it's how you save it." Mr.CBB shares budgeting tips, frugal lifestyle, relationships, recipes, parenting, personal finance and so much more for his over 4500 fans all around the world. After all "money is money, debt is debt" no matter where you live.
Editor's note: I love Mr. CBB's thoughts here. Mrs. Frugal Rules and I had a similar journey and are now firmly entrenched in the saver camp. For us, it took seeing where our path was taking us and knowing that we wanted more than just living in the moment.
Photo courtesy of: 401(k)2012
The following two tabs change content below.
John is the founder of Frugal Rules, a dad, husband and veteran of the financial services industry whose writing has been featured in Forbes, CNBC, Yahoo Finance and more.
Passionate about helping people learn from his mistakes, John shares financial tools and tips to help you enjoy the freedom that comes from living frugally. One of his favorite tools is Personal Capital , which he used to plan for retirement and keep track of his finances in less than 15 minutes each month.
Another one of John's passions is helping people save $80 per month by axing their expensive cable subscriptions and replacing them with more affordable ones, like Hulu with Live TV.
Latest posts by John Schmoll (see all)