How Getting Financially Real Empowered Me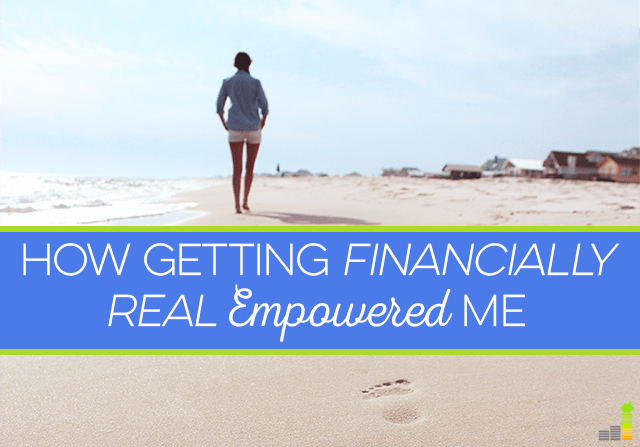 I'm thrilled to be participating in the Financial Literacy Awareness Carnival hosted by Shannon from The Heavy Purse this year, especially with a theme as awesome as "getting financially real."
There are too many people trying to run away from their financial problems, and we need to address it.
I think just about everyone is aware that burying your head in the sand isn't going to solve any problems.
What will solve your problems is being honest with yourself.
Getting financially real is hard, especially if we've made awful financial mistakes the past. However, we're only human, and we need to be able to forgive ourselves and move on in a constructive way.
The sooner you get financially real, the better. Taking control over your financial life isn't easy, but it's the best thing you can do to give yourself a shot at success.
Here's how getting financially real empowered me.
My Student Loan Epiphany
Many graduates with student loan debt didn't realize exactly what they were getting themselves into, myself included. Unfortunately, that's not an excuse. Ignoring your student loan payments isn't going to make them go away.
In my case, I graduated with $18,000 in student loan debt, and was content making minimum payments until my 10 year repayment period was over.
Except…one day, I realized how much interest I was paying toward my loans. I sat down and calculated how much interest I'd pay total over the life of my loans, and couldn't believe the number.
As I had never had any debt before, I didn't know exactly how interest worked. Well, let me tell you, that was an eye-opening experience.
I decided I didn't want my student loans hanging over me for the next 10 years, and I didn't want to pay that much in interest.
So I took control. I did my research and found others who were paying extra toward their loans. I learned how they were making it possible, and committed to doing the same.
That moment paved the way for where I am today. No joke, getting financially real made an enormous difference in my life, and not just financially. Let me explain how.
I Developed an Amazing Work Ethic
Not that I wasn't a good worker before, but since I had committed to paying off my student loans quickly, I wanted to prove my worth at work to increase my chances of receiving a promotion.
I'm happy to say, it worked. At my second job, I was a receptionist for three months. I then received a promotion to a different position and was given a raise.
I worked overtime whenever I could. I came in early, I stayed late, and my bosses took notice. My efforts were rewarded with gift cards after particularly grueling months, which freed up cash to put toward my loans.
I Realized I Wanted More
I was having fun earning more. Seeing all that overtime add up only gave me more drive. I know, it sounds like I became a workaholic, and to an extent, I did. But I don't regret the path I took, as attacking debt meant more to me than going home a little earlier.
Unfortunately, the company I worked for was small. The opportunity I had been given early on was by chance – someone had been let go, and they needed to fill the spot. There wasn't really more room for advancement.
I'm going to skip ahead here for the sake of brevity. Last year, I ended up taking a leap of faith. My boyfriend received a promotion and had to transfer to a different state, so I left my job and looked to self-employment as an option.
I had witnessed many other bloggers experience success with freelancing, and challenged myself to do the same. From their monthly income reports, I knew it was possible to make much, much more than I ever did working for someone else.
In a sense, getting financially real about my student loans empowered me to make a drastic change. Not only was I taking control of my debt, but also my career.
Making a Living for Myself
As most know, self-employment is not a walk in the park. Far from it. For almost six months, I struggled to put myself out there and find work.
Thankfully, everything seemed to fall into place after a while, and I've been growing ever since. I'm happy to say I succeeded in my challenge to earn more from freelancing than I did at my old job.
This is something I never thought was possible. Before I started blogging, I had no idea people were making so much money online. I never thought of myself as an entrepreneur, and I never thought I'd trade the stability of a paycheck for more flexibility outside of work.
It's important to note getting financially real helped me reach this point. I only started blogging to hold myself accountable, and to inspire others. If I hadn't had that original epiphany about my student loans, I wouldn't be here writing to you all today.
Don't underestimate the power of getting financially real.
You Owe it to Yourself
You really do owe it to yourself to be honest about your situation. Debt or lack of saving isn't something to be ashamed of. Again, we all make mistakes. I don't want to imagine what my life would look like if I had never bothered to calculate how much interest I'd be paying on my loans.
I've encountered a few people who didn't even want to speak about their student loans. They were that disappointed with their college experience. They regretted it so much, they couldn't face the truth. Instead, they set their payments on autopilot, and never took another look at them.
That's no way to get ahead in life. If you're not getting financially real, you're not taking your finances seriously enough. Turning a blind eye to your situation does more harm than good because you're not in control.
I know getting real about your finances can be difficult and scary. However, it's necessary if you want to improve. The hard work it takes to get there is worth it, and I can say that from experience.
I'm much more knowledgable about my finances than I was just two years ago. I'm stronger overall – I know I can survive a financial emergency, and I know I'll eventually conquer my student loans. My attitude about debt has changed for the better. I know what my financial values are, and my spending aligns with them.
I'm grateful to be in a good financial situation, and I owe it to getting financially real early on. It's empowered me in ways I never thought possible, and it can do the same for you.
What did getting financially real look like for you? How has it helped you? What did you get out of college? What's your plan of attack for paying down your student loans?
The following two tabs change content below.
Erin M. is a personal finance freelance writer passionate about helping others take control over their financial situation. She shares her thoughts on money on her blog
Journey to Saving
.