13 Fun Summer Activities That Are Free
If your family is like ours, you're always looking for some fun summer activities to keep the kids busy and stretch the budget a little further. Sure, we could do something like go to a local amusement park or sit in an air-conditioned theater but those activities can add up awfully quick.
Instead, we like to look for free summer activities that allow us to spend time together and create memories. You'll notice that many of these activities involve unplugging and actually getting outside. The last thing we want is to rely on is something digital to entertain us when there is so much to do outside – not to mention that it can provide some great opportunity for exercise. If you're looking for some fun summer activities for kids, or simply for yourself, hopefully these will get your creative juices flowing.
Free and Fun Summer Activities
Geocaching. I've written about Geocaching before. Think modern day treasure hunt. Geocaching is free, though they do offer a $10 app if you want, but it is not needed by any means. All you need is a GPS and something to replace what you take, that is of equal value and you're good to go. We have about 150 geocaches in Omaha, so I'm sure there are plenty in your area. If you're looking for a fun afternoon, give Geocaching a try.
Go for a hike. This is pretty self-explanatory. Depending on where you live, there could be many hiking options.
Go to the Library. Many libraries offer free summer activities for kids from reading times to movies. It varies by area, of course, but could provide for a fun afternoon or two.
Go to the Farmer's Market. This is one of our favorite summer activities. Our Farmer's Market is in the older downtown district and is fun to walk around. You can buy a variety of things if you like, but we often just go to walk around and people watch.
Go to the park. This can be any old neighborhood park to let the kids play or you can go for a walk to find a new park; you can even check out a nearby state park. We do the latter a number of times throughout the summer as many have different historical exhibits or displays. The best part – they're often free or very cheap.
Go to a concert. I'm not talking about a rock concert, but one put on by your city. There are a variety of summer concert series here in Omaha that offer free music to enjoy. Some will sell food, but we often take our own and have done it both with and without the kids.
Go to the museum. Museums, well most at least, usually have a cost associated with them. But, in the summer, they know many parents are looking for ways to keep their kids busy and offer free admission days – you can't beat that!
Go to the lake. Even in land locked Nebraska we have plenty of lakes to choose from. Instead of going to the pool and paying to fight the crowds, find a local lake and make a day of it.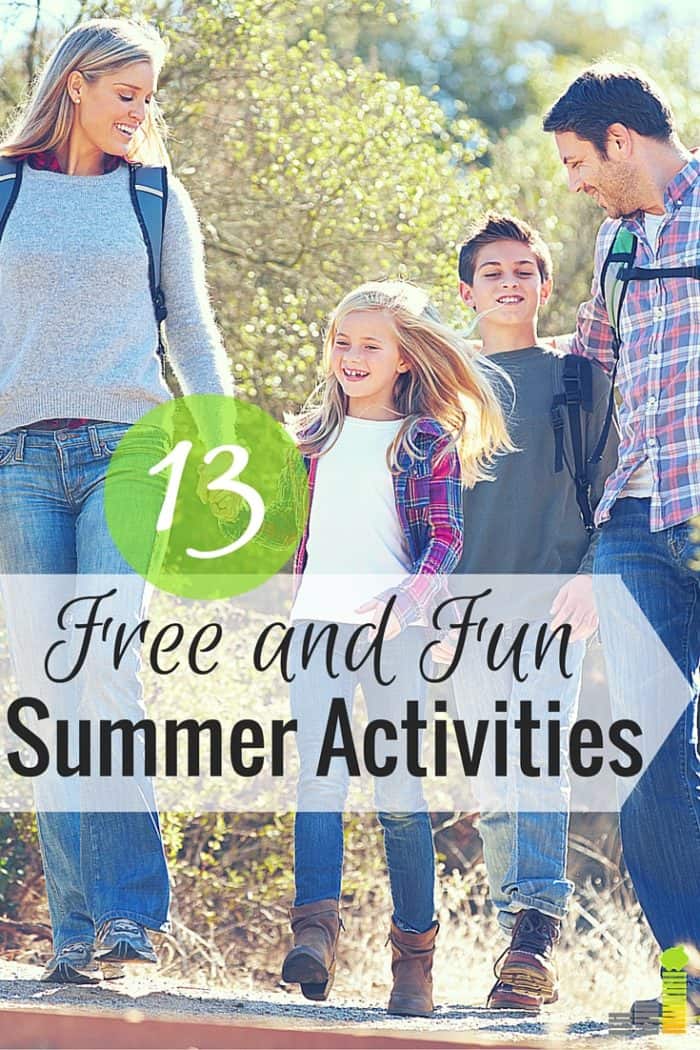 Go on a family bike ride. This is one of our favorite fun summer activities, especially as the older ones are riding bikes now. You can either ride around the neighborhood or find a good trail to explore. Other than the gas to get there it's completely free.
Go see free fireworks. I used to love shooting off fireworks, not so much anymore. Not only is it exponentially safer, but it is usually free.
*Do you collect stickers, or love to decorate with them? Read our guide on free sticker offers by mail for companies that send free stickers you can use grow your collection.*
You can even take a picnic dinner and make an evening of it.
Have a bonfire. This is something we really enjoy in our family. We just bring out the fire pit and enjoy a nice craft beer at the end of the day. Don't have a fire pit? You can get the same thing with a bonfire – throw in some s'mores while you're at it.
Watch a movie in your backyard. We'll do this if it's not too hot. Take your DVD player or laptop outside and fire up Netflix or Amazon, put up a white sheet and you've got your own outdoor theater. You can take a laptop outside to do the same thing by using the best places to watch free streaming movies online and not spend a thing.
This list only scratches the surface when it comes to fun summer activities. Depending on where you live and what your family situation is there are many more possibilities. The best thing is that many of them are free. If you're looking to cut expenses entertainment is one of the easiest ways to do it.
What are some of your favorite fun summer activities? What other things you typically do in the summer? How much are the amusement parks where you live?
Save
The following two tabs change content below.
John is the founder of Frugal Rules, a dad, husband and veteran of the financial services industry whose writing has been featured in Forbes, CNBC, Yahoo Finance and more.
Passionate about helping people learn from his mistakes, John shares financial tools and tips to help you enjoy the freedom that comes from living frugally. One of his favorite tools is Personal Capital , which he used to plan for retirement and keep track of his finances in less than 15 minutes each month.
Another one of John's passions is helping people save $80 per month by axing their expensive cable subscriptions and replacing them with more affordable ones, like Hulu with Live TV.
Latest posts by John Schmoll (see all)