6 Fun and Frugal Christmas Traditions to Start This Year
Whether you like it or not, the Christmas season is in full swing with only a little over a week until the big day. We love celebrating different Christmas traditions in our house, especially those that are not giving in to the usual over commercialization of the Holiday. We're always looking for different frugal Christmas traditions to enjoy, so I thought I'd share a list of some of our favorites…though they might not all be necessarily frugal. 😉
Go Looking at Christmas Lights
This has become one of our more favorite Christmas traditions in the Frugal Rules home as our little ones have gotten a little older, especially the night after Thanksgiving. There are numerous neighborhoods in Omaha that spare no expense and hire out their Christmas lighting. We can easily spend two or three hours out looking at the lights, which the kiddos absolutely love. We bring them some hot chocolate and homemade Christmas cookies and it makes for a fun evening.
Watching Movies
This is probably one of my favorite Christmas traditions we celebrate. Who can ever get enough Elf or Christmas Vacation come the Holiday season? I could say you could be frugal and get the movie at the library or rent it through Amazon or Redbox, but let's get real, we watch them every year, so we've bought them at Best Buy so we can enjoy them at any time we want. Of course now, we get to compete with Charlie Brown and Polar Express when the kids are involved.
Decorate Your Christmas Tree
Decorating your tree to celebrate the Holidays…real original I know. But, it's one of our newest Christmas traditions in our house now that the kids are old enough to be involved in helping us decorate the tree. We make an evening of it by having a special dinner that we've made together, listen to Christmas music (ok, this is Mrs. Frugal Rules' part as listening to Christmas music makes me want to drive a railroad spike through my ears) and then go on to decorating the tree.
Give Back
It's important to remember when you're looking for new Christmas traditions, that it's just as important (if not more so) to give as it is to receive. Knowing that, there are many opportunities to give back during the Holiday season and often very frugally. There are various ways you can give back, such as:
Volunteering at a local soup kitchen
Buying a gift to take to a local shelter
Donating gently used winter clothes
Purchasing a meal at a local shelter (the ones in Omaha send out asks for help with this and it can usually be done for only several dollars a meal)
Go caroling at a local nursing/retirement home
Really, that's just a sampling of the things you can do to give of your time or resources during the Holiday season. My tip is to include the kids and you'll likely see it becomes one of their favorite Christmas traditions as well.
Make Your Own Christmas Ornaments
Ok, so I am not particularly the most crafty person I know. In fact, I get no real enjoyment out of it but it can be a great way to celebrate the Holidays by making your own Christmas ornaments. Mrs. Frugal Rules started this last year with our oldest little ones and they love it and you can make it as simple as paper snowflakes or go all out – it's up to you. If Christmas ornaments aren't your thing then you can always go with the faithful standby of a gingerbread house – they even have kits at Costco which makes it so easy that even someone like me can do it.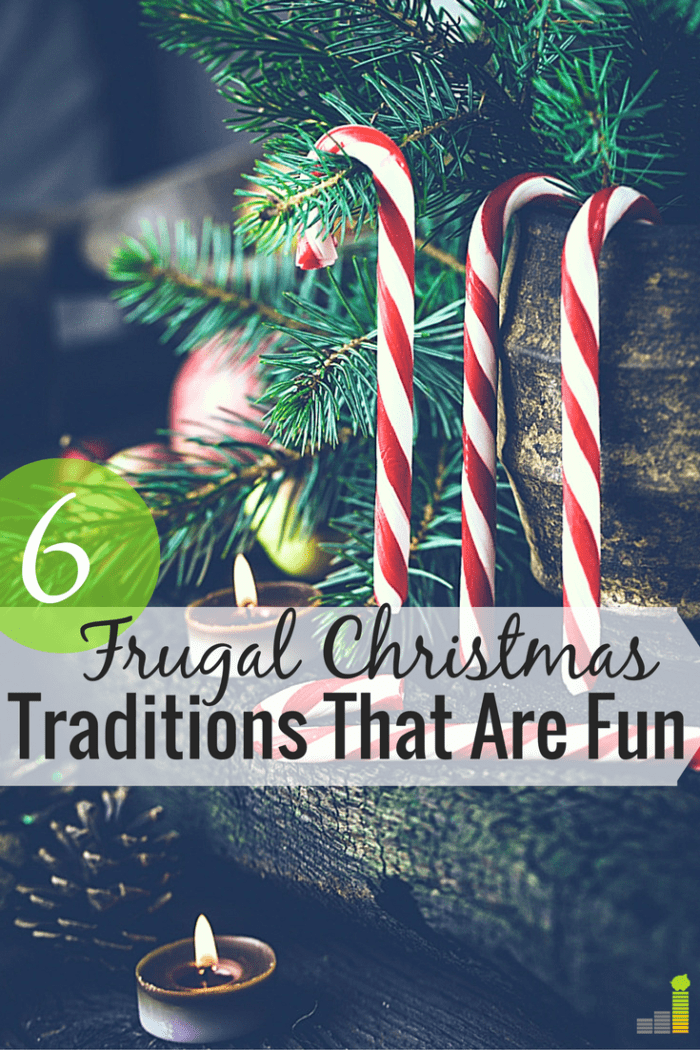 Create Your Own Christmas Traditions
If my list wasn't enough to get your creative juices flowing, there are a wide variety of things you can find to start Christmas traditions of your own. If you live in a bigger city, there is likely a large number of offerings that you can go to that range from free to being quite spendy. In Omaha alone, we have events offered from places like the botanical gardens to the zoo, not to mention other organizations around the city. Just check online or get a paper and you're likely to find something that you can start as a Christmas tradition fairly quickly.
What is one of your favorite Christmas traditions? What's your favorite Christmas movie?
Save
The following two tabs change content below.
John is the founder of Frugal Rules, a dad, husband and veteran of the financial services industry whose writing has been featured in Forbes, CNBC, Yahoo Finance and more.
Passionate about helping people learn from his mistakes, John shares financial tools and tips to help you enjoy the freedom that comes from living frugally. One of his favorite tools is Personal Capital , which he used to plan for retirement and keep track of his finances in less than 15 minutes each month.
Another one of John's passions is helping people save $80 per month by axing their expensive cable subscriptions and replacing them with more affordable ones, like Hulu with Live TV.
Latest posts by John Schmoll (see all)