Cutting the cord on cable doesn't mean you need to give up live sports or your favorite shows. Many people stay in their high-priced contracts to catch the latest game, or watch the current hit show. Thanks to streaming services, like fuboTV, that's not the case.
FuboTV is a growing player in the cable replacement space. At $65 per month, it's on the more expensive end. However, if you're paying the monthly average cable bill of $200, it offers significant savings. In this fuboTV review, we shed light on the service so you can decide if it's worth the cost.
What is fuboTV?
FuboTV is a video streaming service that matches much of what you get through a cable subscription. The service launched in 2015, focusing largely on niche sports content, such as soccer.
It remains the best online streaming service for watching soccer games, but it offers significantly more today. While the service shines for sports content, you also get access to dozens of news, entertainment, and lifestyle channels.
It's priced similarly to Hulu Live and YouTube TV. When you look at fuboTV vs. Hulu Live, the former shines for sports and added DVR storage.
Compared to YouTube TV, fubo doesn't boast the same unlimited DVR space, but it has several dozen more channels. Either three are good cable replacements; you just need to know what's important to you.
Packages
Channel availability is an essential player in choosing a cable alternative. The list of fuboTV channels doesn't disappoint. Here in Omaha it offers 115 channels in its base Family package, so it will vary based on where you live.
You won't find some Turner-backed channels, but the streaming provider claims to carry 43 of the top 50 Nielsen-ranked channels in its base package. In exchange for the loss of Turner networks, it did add many Disney-owned networks.
Here are the channels in the fubo Family plan.
| Channel Name | Channel2 | Channel3 |
| --- | --- | --- |
| | ABC | ABC News Live |
| ACC Network | AccuWeather | AMC |
| Animal Planet | BBC America | beIN Sports |
| BET | Big Ten Network | Bravo |
| CBS | CBSN | CBS Sports Network |
| Cheddar | CMT | CNBC |
| Comedy Central | Comet | Cozi TV |
| CW | Discovery Channel | Disney Channel |
| Disney Junior | Disney XD | E! |
| ESPN | ESPN2 | ESPN3 |
| Estrella TV | Food Network | FOX |
| Fox Business Network | Fox News Channel | Fox Sports 1 |
| Fox Sports 2 | Freeform | fubo Sports Network |
| FX | FXX | |
| Galavision | GetTV | Golf Channel |
| Hallmark Channel | Hallmark Drama | Hallmark Movies & Mysteries |
| HGTV | | IFC |
| Investigation Discovery | | |
| Local Now | MotorTrend | MSNBC |
| MTV | National Geographic | NBC |
| NBCLX | NBCSN | Newsmax |
| NFL Network | Nickelodeon | Nick Jr. |
| Olympic Channel | OWN | Paramount Network |
| Pop | SEC Network | Smithsonian Channel |
| Sundance TV | SYFY | Tastemade |
| Telemundo | The Weather Channel | TLC |
| Travel Channel | TUDN | TUDNxtra |
| TV Land | TVG | Unimas |
| Universal Kids | Universo | Univision |
| USA | VH1 | |
| WE tv | WGN America | Oxygen |
Here are the channels in the fubo Elite plan.
| Channels | channels2 | Channels3 |
| --- | --- | --- |
| American Heroes | Ginx eSports TV | Nicktoons |
| BBC World News | Great American Country | Teenick |
| BET Her | INSP | PeopleTV |
| BET Jams | Law & Crime | Revolt |
| BET Soul | Logo | SCI |
| Cooking Channel | MTV Classic | Sony |
| CNBC World | MTV Live | Stadium |
| Destination America | MTV 2 | Stadium 1 |
| Discovery Family | MTV U | Stadium 2 |
| Discovery Life | NBA TV | Stadium 3 |
| DIY | Newsy | Tennis Channel |
| Fuse | NHL Network | ZonaFutbol |
| Game Show Network | NickMusic | MLB Network |
| ACCN | Nat Geo Wild | Pac-12 Networks |
| ESPNU | ESPN News | FXM |
| SEC Network | | |
The available channels compete well with what you'll find at either Hulu + Live TV or YouTube TV. If you want to upgrade from the Family plan, choose the fubo TV Elite plan for $79.99 per month.
Add-Ons
Streaming providers often offer add-on packages to expand your viewing choices. FuboTV is no different. Here are the add-ons you can couple with the fuboTV channels:
| fubo_add-on | Price |
| --- | --- |
| Sports Plus with NFL RedZone | $10.99/mo |
| fubo Extra | $7.99/mo |
| International Sports Plus | $6.99/mo |
| Adventure Plus | $4.99/mo |
| Latino Plus | $19.99/mo |
| RAI Italia | $8.99/mo |
| TV5MONDE | $9.99/mo |
| Portuguese Plus | $14.99/mo |
| Entretenimiento Plus | $4.99/mo |
Depending on what you add to your service, it's easy to spend $100, or more, per month with fubo. This gets you close to the average cost of cable.
You might find some of the offerings for a lower cost elsewhere, but this would not allow you to view everything within the same interface.
The offerings in each add-on does vary over time. It's best to consult the fuboTV site for current offerings.
FuboTV Family Plan vs. Elite Plan
Like other popular streaming services, fuboTV offers a base package and an enhanced package. The former package is cheaper, but the latter provides some attractive features you may want. Here's a breakdown of the two package options:
Family plan:
115 channels, with 130+ in 4k (in Omaha)
250 hours of cloud DVR space
Simultaneous streaming on three screens
$64.99 per month
Elite plan:
161 channels, with 130+ in 4k, in Omaha
1,000 hours of cloud DVR space
Simultaneous streaming on five screens
$79.99 per month
You can try either plan through their 7-day free trial. If you don't like it, cancel and pay nothing.
Look and Feel
The fubo interface is intuitive and well-designed. It has a simple black, gray, and white color scheme, making it easy on the eyes.
The menu is separated into several tabs. Your experience will differ depending on the device you use to view content. On a web-based device, the tabs are Home, Sports, Shows, Movies, Guide, and Recordings.
If you're on a mobile device, they combine Shows and Movies into Entertainment. The Recordings tab will show as My Fubo.
Each main tab includes sub tabs. Home, for example, has Live TV, 4k on Demand, Live Sports, Popular Shows, and Popular Movies. On Sports, you can select games airing same day or future events.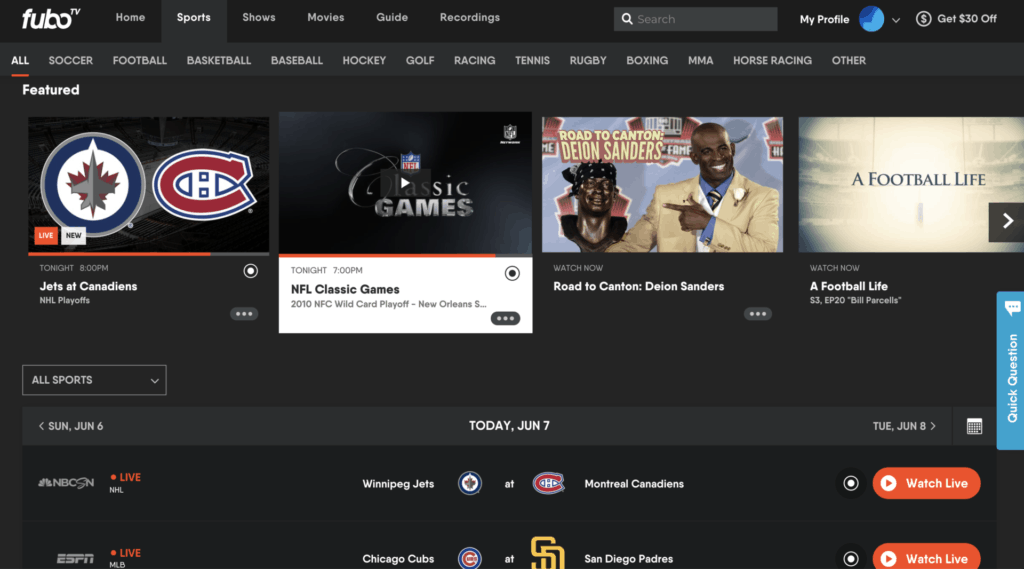 The guide isn't alphabetized, but you can create your own selection of favorite channels to help streamline searching.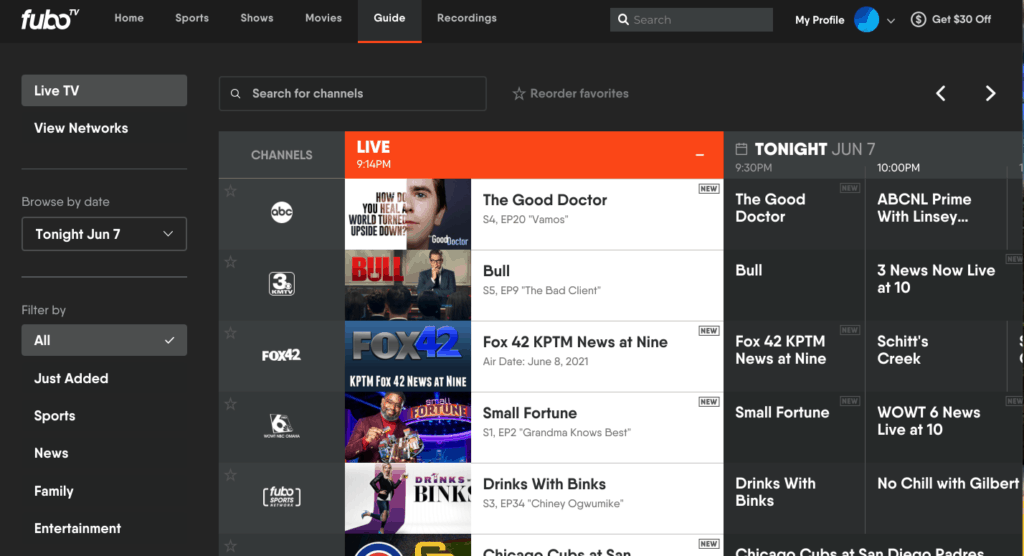 Lack of alphabetization aside, the fuboTV guide is simple to use and navigate.
Video Quality
FuboTV supports up to 1080p content, but that does depend on the channel and program you're watching. The streaming service also offers some events in 4K. The site lists the current options as over 130.
To view content in 4K you must use a 4K supported device, like the Apple TV 4K, Fire Stick 4K, or Roku Premiere. You can't record 4K content. It's also important to remember that there isn't a live TV streaming service that currently offers 4K ability.
Features
The cable replacement space is a competitive market. Streaming platforms augment their offerings to add features users demand.
Here are a few of the features that set fuboTV apart from the competition.
Cloud DVR
DVR capabilities are important for most cord-cutters. The fuboTV cloud DVR shouldn't disappoint. The standard storage capacity is 250 hours in the Family plan.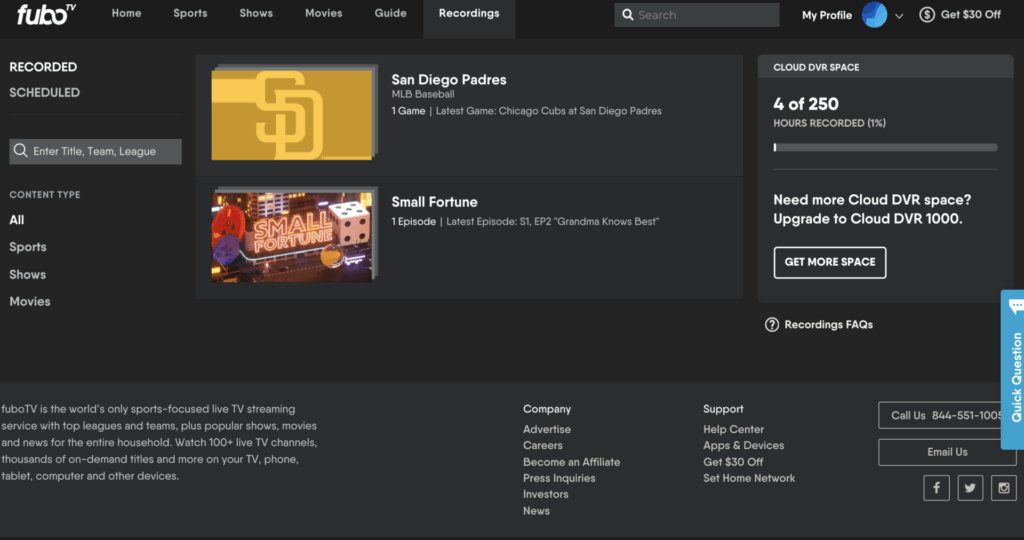 The service used to charge an additional $9.99 per month if you wanted anything more than 30 hours. That is no longer the case. If you choose the Elite plan you receive 1,000 hours in storage capacity.
You can fast-forward through commercials with either one. And, you can keep recordings indefinitely.
Multiple Profiles
Multiple family members can stream fuboTV simultaneously. You get three streams with the Family plan or five with Elite. This makes it a good Hulu alternative as that service only offers two streams before requiring an upgrade.
Similar to YouTube TV, you can have up to six different profiles under one fuboTV subscription.
Parental Controls
FuboTV does not currently offer parental controls, which is somewhat frustrating. Other streaming services, like YouTube TV and Sling do.
*Related: Can't decide between Hulu Live and Sling TV? Check out our Hulu Live vs. Sling TV guide to see a side-by-side analysis.*
It would be nice to see fubo offer parental controls in the future, especially for its on-demand content.
Lookback and Startover
This is a helpful feature offered by fuboTV. The Lookback and Startover features allow users to go back up to 72 hours in the past to watch any sporting event they may have missed.
To get there, click on the calendar icon in the sports section and choose the original airtime. If you want to view the event, simply click the Watch Now button.
You can't record this content, but it's a cool feature to watch an event you missed or forgot to record.
Supported Devices
FuboTV works with most major platforms, including:
Amazon Fire TV or Stick (all models)
Android devices (5.0 and later)
AppleTV 4th and 5th generation (4K)
iPhones and iPds (iOS 10 and later)
Chromecast devices
Web browsers (Chrome, Firefox, and Safari)
Roku Streaming Stick (model 3600X and later)
Samsung Smart TVs
Vizio Smartcast TVs
Xbox consoles
You can also use the TV Anywhere app as it lets you watch fuboTV from anywhere on most devices.
Pros and Cons
There's a lot to consider when choosing a streaming platform. Here are some things to think about.
Pros:
Lots of channels, more than any other service
Dozens of sports channels available in base package
Good mix of live news, entertainment, and lifestyle channels
Can have up to six profiles per account
Generous DVR storage
Intuitive interface
Some 4K content
Reliable streaming
Cons:
No Turner channels
Most live streams limited to 720p
On the expensive end of the tier
There is a lot to like about fubo. It is on the pricey side, but at the same cost as YouTube TV and Hulu Live. If you're a sports fan who wants a more robust DVR, it's worth considering.
How fuboTV Compares Against the Competition
FuboTV is a true cable replacement, especially for sports fans. It offers a lot of fantastic features, but if you find it doesn't meet your needs, there are other choices.
Here is how it compares against the other players.
| Service | Cost | Channels | Streams | DVR | Rating | Trial |
| --- | --- | --- | --- | --- | --- | --- |
| fuboTV | $64.99 | 110+ | 3 | 250 hrs. | 4.2/5 | Try |
| Hulu Live | $64.99+ | 80+ | 2 | 50 hrs. | 4.1/5 | Try |
| Philo | $25 | 60+ | 3 | Unlimited | 4.3/5 | Try |
| Sling TV | $35+ | 30-50 | 1-4 | 50 hrs. | 4.1/5 | Try |
| Vidgo | $55+ | 95+ | 3 | N/A | 4/5 | Try |
| YouTube TV | $64.99 | 85+ | 3 | Unlimited | 4.2/5 | Try |
Don't forget to use free trials to find a streaming service that works for you.
fuboTV Review
Channel Lineup

Price

DVR Space

Availability

Ease of Use
Summary
Get live TV and a robust DVR for half the cost of cable, and no contract!
Pros
✔️ More channels than any other service
✔️ 250 hours of DVR storage
✔️ Some 4K content
✔️ Terrific mix of live sports, entertainment, news, and lifestyle channels
✔️ Carries all local channels
Cons
❌ No Turner networks
❌ Expensive
Bottom Line
When it comes to sports, fuboTV won't disappoint. Even if you're not a sports fan, the service offers the most channels in the space in its base package, making it a good fit for most cord cutters.
It is on the pricier side, but compared to similar platforms, fubo holds its own. If DVR capability, 4K content, and multiple streams are important to you, try out the free 7-day trial now.
What do you look for in a cable replacement service? How much do you like to spend on streaming services each month?