13 Frugal Ways To Brighten Your Spouse's Day
If you've not looked at a calendar lately, tomorrow is Valentine's Day. I don't know about you, but I grow tired of seeing the ads leading up to the greeting card holiday.
The ads telling us that the only way to show our spouse we love them is to spend all sorts of money. So, men, unless you've dropped hundreds/thousands of dollars getting that special woman in your life some sort of flashy jewelry I guess she'll be disappointed. 😉
Seriously though, the average amount spent per person on Valentine's gifts, according to the National Retail Federation, in 2014 was $133.91 per person or $17.3 billion nationwide.
Trust me, you don't need to spend that much!
Mrs. Frugal Rules and I on the other hand refuse to give into the consumer driven focus behind the holiday. Why, because we don't need a calendar to tell us that we need to show each other that we love the other. No, we're not cold and unloving, we just do it on our own terms.
Anywho, I thought this would be a perfect opportunity for our Frugal Hacks series to share some of the things either Mrs. Frugal Rules or I have done for the other. As we refuse to give into the idea that you must spend money to show our significant other we love them we have a number of different frugal ways we like to do that very thing.
I'll also give you a helpful hint…don't just use these this weekend but do them throughout the year to spice up your relationship and show your better half just how much they mean to you. So, if you're looking for some frugal ways to brighten your spouse's day then hopefully some of the below ideas will get your creative juices flowing.
Frugal Ways to Brighten Your Spouse's Day
Do the dishes
I kid you not, this is one of the best things I can do for my wife. As a good friend of mine says, romance is kindled over the kitchen sink. Hate dishes? Then find a different chore and tackle it.
Give them a hug
Ok, cliché, but it works. And, it takes maybe 30 seconds of your time.
Buy them a rose…or two
I thought we were avoiding costly things? Well, you can buy roses individually at most grocery stores or florists and can do so for under $10 in most cases – just not on Valentine's weekend…
Give them time for themselves
This is one of my favorite gifts from Mrs. Frugal Rules. As I'm an introvert by nature I need time to myself to recharge. An hour or two alone at the house does the trick. The same goes if you have kids in letting your wife get out of the house for a few hours.
Turn off the TV
I enjoy watching a little TV at the end of the day before I collapse in bed. But, that leaves little time to have a conversation. Putting that desire aside and leaving the TV off does wonders and brightens a long day for Mrs. Frugal Rules.
Ditch Hallmark
Have you bought a greeting card recently? Yeah, a "cheap" one is easily $5 and many are closer to $10. Instead, take a few minutes and make one for your spouse using your own words. Admittedly, anything I make looks like crap but I cherish the ones Mrs. Frugal Rules makes for me.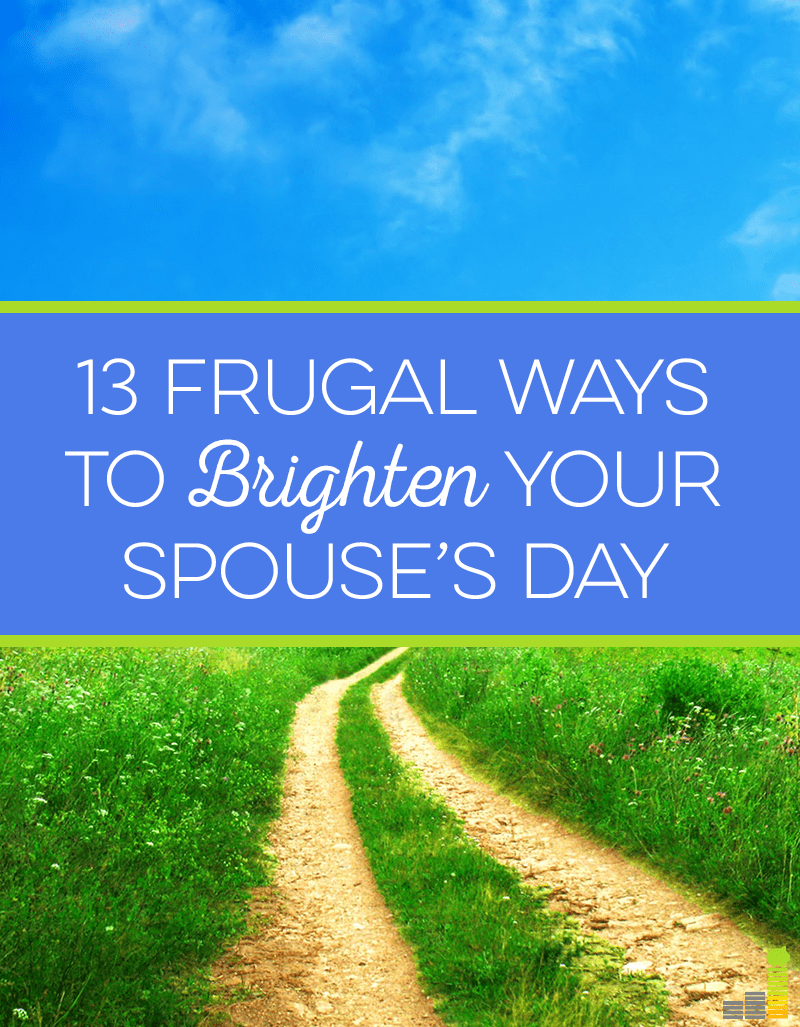 Buy them a coffee, beer, bottle of wine, etc.
In fact, you don't even need to buy one. In the case of coffee you can make it at home. Regardless, nothing brightens my day more than Mrs. Frugal Rules seeing I've had a long day and bring over one of my favorite beers. Of course, we both work from home…beer in the middle of the day is one of the perks. 🙂
Tell them you love them
Another cliché, but send them a text in the middle of the day telling them you love them. Short, simple and guaranteed to make them feel good!
Do lunch
You can either surprise them at the office with a picnic lunch or take them out. I loved doing this for Mrs. Frugal Rules when we were both in the corporate world as it made a long day that much better.
Offer to make dinner
This usually means I'll be manning the grill, but is a much appreciated gift that Mrs. Frugal Rules loves.
Plan a surprise date night
Who doesn't like a surprise? Well, I hate them, but these kind are great! It doesn't have to be an expensive one by any means, just plan something fun and frugal to end the day on a high note.
Impromptu Massage
Has your spouse or significant other had a stressful day? Stop what you're doing and give them a 5 or 10 minute massage. It's free, it'll help relieve their stress and will make the day that much better.
Compliment them
Ok, another cliché but it works. I'm talking to you men…notice something nice and mention it…women love it!
There you go – 13 ways for the 13th? 🙂 The point is to be creative and not bind yourself by thinking you need to spend all sorts of money to tell your better half you love and appreciate them…quite the opposite in fact.
What are some frugal things you do to brighten your spouse's/better half's day? Do you celebrate Valentine's Day? How much did you spend on your last greeting card?
The following two tabs change content below.
John is the founder of Frugal Rules, a dad, husband and veteran of the financial services industry whose writing has been featured in Forbes, CNBC, Yahoo Finance and more.
Passionate about helping people learn from his mistakes, John shares financial tools and tips to help you enjoy the freedom that comes from living frugally. One of his favorite tools is Personal Capital , which he used to plan for retirement and keep track of his finances in less than 15 minutes each month.
Another one of John's passions is helping people save $80 per month by axing their expensive cable subscriptions and replacing them with more affordable ones, like Hulu with Live TV.
Latest posts by John Schmoll (see all)