A Frugal Person's View on Holiday Tipping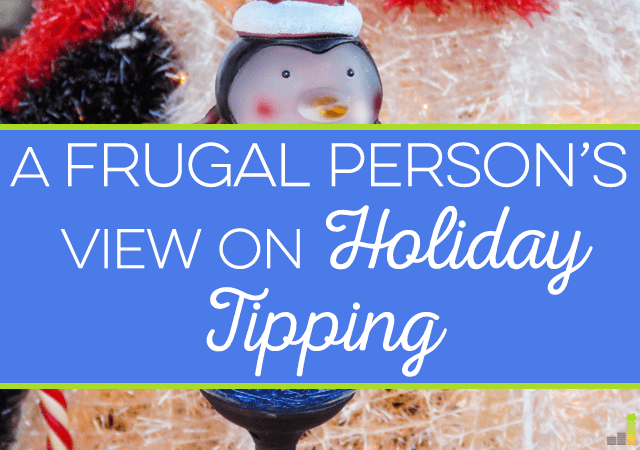 I love this time of the year, the Holiday season that is. I mean, who wouldn't love Christmas with having little hooligans running around the house? They get so much joy out of this time of year and it can be contagious. I also love the cool, crisp air, the falling snow and the many traditions our family has started over the years to celebrate at Christmas time. The holiday season gives us yet another opportunity to give thanks for how we've been blessed and that all that we have. Part of that giving thanks also comes in the form of thanking those around you. But, my question is how can you be frugal and still be involved in holiday tipping? Before I go any further, I understand that some may disagree with me and that's ok. I want to communicate that I am not trying to be a miser, but engage in holiday tipping wisely without busting my budget.
You Can Go Broke With Too Much Tipping
The media is busting with holiday tipping articles right now. It makes sense because there are no set rules when it comes to holiday tipping and tends to be based off of personal preference. What some articles suggest could possibly add up to hundreds of dollars if all are followed. Now to some, that might not seem like much but that's a good chunk of money for my family. We already spend a handsome sum (by my standards) on Christmas gifts, so holiday tipping is a luxury that we often can't fully participate in.
You Can Show Gratitude Without Giving a Tip
If you can afford it, the easy thing is to give your mail person a $20 bill because it takes no time. Gifts that really stick out to me (and mean more to me, as a result) are ones where I know that the giver put time and thought into it. With just a little thought you can express thankfulness without spending a lot of money. You can write the person a nice thank you card. You can also bake them a batch of cookies or some other baked good. If you run your own business that they might use you could also give them a free hour or two of your time. These are just a few ideas and I am sure there are more, but the point is that you can give thanks and still be frugal at the same time.
Isn't Holiday Tipping a Symptom of Our Entitlement Culture?
Now for the part that might rankle some people. I think the propensity of holiday tipping tends to be an underlying symptom of our entitlement culture. It seems like more and more places I go today the business or person wants a tip. In my line of work, you don't get a tip for doing your job, you get a thank you at best and usually it's being told what the client did not like. Why should I give you a tip just for simply doing your job? Take buying a coffee, or going out for ice cream as an example. That item is already costing me $3-$5, why should I throw a buck in your tip jar? That's a 20-33% tip just for doing your job; I want a job like that! I think it CAN come down to people feeling entitled to getting something for nothing or for simply doing their job.
Now that I've ticked some of you off, let me take a step back. My view on holiday tipping, and tipping in general, is that it applies to those that are already getting paid and usually quite well for what they're doing. So, sorry Mr. Mail Man, you're getting a batch of cookies at best because you do get paid well and when you're too lazy to get out of your truck, opting instead to honk at us to come out when we have a package, then I am not giving you a holiday tip. But, for those I've hired to do something personally for me, I will be giving you a holiday tip – and a nice one at that. I also apply that to those whose livelihood depends on tips, such as servers and drivers. So, if we go out for dinner this holiday season and the server gives us good service, then I'll give an awesome tip.
I am sure my views on holiday tipping may unsettle some. What's your view on holiday tipping, do you give to everyone or to no one at all?
The following two tabs change content below.
John is the founder of Frugal Rules, a dad, husband and veteran of the financial services industry whose writing has been featured in Forbes, CNBC, Yahoo Finance and more.
Passionate about helping people learn from his mistakes, John shares financial tools and tips to help you enjoy the freedom that comes from living frugally. One of his favorite tools is Personal Capital , which he used to plan for retirement and keep track of his finances in less than 15 minutes each month.
Another one of John's passions is helping people save $80 per month by axing their expensive cable subscriptions and replacing them with more affordable ones, like Hulu with Live TV.
Latest posts by John Schmoll (see all)