Why Being Too Frugal on Vacation is a Bad Idea
Posted on July 2, 2015 by Erin M in
Traveling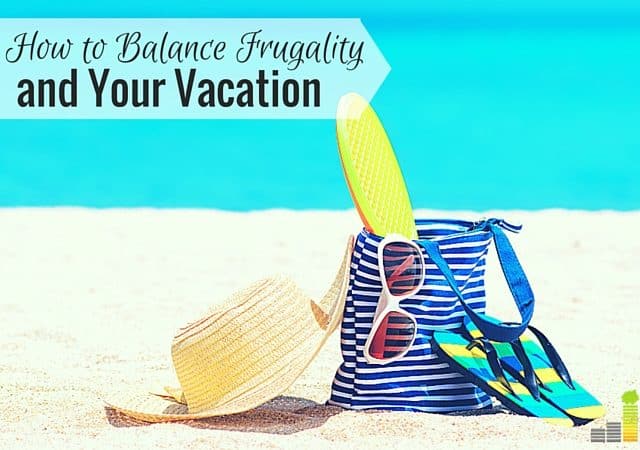 Hear me out – I'm all for being frugal and getting the best deals possible, especially where travel is concerned. Lodging, gas or plane tickets, eating out, and being a tourist can get expensive pretty fast.
That's why it's important to be strategic and plan out what you're going to do ahead of time. You want to avoid spending hundreds of dollars on something that's not really worth the money.
However, being too frugal on vacation can happen. I've only taken a handful of vacations on my own, mostly because I used to view travel as a luxury I couldn't afford. Every time, I've tried to take the cheapest route possible.
After a bit of reflection, I realized that was the wrong way to go about it. While trying to save money on various sights and attractions isn't a bad thing, you can go overboard with it. It's almost like the extreme couponing of vacation, if that makes sense.
In my experience, being too frugal on vacation has been a bad idea. Here's why.
It Can Defeat the Entire Purpose of a Vacation
A vacation is supposed to be fun and relaxing, right? But when you're busy writing down all your expenses, or checking your bank account, the fun can get sucked out of your trip quickly.
How many people actually do that while away? Well, maybe I'm an oddball, but that's exactly what I did during one vacation.
At the time, we were on a rather tight budget. The vacation itself was kind of spontaneous because it was a last minute birthday gift for me. I wanted to make sure we didn't go crazy with expenses during our short one-week trip.
That resulted in me writing down every expense, and tracking it to the penny. Tolls and gas added up quicker than I expected, and by the time we arrived, we didn't have much room left in our budget.
Looking at that sheet of expenses was downright depressing most of the time we were there, and we ended up not enjoying ourselves because we were too concerned with our spending.
You Lose Focus
As you can tell from above, our vacation didn't even feel like a vacation because we didn't get to do anything out of the ordinary.
Yes, we enjoyed the beach and walking around in unfamiliar territory, but that was about it. We purposely booked a hotel room with a kitchen so we could do a lot of cooking in. There's nothing wrong with that, but you should be able to plan at least a few restaurant visits.
Focusing on the numbers consequently makes you lose focus on your trip. I was so caught up in staying under a certain amount of spending that I kept saying "no" to so many adventures. There were a lot of memories that could have been made that we missed out on.
Don't let frugality get the best of you during a trip. If you have a habit of being uptight about spending like I do, try and relax. Realize it's a once-or-twice-a-year event that's meant to be somewhat of a splurge. As long as you're not dropping thousands on tours and souvenirs, or maxing out your credit card, you should be okay.
Travel is About the Experience
If you're worried about the numbers instead of enjoying yourself, you might need a change in mindset.
At the time of this particular trip, I was still in college and wasn't working. I wasn't setting myself up to enjoy the trip by being so miserly with everything from accommodations, to food, to our budget.
I didn't realize I'd be taking away from the overall experience of traveling. The purpose of this vacation, to me, was to relax and enjoy a change of scenery.
Except it turned out that my definition of that was to pretty much be "at home" in a hotel, somewhere else. Does that sound like a true vacation to you?
I was simply in the wrong mindset to take a vacation, if there is such a thing. While you shouldn't get carried away and make excuses for spending simply because you're away, you also shouldn't cheap out on everything.
Honestly, if you're spending a decent amount on a vacation in the first place, you should make that money count. Ironically, I was concerned about spending, but our lack of spending made the entire vacation kind of worthless. You should get the most out of your trip!
How to Avoid Being Too Frugal on Your Vacation
I'm going away in August and I plan on making this my best trip yet. You can be sure I won't be repeating these mistakes! What do I plan on doing differently?
For one, I saved ahead for this trip. I have more than enough room in my budget to have fun and say "yes" to more things.
If you're going to take a vacation, make sure you have the money to do it right. Getaways should be special, and limiting yourself isn't fun. If spontaneity is your style, have a dedicated savings account for travel so you can pull from it when needed.
I'm also a huge fan of planning ahead. Take a look at the things you want to experience on your vacation and price them out. This way, you can save appropriately.
On a separate vacation, I really wanted to take a jet ski tour out on the ocean to spot dolphins. I managed to find a few coupons for it beforehand, and I knew the price, so I was able to budget it in. I got to enjoy that amazing experience without any worry!
Travel hacking is another great way to leave yourself more room for doing things on your vacation. We all know accommodations and flights can take a huge bite out of our travel budget, and by using rewards points that you can earn through credit card promotions, it is possible to travel for free, or for pennies on the dollar. When you combine free airfare or lodging through rewards points with what you've saved for your trip, now that whole saved amount can go toward enhancing your trip! Here are some of the best rewards credit cards that will help you greatly reduce the cost of travel.
Lastly, just make sure your finances can handle a vacation. You don't ever want to feel guilty on your trip, or feel regretful after the fact. That takes away from the entire experience and feeling that way isn't worth it. Don't let anyone pressure you into going away, not even yourself!
Have you ever been guilty of being too frugal on vacation? How do you make vacations work for you and your budget? Do you like to plan ahead or jet off on a whim? What are your thoughts on travel hacking? 
Save
The following two tabs change content below.
Erin M. is a personal finance freelance writer passionate about helping others take control over their financial situation. She shares her thoughts on money on her blog
Journey to Saving
.