Frugal Gift Ideas For Dad
Posted on June 4, 2013 by John Schmoll in
Holidays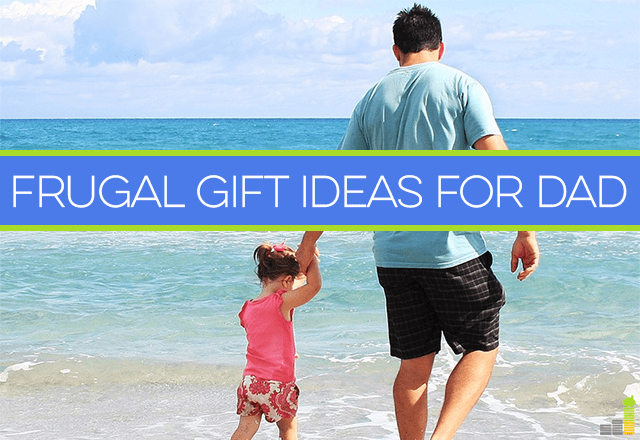 The following is a contribution from my good friend Sean at One Smart Dollar. If you're interested in contributing to Frugal Rules, please consult our guidelines and contact us.
Whether your Dad is the household handyman or the other end of the occasional pitch and catch, he most likely plays a large part in your life. What better way to say 'thank you' than by giving him a frugal Father's Day gift?
The biggest obstacle is that shopping for Dad can be quite the task. With my Dad you can forget about him offering any ideas about what he wants or needs. For me, each year is harder then the last to find that perfect gift that I haven't already bought him twice before.
To help you come up with a perfect gift that will not only show Dad that you are financially responsible, but also say I love you, consider one of these wallet friendly gift ideas.
Make Beer Together
If your Dad is a beer lover then the perfect gift might be a home brew kit. Not only will your Dad get to make his favorite brew, but he will also get the chance to spend some quality time with you during the process.
There are many different options when it comes to home brew kits, but one of the more popular brands is Mr. Beer. Home brew kits can vary in price but you can find good quality starter kits for around $40.
Redbox Gift Cards
If your dad is a movie buff then a great gift idea for him might be a Redbox eGift card. This will allow him to watch all of his favorite classics as well as new releases. Once he has finished using all of the credits you purchased for him, let him know that there are Redbox coupons available to help him save money on any future rentals.
Make Your Dad a Coupon Book
You can never go wrong when you make Dad a coupon book. It is a gift that comes straight from the heart and you are giving him a reprieve from some of his weekly duties around the house. You can give him a coupon that is good for mowing the lawn or washing the car. If your Dad is a golfer you can give him a coupon good for one free round of golf at his favorite golf course.
Make a DIY Gift
If you dad is more on the frugal side, then he will love it if you decide to give him a do-it-yourself (DIY) gift. There are endless options that will help say, 'I love you.' You could take one of your favorite photos of the two of you and put it in a frame that you have lying around the house.
Or, you could check out a thrift store, because they usually have stylish frames at reasonable prices. Another DIY option could be to bake him a sweet treat or put together a homemade BBQ spice rub. If he is anything like my dad then he loves both cookies and BBQ.
Buy Him Event Tickets
Most Dads would love to receive tickets to their favorite events. It could be a baseball game or a concert with his favorite band. The key is to be able to buy the tickets for as little as possible. One of my favorite websites to by baseball tickets from is ScoreBig.com. They allow me to bid on the tickets I want based on the section of the stadium.
Another option is Craigslist, as they usually have a huge selection of tickets at great prices. If you decide to go this route, make sure you are careful because there a lot of people looking to run Craigslist scams on you just to get your money in exchange for fake tickets.
Final Thought
Dad works hard both at the office and at home. Make him know that he is appreciated by giving him a great gift this Father's Day. By making it budget-friendly, you will prove to him that he has helped make you into a financially responsible adult.
What will you be getting your father for Father's Day this year? Is he as difficult as my father to shop for?
Sean Bryant is the founder of One Smart Dollar where he helps his readers increase their net worth one dollar at a time.
Editor's note: Sean offers some great options if you're still looking for a nice Father's Day gift without breaking the bank. I am always looking for ideas of gifts to buy my Dad and just might try one of the ones Sean listed.
Photo courtesy of: Mccun934
The following two tabs change content below.
John is the founder of Frugal Rules, a dad, husband and veteran of the financial services industry whose writing has been featured in Forbes, CNBC, Yahoo Finance and more.
Passionate about helping people learn from his mistakes, John shares financial tools and tips to help you enjoy the freedom that comes from living frugally. One of his favorite tools is Personal Capital , which he used to plan for retirement and keep track of his finances in less than 15 minutes each month.
Another one of John's passions is helping people save $80 per month by axing their expensive cable subscriptions and replacing them with more affordable ones, like Hulu with Live TV.
Latest posts by John Schmoll (see all)