5 Overlooked Ways to Find a Great Job
Most job applications these days are totally online. While that might seem more convenient than paper applications, it can also be problematic.
The reason (and one many people don't realize) is that companies can use computer software to filter out potential employees before they even make it to HR.
That's troubling news, and it means that many people who are qualified for certain jobs aren't even making it to a human's desk for review.
So, if you're applying for jobs online but not getting anywhere, I've included five ways you can get a job without even worrying about all those online submissions.
Keep An Updated Resume Online
Uploading your resume to job sites like Monster or LinkedIn can get your name and experience in front of more employers. Also, if you have a website or blog, include that in your resume or use it as your portfolio. Having an online presence is essential in today's modern world.
Oh, and while you're on LinkedIn, make sure you have a great bio that's optimized with buzzwords or keywords for your industry that you know are popular. You should also get some of your old employers or colleagues and friends to leave you reviews, which can show that you're great to work with and are trustworthy.
Many employers and headhunters will search LinkedIn for specific job postings, so it's important to have a very professional profile.
Attend Networking Events
Networking can seem like a pain (any other #introverts out there?!) However, it's crucial when it comes to finding the right job. You can start by asking friends and family members if they know of any job openings that you would be qualified for. Or, you can attend formal events for which you have to RSVP.
There are also informal events like meet-ups, conferences for working professionals and happy hour events. Keep in mind when you choose to go the informal event route you still need to look and act professionally, even if you're at a bar during happy hour.
Contact Hiring Managers Directly
If you have a dream company that you want to work for, there's no rule that says you can't apply directly through their HR department. Send them a quick email stating who you are, why you want to work for them, and include your resume and portfolio. Unless it explicitly states on their website not to do this, it's fair game.
Don't forget to stay organized, though. Keep a running list of the places you've applied to, and reach back out to them if you don't hear from them right away. Also, before applying for a job, make sure you haven't applied for it previously. (If you start applying for lots and lots of jobs, it can get confusing.
Do Temporary or Part-Time Work
Do you have any special skills that can help you pay your bills while you search for a job? What about skills that you wouldn't mind learning? You can often become a full-time employee at a company if you start as a part-timer or contract worker.
Even a job like bartending or being a barista while you try to find a job will put you in front of a lot of different people every day who could help you get work. (You just have to be willing to talk about your job search and ask around!)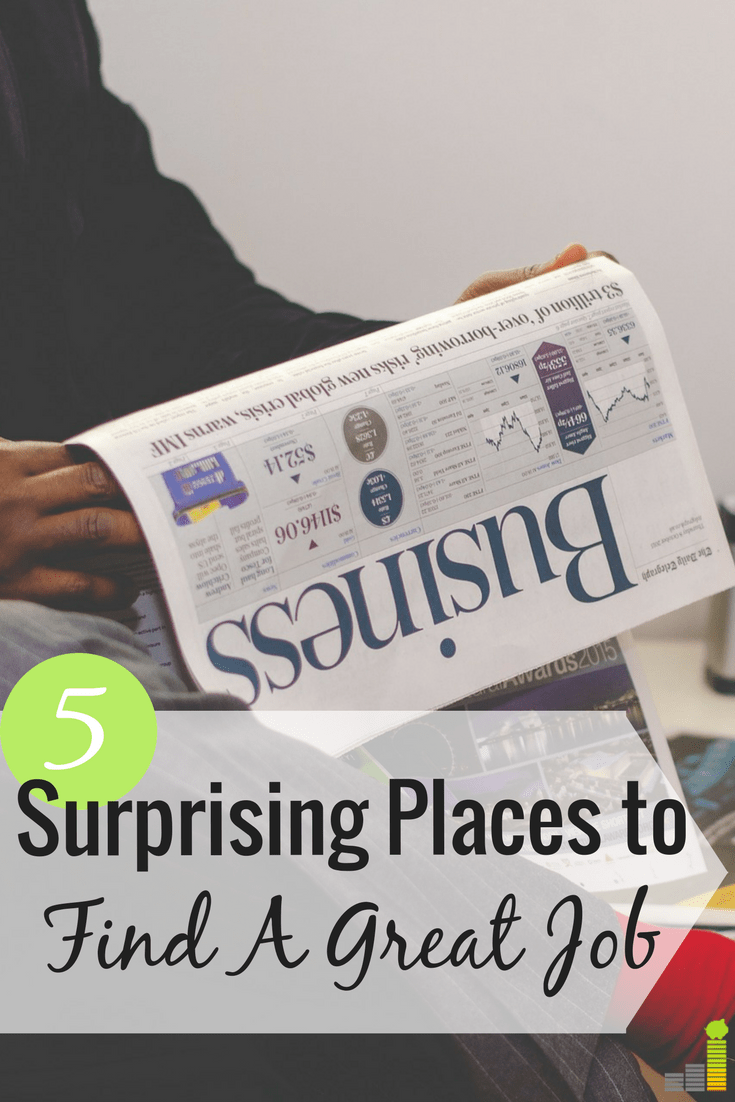 Use Your Alumni Network
This is probably one of the most underutilized ways of getting a job. If you graduated from college, your school has an alumni network. I even have a strong alumni network from my high school. Usually you can contact your alumni network to see if any alumni live in your area or work in your field. This is a great way to initiate a job search process because after all, who wouldn't want to hire a person that roots for the same football (or debate) team?
Ultimately, these tips can make your job search more fruitful because instead of competing against thousands of people with online applications, you're actually using your network to try to find something meaningful.
How did you score your first job? Do you have any other tips for those looking for work but not having any luck? Have you ever gotten a job from an online application?
The following two tabs change content below.
Catherine Alford is the go to personal finance expert for parents who want to better their finances and take on a more active financial role in their families.