Who Haven't You Paid?
Posted on April 17, 2013 by John Schmoll in
Debt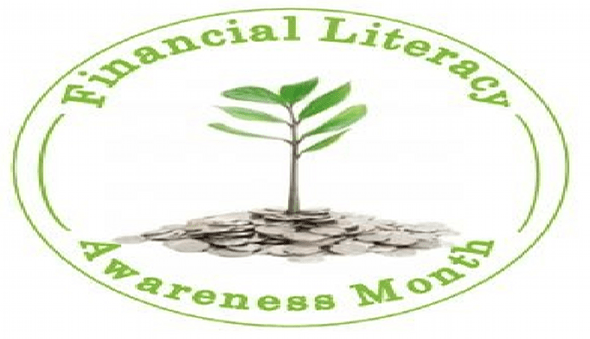 As some of you may know by now, April is Financial Literacy Awareness month and I have discussed some things over the past few weeks that point towards that end. As an aside, I think it's great that we have this month yet it's sad how many people are not financially literate. I used to count myself as one of the financially illiterate and thankfully have come a long, long way. I fully believe that none of us are perfect and all have something we can either learn or improve in. Towards that end, I was honored to be asked by my good friend Shannon, over at The Heavy Purse, when she asked me to take part in a special Carnival related to Financial Literacy Awareness month spotlighting our own personal situations and how it's impacted me in terms of financial literacy.
My Story
I've shared numerous times about my issues with credit card debt that I amassed while in college, but I've not given much back story to it. I was not taught much in regards to finances when I was a child. I was always well provided for and did not go without, and my parents worked hard to provide for us. The thing is though; there was not much at the end of the month in terms of money. My parents loved to say that if they had $50 left over at the end of the month in their checking account they wondered who they forgot to pay. I knew, at some level, that my parents had bills to pay but that was the extent of it. There was never any mention of planning for the future, budgeting or watching our expenses while I was growing up. As a child the urgency of that did not always register with me as it does now, but it underlies the lack of financial wisdom present in my home. This did extend, at times, to needing to borrow money from their parents to either pay bills or to help pay down their credit cards. As a parent myself I know that if one of our children ever needed help, that we would be more than happy to help…especially in the case of lost jobs or if they needed help with rent/mortgage. That said, if it was an ongoing issue or one that showed lack of wisdom I believe the loving thing would be to step in and see how we could address the larger issue at hand in a wise way. Ultimately, I know what I saw as a child translated into the framework I viewed money through and thus was not financially literate.
Know What Your Money is Doing for You
As I look back now on my adolescence I see one major flaw in regards to my parents' handling of finances – lack of concern about the future. I see this in the lack of having a workable budget to lack of concern about saving for retirement. I know some of that was going on but nowhere near the level it should have been. I remember seeing money being spent or bills being paid with little idea of where the money was going to come from. If that's happening because there just is not enough money that's one thing, but, ultimately, it came down to a lack of concern about what their money was doing for them and where it was going. I know that budgets are not for everyone, but without some sort of plan for your money, you realistically plan to fail. I am not trying to blame my past credit card issues on this, rather explain the financial upbringing I received and show how it led to my making incredibly foolish decisions because of my financial illiteracy. I have since come to see that it is vital to know where your money is, how you plan on spending it and ultimately how you plan on saving it. If you do not know what your money is doing for you, then ultimately you have no control over it and will sacrifice your future, as well as that of those around you.
Am I the Only One?
Sadly, I know that I am not unique in the situation I grew up with. I look at numbers daily and see the shocking amount of consumer debt that we hold as a nation. According to the sponsors of Financial Literacy Awareness month, we carry more than $2 Trillion in consumer debt and that over 30% of Americans have no cash left over at the end of the month. Those numbers are staggering and I think that it can be argued that carrying that much consumer debt could potentially be a moral issue with the possibility of that debt impacting current and, more importantly, future generations. Not to bash on those with consumer debt, as I have most definitely been there, but changes must occur. In my previous line of work I dealt with people and their money/investments each and every day. One of the prevailing things I learned is that many simply do not know what they're doing. There is not anything necessarily wrong with that as we all have different life experiences, but it tells me that there are many out there that can benefit from learning many of the basics I have learned over the years since my overcoming massive credit card debt. It is these basics that Mrs. Frugal Rules and I plan on raising our children with so they can enter their adult lives with the confidence that they're financially literate and able to make wise choices for their respective futures. Not only that, but it's our hope that they'll be able to help others as they grow older to also make wise financial decisions that will ultimate help change our current course for generations after them.
What kind of financial upbringing did you receive and how did that impact the way you handle finances?
The following two tabs change content below.
John is the founder of Frugal Rules, a dad, husband and veteran of the financial services industry whose writing has been featured in Forbes, CNBC, Yahoo Finance and more.
Passionate about helping people learn from his mistakes, John shares financial tools and tips to help you enjoy the freedom that comes from living frugally. One of his favorite tools is Personal Capital , which he used to plan for retirement and keep track of his finances in less than 15 minutes each month.
Another one of John's passions is helping people save $80 per month by axing their expensive cable subscriptions and replacing them with more affordable ones, like Hulu with Live TV.
Latest posts by John Schmoll (see all)