Have You Checked In With Your Financial Goals Lately?
Posted on October 15, 2015 by Erin M in
Goals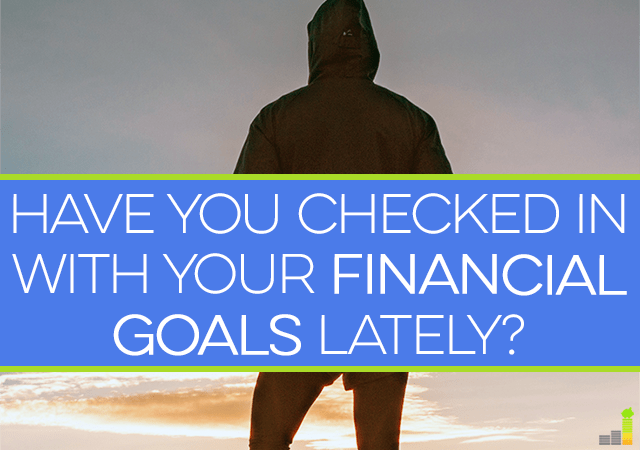 Can you believe the year is almost over? It seems like just yesterday we were all making New Year's resolutions and talking about what we wanted to accomplish this year.
We all set out with good intentions, but let's be honest – a year is a long time! A lot of things can change. You might decide to take a different direction with your money (or your life), you might have forgotten about a few goals, or you might have struggled to stay on track because of some setbacks.
Whatever the reason, it's always worthwhile to check in with your financial goals and your finances in general throughout the year. John does quarterly goal updates and I think that's a great way to keep yourself accountable and on the right track. Let's take a look at how you can do this for your finances.
Evaluate Your Goals
Step One: To evaluate your goals properly, you should be tracking your progress throughout the year, even if you haven't made much (or any) progress. If you can't remember the goals you initially set, there's a good chance they weren't important enough in the first place! Get a list of your goals and start going through them one by one.
Step Two: Categorize your goals. You can choose different categories depending on what your progress looks like, but try labeling them as "actively pursuing," "no longer pursuing," or "needs to change course."
Active means you're still making progress and care about the goal; no longer pursuing means the goal isn't a priority; changing course means you still want to achieve the goal, but you need to re-think your strategy.
Be honest – it's okay if a few goals have fallen through the cracks and aren't as important anymore. Things change throughout the year, and there's no reason to beat yourself up over it. Re-evaluating your goals gives you a better chance of succeeding the next time around. You can also use a free tool, like Personal Capital, to help you stay on top of your goals throughout the year so as to not be surprised by your progress, or lack thereof 🙂
Step Three: Create a new list with the goals you want to focus on. Having a timeline for these goals can help you be realistic while giving you perspective. You probably can't take on everything all at once. If you have 20 goals listed, you might want to think about paring them down to around five.
Five?! Yes, maybe even less. I know the overachievers out there, like me, are probably wondering why you should limit yourself. I've found the less you have on your list, the more you can focus. If you're serious about accomplishing your goals, you need the resources to do it. Those resources include your time and mental bandwidth. You can't stretch yourself too thin.
I recommend targeting the goals you're super excited about that also pack the biggest punches. Things tend to fall into place when you have more motivation. For example, maybe "budgeting" in general doesn't excite you, but saving up for a vacation does. You might be more inclined to keep your spending in check because you want to save as much as possible.
Overall, the point of evaluating your goals is to regroup. It's foolish to state you want to achieve ten specific things from January to December and never check in with how you're doing. Most worthwhile journeys aren't linear – it stands to reason your goals aren't, either.
If you have a family or a partner, it's even more important to check in together to make sure everyone is on the same page. You and your spouse may have been really excited to pay off debt at the beginning of the year, but halfway through, found out you were pregnant. You might have decided to hold off on debt repayment to save for the baby. There's nothing wrong with that, but it helps to clarify your goals together so there's no miscommunication about the direction you're heading in.
Create a Plan Going Forward
Speaking of the direction you're going in, you need to think about how you plan on reaching your new goals. This can only happen once you have the clarity evaluating your goals will give you.
If you're giving any of your previous goals another go, make sure you note what went wrong the first time. Many people want to budget or track their spending, but give up because it's too tedious or complex. Give yourself a little flexibility and try different methods; don't quit if you don't succeed right away!
If you're setting new goals, the SMART method is a good template to use for your plan.
Of course, even after you create this new plan, you should still continue checking in on your progress regularly. You don't want anything to fall by the wayside again. Grab an accountability partner, update friends and family on the status of your goals, or blog/journal about it!
Common Financial Goals
Feeling a little lost as to what you should be working toward? Here's a short list to spark some inspiration:
Try to identify any issues you've noticed where money management is concerned, and get to work on those!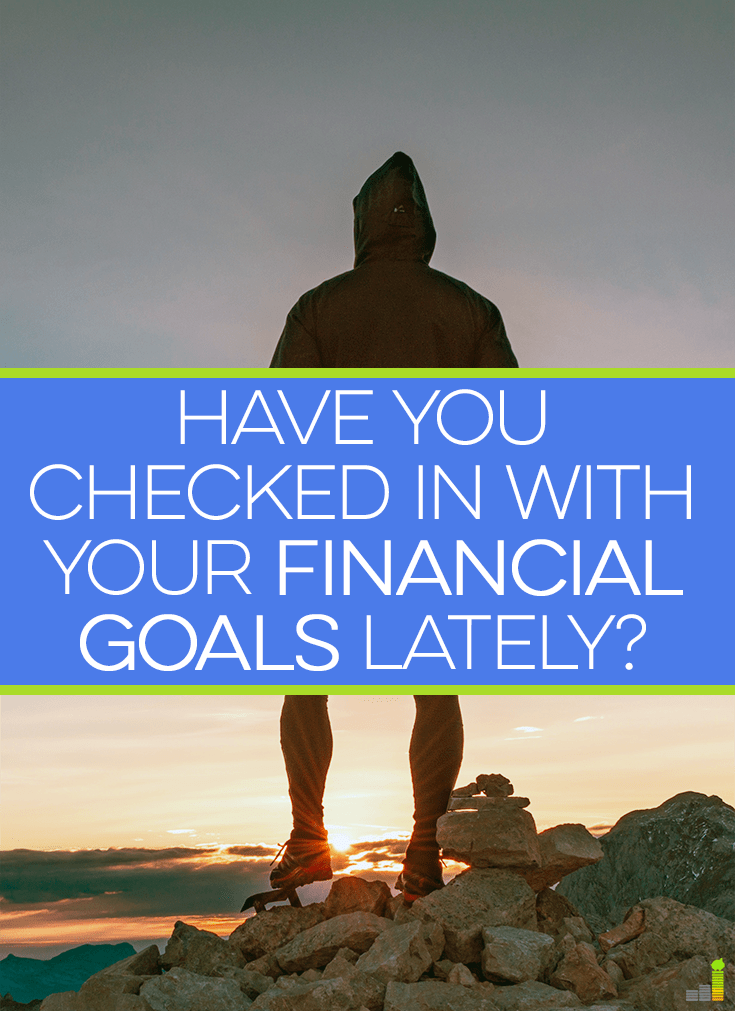 When You Start is Irrelevant
I bring this up now because many people have completed their third quarter goal updates and might be rallying for the end of the year. While it's great to give one last big push to reach a goal or milestone, you should be doing it for the right reasons.
I have a bad habit of sticking to things out of pure stubbornness. If you're like me, you might feel down about your lack of progress in some areas and be determined to make up for it.
I think the smarter idea is to ask yourself why there has been a lack of progress. That's why re-evaluating is necessary. There's no point in expending your efforts on something that no longer matters to you. Likewise, if the lack of progress is due to a certain method not working for you, don't keep running into the same wall over and over again.
You might be bummed out by the thought of starting over now when there's only a few months left, but it doesn't matter when you start over (or begin in the first place). If you want to go for something right now, then do it! You don't have to wait for an arbitrary day like the first of the month of the year.
Create a plan and schedule dates to check in with your progress to set yourself up for success,
When's the last time you checked in with your financial goals? Do you perform quarterly updates? How do you keep yourself accountable and on track? Do you evaluate your goals each time you do an update? 
The following two tabs change content below.
Erin M. is a personal finance freelance writer passionate about helping others take control over their financial situation. She shares her thoughts on money on her blog
Journey to Saving
.