Showing Yourself Financial Forgiveness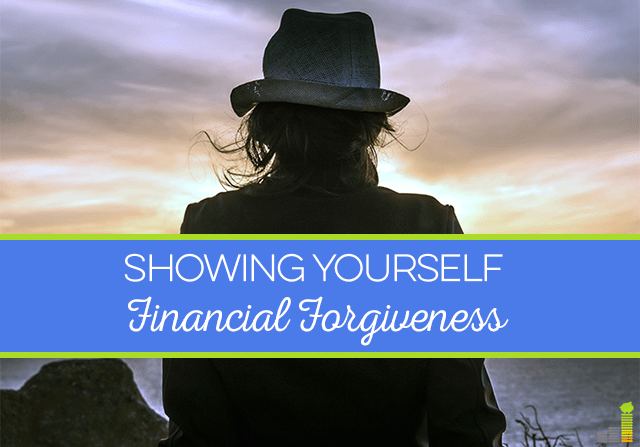 Last week was an interesting one in my household. Between looking for an apartment, side hustles, and working on video editing projects, I was feeling quite overwhelmed. Whenever I get that way, one of the first things that gets thrown out the window is self-compassion.
It's like I somehow expect myself to be 100 percent at everything going on…which is damn near impossible. And when it comes to financial matters, I really start to beat myself up because somehow running a personal finance blog makes me immune to financial mistakes. You can go ahead and laugh now.
Financial Mistakes
Mistake number one was a notice I got from the State of California regarding my 2013 taxes. They said I still owed $228, but for the life of me I couldn't figure out why. After a couple calls (one to my condescending and soon to be ex-accountant), and checking old paperwork, I realized I made out the check I was supposed to pay to the Franchise Tax Board, to the United States Treasury instead.
What's still perplexing is someone cashed it, but who? Did I sent it to the IRS or to the State of California? Regardless (it will require some more digging), I am the one who still made the mistake, and I outwardly cursed myself over and over for being such an "idiot."
Mistake number two came when I found a two-bedroom apartment, and was in a huge hurry to get the application back before someone snagged the place up. On the form it required my credit information. Doesn't seem like a big deal, especially because I know I have excellent credit, but  going through my stack of credit cards, and trying to find out which ones were active and which ones weren't, and trying to figure out which ones I opened when, was like beating my head against a wall. I was calling myself names for being so completely disorganized with all my cards….and just my paperwork in general.
The Science behind negative thoughts
According to YourTango.com, "psychologists believe we have between 60,000-70,000 thoughts a day and approximately 80% of those thoughts are negative or self-damaging."
I'm sure many of you out there with less than stellar finances, or even financial organization, have probably at one time or another externally or internally berated yourself for not being somehow more financially responsible.
I not only do that on occasion, but often ruminate about what I could have done differently financially, especially after becoming a freelancer.
And the bad news about negative self talk is it can become habitual, a part of yourself you might hardly even notice because you do it so often. As Jann Chin pointed out in the Your Tango piece, "habitually thinking negatively or "beating yourself up" results in the real belief that you're "not good enough," stupid, or can't do anything right." She continued, "unfortunately, it's impossible to feel confident and successful when you're constantly "beating yourself down."
Showing yourself Financial Forgiveness
1. Learn from the past. We all know that we can't change the past, but we can certainly learn from it. It's been said the definition of insanity is doing the same thing over and over and expecting different results. So examine what went wrong and map out a new course, so that you can try and change things for the better.
2. Be compassionate to yourself. When you start to have a mini meltdown about current financial mistakes, the first step to stop negative thoughts is awareness that you are in that mode, and begin to use more compassionate self-talk.
I once heard author and lifestyle guru Kris Carr say that when she wants to get mad at herself, she pulls out a picture of herself from her childhood…especially one that is very cute and sweet, then imagines trying to yell the same negative words at that little girl. Suddenly, you start to have more self-compassion, because you wouldn't want to yell those words at that cute little kid.
3. Slow down and organize. I don't know about you, but if paperwork of any kind piles up on my table, I start to feel yucky. And said paperwork usually starts piling up because I'm taking on too much.
Set aside one day per week or per month (whatever you feel you need) to get your paperwork in order. How many times in your life have you accidentally missed a payment for something because it was buried under a mound of "stuff" and you forgot about it? Doing a little bit at a time is far less overwhelming then waiting until the pile becomes out of control.
Have you ever berated yourself for making financial mistakes? How do you talk to yourself when you realize you've made a financial mistake? What do you do to maintain a positive attitude and treat yourself with compassion and understanding?
The following two tabs change content below.
Latest posts by Tonya Stumphauzer (see all)