5 Must Haves for Your January Financial Checklist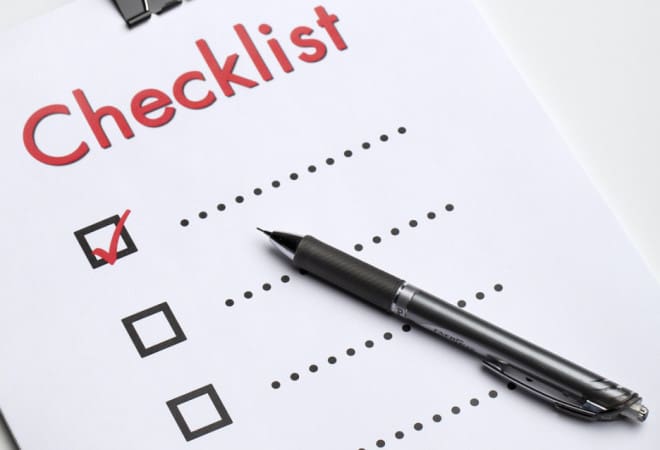 With January coming to a close, it's time to make sure you are on the right track in the new year. Motivated by personal goals and new year's resolutions, many of us use January as an opportunity to get our finances in order, set saving goals, start investing, paying down debt and more. Some of us even learn how to make and live by a budget for the first time in our lives.
A month into the new year, now is the time to get started on those goals and resolutions or kick it up a notch if we've begun to let our progress stagnate. While we are all still trying to get over the holiday hangover, there's no excuse for not working on your finances.
In between visits to the gym, why not sit down and game plan what you'll do with your money in 2015? It's an easy exercise that can produce great results.
Create an Automated Savings Plan
Besides wanting to lose weight, many people also want to save more money each and every year, yet they rarely ever do. One possible reason is they forget to actually put money into savings. It's great to want to save, but until you actually do it, the concept will get you nowhere. Luckily, it's super easy to create an automated savings plan, which will transfer money into your savings account on a specified date. This way, you don't have to worry about forgetting to save for your future.
If you don't like the automated method, then you can treat your savings like a monthly bill such as I do. I pay myself every month on a specified day. If I don't make the payment to my savings account, then I pay my account interest. Yes, it's a penalty, but it's only making my savings account bigger. No complaints there.
Top Off Your IRA
If you don't have an IRA, then it might be time to open one up! You can open an IRA before the tax deadline and fund it to count for the previous year. If you have a traditional IRA, then you can lower your taxable income with your contributions.
Depending on your tax profile and income, you need to look at opening either a Traditional or Roth IRA. Just do it before taxes are due! If you're looking for someone to invest with, make sure to check out John's online brokerage page to find the one that best fits your needs.
Focus on Debt Repayment
Debt is like weight loss.It takes time and dedication to get it paid off. There is no better time than January to focus on how you will start or continue paying your debts. Focus on creating a plan that lets you tackle all your debt.
We talked about using the debt snowball and the debt avalanche here last week as potential options. Remember, no way is better than the other. Each one has it's strengths and weaknesses. Which one you use isn't as important as just picking one. Make a serious effort this month to start paying down your debt!
Challenge Every Expense
This is a concept we explored over on my blog. People want to save money and stop spending so much, but they rarely challenge their expenses. I know I used to just accept what I paid and then moved on to other things. It wasn't until I was in my debt repayment period when I realized I should challenge what I was paying. The great thing about challenging expenses is that there are tools out there, like Personal Capital, to help you do it. They and others like them help you catalog, track and analyze your spending habits and investments so you can make wiser decisions with your money.
Once you know what you're spending you can look for ways to cut your expenses, which can often come from a willingness to always be looking for a lower price. I negotiate and locate better deals on a regular basis. Why pay full price when you can use competition to find a better one? I have lowered my overall expenses by nearly 40 percent this way.
Look for Ways to Make More Money
Who doesn't want to make more money in the new year? I know I do, so I'm constantly on the lookout for money making ideas that come my way.
The best part is John and I make it easy for you to find new ways to earn more money. Sprout Wealth is a site dedicated to helping anyone and everyone make more money each and every day. Don't be skeptical as these are real, tried and true methods to earn money. These are no get rich quick schemes, but methods which require real work. The funny thing about methods that require real work is that they really work!
While some of these items on the checklist could take some time, like challenging every expense and making more money, the others are easy to do and you can complete before the end of the month. Remember, this is the perfect time to change your financial situation and get on the right track. Don't wait for February, make the change now!
What would you add to this checklist? Remember, this is not an exhaustive list. What are your financial goals for the year? How are you doing on your new year's resolutions? Have you made progress or are you still hung over from the holidays?
The following two tabs change content below.
Latest posts by Grayson Bell (see all)