How to Make A Few Dollars Look Like a Million Bucks
This post isn't exactly about money. With the holiday season bearing down upon us, I thought it would be helpful to talk about how to get the most out of your holiday spending. Specifically, I want to discuss how you can dress up a gift that only costs a few dollars to make it look like a million bucks.
Americans are spending a whopping 7 billion dollars just on Halloween this year (with 2.2 billion of that being candy – what!?) So, you can only imagine that Christmas spending will be outrageously high this year since each Americans spent on average $765 each last year on Christmas.
Additional resource: If you want to buy items for Halloween without spending a fortune, Amazon's Halloween Shop, may be worth checking out.
If these numbers scare you or you just want to go into the holiday gift giving season with a frugal mindset, here are a few tips on how to make an inexpensive gift look nice. After all, although many Frugal Rules readers are proud that most of our Christmas gifts will come from garage sales, that doesn't mean our siblings or our nieces and nephews will be as thrilled by the idea as we are. 🙂
The Golden Rule: Focus on the Presentation
People judge books by their covers. It's just how we are as people. It's not a pretty fact (see what I did there?) but it's true. As such, when you give someone a gift, regardless of how much it costs, put a lot of thought into the presentation. Now I don't mean to go out and buy a gift bag that costs more than the gift itself. Rather, here are some examples:
Accent the Paper
Even if you wrap a gift in basic brown paper, you can really make it look nice with ribbons and bows. You can buy curly ribbon in bulk and really go to town making your gifts look beautiful. I've even seen some people use stamps on basic brown or white paper to make wrapping paper that is custom and all their own.
The point is, if you take the time to wrap a gift nicely – even if it's a gift you bought on the cheap – the receiver will feel like you really spent a lot of time and money on them. Plus, there are many frugal ways to go about getting nice wrapping paper, from scouring sales the year before to saving the paper from gifts people give you.
Now, I personally like to rip the paper off of a gift, but my mother-in-law is notorious for unwrapping gifts gently and saving all the wrapping paper, tissue paper, etc. from gifts she gets. It's saved her a ton of money over the past few decades!
Make Sure it Doesn't Look Used
Someone can tell if you just went to a thrift store, found a skirt, and put it in a gift bag. As such, you really want to focused on buying high quality used items if you are going to go the "buy used" route. So, if you went to a thrift store and found a pretty crystal vase for a few dollars, look for chips and cracks.
Give it a close once over and make sure that there are no scratches or items that would make it look cheap. If it seems to be in great condition, awesome! The same goes if you buy a bike at a garage sale, or any other item that you score used.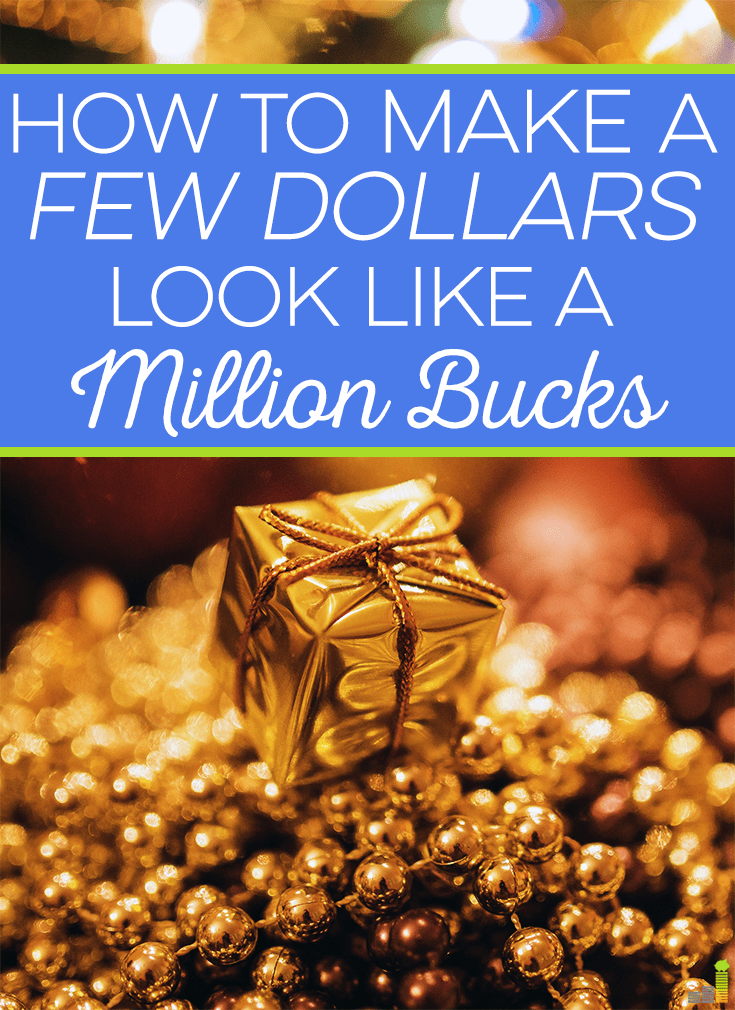 Remember, it's the thought that counts
Although we want people to like the gifts we give them, it really is all about the thought and love that's put into the gift. So, it's important not to go overboard. You don't want to blow your budget around the holidays and create debt but you also don't want to be so cheap that everyone knows Uncle Bill gives the worst gifts.
The key is to find balance. Whether you bake everyone bread but package it beautifully, or find some really amazing deals on clothes and shoes for your nieces, the point isn't whether you bought something new or made something yourself.
What matters is enjoying the spirit of giving and going through the process of finding the perfect gift for each person on your list. If you're wondering how to do that efficiently or don't know where to start, consider the 4 Gift Rule, which I've written about here before and which entails buying something they want, something they need, something to wear and something to read.
I personally try not to go overboard for Christmas, and I've already bought my twins a used train table off of Craigslist (complete with trains and tracks) so I'm sure they're going to love it and will have absolutely no concept that other kids played with the train set before they did. I'm really excited about it, and I look forward to another frugal holiday season just like I had last year.
Do you buy inexpensive gifts? How do you try to make them look nicer or more expensive than they were? What tips do you use to stay within a budget for your gift giving?
The following two tabs change content below.
Catherine Alford is the go to personal finance expert for parents who want to better their finances and take on a more active financial role in their families. Check out her award winning blog,
CatherineAlford.com.