A Festivus For The Rest Of Us!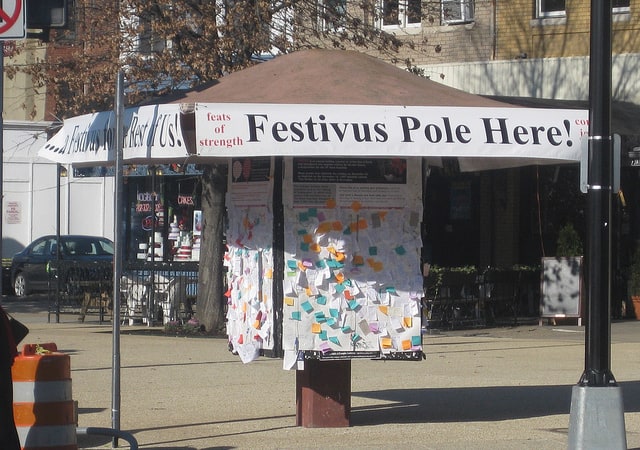 Howdy friends. I know I've shared some strange things about myself in the past. One thing I left out over the years is my love of Seinfeld. I know it might date me a little that I'm a huge fan of Seinfeld, but I'm not ashamed to admit that I've seen each episode at least twice, and some of them many more times than that.
At any rate, as most hardcore Seinfeld fans know tomorrow is Festivus. If you don't know what Festivus is, then check out this little diddy on its origins. If you're not wanting to read that, then Festivus is essentially something made up by a Seinfeld writer's family in the 1960s. After being included in the December 18, 1997 episode, "The Strike" it took on a life of its own. The celebration is meant to be a response to the commercialism of Christmas and is usually made up of the following parts:
An aluminum pole, without tinsel (because tinsel is distracting), instead of a Christmas tree
Feats of strength
A Festivus dinner
Rather common, everyday things labeled as "Festivus miracles"
And, my favorite of all, the "Airing of Grievances"
Truth be told, the Airing of Grievances is really meant to be ways of telling others how they've ticked you off throughout the year. For a variety of reasons I won't be doing that today but I will use Festivus as a way to have a good old fashioned rant. 🙂 If you were around last year, then you know I'm not a fan of the massive overcommercialization of the Holidays so I thought a Festivus post would let me have a little fun while getting some things off my chest. With that out of the way, on to the airing of grievances…
We traveled to Chicago this fall. I love Chicago, but what's the deal with the tolls? I get you need to have them. But, would it kill you to have them in some sort of regular amounts? Take $1.65 for example. Would it really kill you to just make it $1.50 or $2?
Paintbrush Mickey…for those of you in the know, our youngest little Frugal Rule, JP, has taken to, uh, fecal art the past few months. He has a stuffed Mickey Mouse doll that's about a foot long. Suffice it to say, I'll NEVER look at Mickey Mouse the same way!
I joined the dark side and bought a MacBook Pro about two months ago. My previous PC was a beast and quickly went downhill. With all the talk I've heard about Macs being intuitive, I guess they just weren't made for me as I've spent the past two months wanting to fling the thing through our living room window. Hey, I guess I can be happy it'll qualify as a tax deduction this year! 😉
Calendars? Who needs a calendar? Apparently our clients don't know that they, or holidays, exist.
Diapers, oh diapers. These little paper products are the bane of our budget because all three of our little ones are still in some form of a diaper. At a little under $200 per month on diaper products I can't wait for that expense to be gone!
Weight loss. As many know, I've been working on losing weight since the end of February. It's gone relatively well. In fact, I'm hanging tight at 80 pounds down. That's great, but I've been stuck in the same 5 pound range the past month or so. Oh, if the last 20 were as easy as the first 80!
Is it just me or did the Christmas shopping season hoopla start even earlier this year? We saw stuff in Costco in August! What happened to Halloween and Thanksgiving, people!?!
$2,035.12. That's how much we've paid the fools at Verizon for cell phone service this year. Typing that number just makes me ill, but is my own stupid mistake. Oh, how I can't wait until May 4, 2015 when we can cut and run. The crazy thing is that bill is only a fraction of our health insurance bill and at least we get something out of Verizon!
Frozen, oh how I hate Frozen! It seems as though Disney planned to hold back the overwhelming majority of Frozen products to be sold right before Christmas. Smart marketing move. But, Disney, did you really have to release the same movie and package it as a sing-a-long version? It's the same movie people!
I'll end the Festivus rant on a high note…thanks to us doing all of our shopping on Amazon and at Costco now I've not stepped foot in a Wal-Mart in almost six months – Happy Day!
If you'd like to learn more about the original explanation of Festivus, check out the Seinfeld clip below!
What grievance would you like to air for Festivus? Are you an Apple or PC fan? Do you have any special plans for Christmas?
Photo courtesy of: Paul Eisenberg
The following two tabs change content below.
John is the founder of Frugal Rules, a dad, husband and veteran of the financial services industry whose writing has been featured in Forbes, CNBC, Yahoo Finance and more.
Passionate about helping people learn from his mistakes, John shares financial tools and tips to help you enjoy the freedom that comes from living frugally. One of his favorite tools is Personal Capital , which he used to plan for retirement and keep track of his finances in less than 15 minutes each month.
Another one of John's passions is helping people save $80 per month by axing their expensive cable subscriptions and replacing them with more affordable ones, like Hulu with Live TV.
Latest posts by John Schmoll (see all)