Can You Really Get Ahead with Extra Income?
While I'm moving this week, please enjoy this contribution from Latoya at Life And A Budget. If you'd like to contribute to Frugal Rules, please contact us.
Regardless of the amount of income we make, it's common knowledge Americans save very little. Venture to almost any personal finance site and you could easily find statistics that convey around 62 percent of Americans have under $1,000 in savings. If you can't manage to save, no matter how much extra income you make, the big question for me is: how will you ever get ahead?
Extra income each month isn't hard to come by for some of us. You have Larry who will pick up additional shifts each week at work and then there's Pam who sells baked goods to her co-workers to make extra money. Opportunities to make extra income are abundant.
The question is — would Larry or Pam actually get ahead with their extra income? I believe there are three factors that determine whether this would be possible. Let's explore them to see if they have the juice to make extra income work for them.
Your Money Behaviors
Face it, if Larry is going to take his extra money to play poker this weekend, he's not going to get ahead. Neither will Pam if she's selling apple pies to keep her manicure and pedicure fresh. Your behaviors toward money will determine your financial situation. Bad habits, wasteful spending and living beyond your means is not a recipe for good financial health.
If you're making additional income, make sure your money continues to work for you long after you receive the paycheck. Let's use tax season as an example. The average tax refund is north of $3,000. Instead of squandering it away on a new television or a down payment for an unneeded car, use this lump sum to pay off debt, save or invest in the stock market.
Your Money Mindset
Let's talk about Larry again. He loves playing poker with his friends and he works hard all week. Larry thinks he should play all weekend to make up for his hard work during the week.
The only problem with Larry is he's behind on his mortgage. He believes all he needs is one lucky win and he'll be able to get caught up on his bills. What's wrong with Larry's mindset?
First, he thinks he's entitled to treat himself because he works hard. Second, he believes luck would solve his financial problems. Regardless of the scenario, entitlement and wishful (delusional) thinking isn't doing him any favors. If he won't properly manage the income he has, a lucky break won't change his mindset.
Your Money Outlook
Pam can't see beyond going to the nail salon each week with her extra income. Her debt is spread across seven credit cards totaling $4,000. Each month Pam tells her mom, "If I made an extra $300 monthly at work I'd be able to get ahead." The problem is she makes an extra $200 a month selling her baked goods. Instead of using this income to attack debt, she uses it for a manicure, pedicure and an occasional outfit.
Her strategy: look good and get a promotion. Depending on her job, this strategy could pay off in the end. Unfortunately, her debt doesn't care. The interest continues to grow on her unpaid balance.
What her strategy should include is a plan to address her debt that doesn't involve spending her additional income. Pam should consider the long-term implications of her plan to improve her money outlook. Doing that can be difficult. But, knowing where to start is made easier with free online tools like Personal Capital that can help Pam (and you) manage your income or cash flow, helping you achieve your financial goals.
It's obvious Pam and Larry have some hurdles to overcome if they want to get ahead with their extra money. Unfortunately, many real folks like you and I face the same dilemmas everyday. Sometimes the extra cash comes, but it slips out of our hands before we do anything constructive with it. The good news is something can be done about it.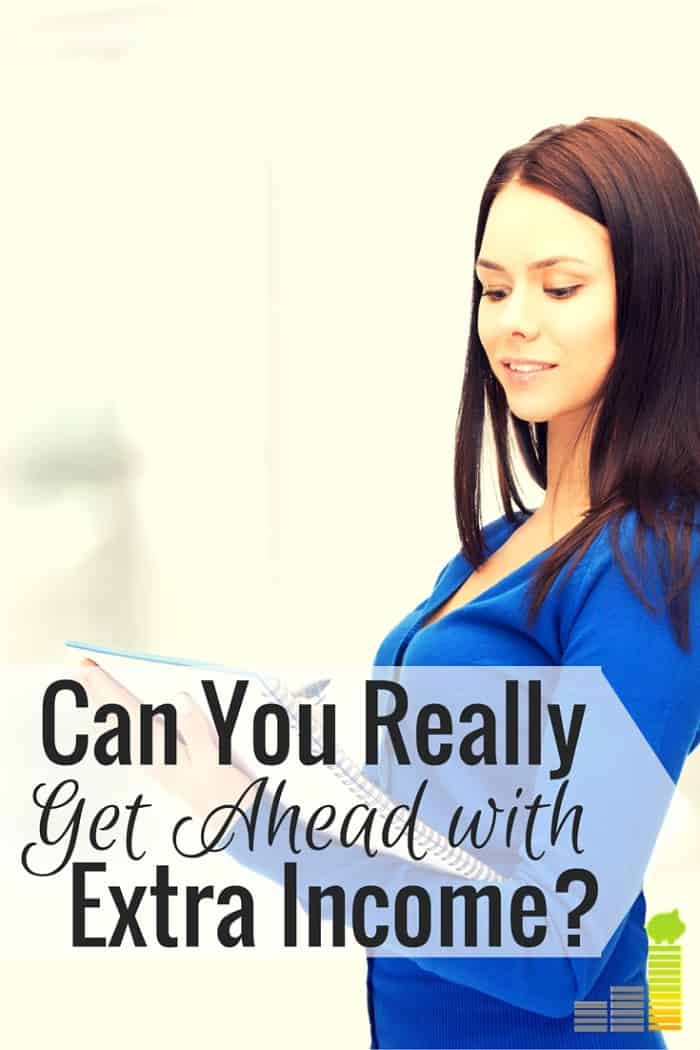 If you are paid bi-weekly and budget accordingly, think about your behaviors when you receive that extra paycheck twice a year. Do you immediately create a plan to spend the money before you have it? If you receive a tax refund each year, consider your money mindset. Do you feel entitled to give yourself a break because of all the hard work you put in through the year?
Last, consider your money outlook. Have you made any long-term plans? Could this extra paycheck or tax refund be contributed towards emergency savings? If you want to make progress financially, remember your money behaviors, mindset and outlook all play an important role in determining whether you actually get ahead. The next time a little additional change jingles in your pocket, make that extra money count for something.
Do you believe it's possible to get ahead with extra income? How do you determine to use extra money earned from side hustles? What, in your opinion, is the best way to help change money behaviors?
Latoya is a writer for hire who loves talking about budgets and money. Her mission includes paying off $79,000 in student loans and living to tell about it. She's a full-time, work-at-home mama who shares her journey over at Life and A Budget.
The following two tabs change content below.
John is the founder of Frugal Rules, a dad, husband and veteran of the financial services industry whose writing has been featured in Forbes, CNBC, Yahoo Finance and more.
Passionate about helping people learn from his mistakes, John shares financial tools and tips to help you enjoy the freedom that comes from living frugally. One of his favorite tools is Personal Capital , which he used to plan for retirement and keep track of his finances in less than 15 minutes each month.
Another one of John's passions is helping people save $80 per month by axing their expensive cable subscriptions and replacing them with more affordable ones, like Hulu with Live TV.
Latest posts by John Schmoll (see all)