Is Being an Extra in Hollywood Worth It?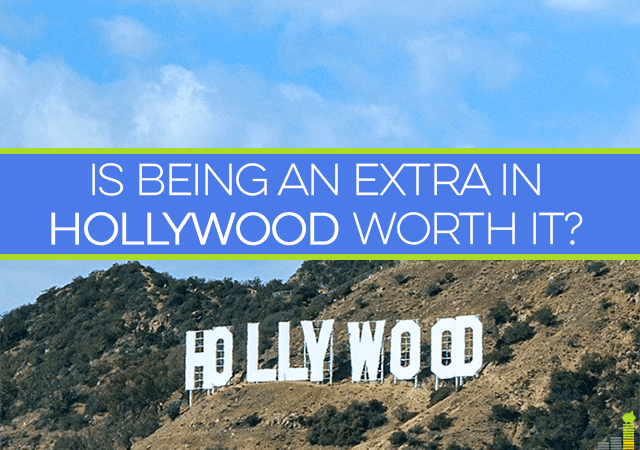 I recently got back from my trip to Utah, and was in the process of stepping up my side hustles to recoup some money I spent, when lo and behold, an opportunity appeared in my inbox from a production company in LA that hires extras for talk shows, game shows, etc.
This particular one was the finale of a weight loss show, which paid $54 cash for six hours of your time.
Now, I've enjoyed the experience of being an extra in Hollywood before and kind of know the ins and outs of the deal, and let's just say the idea of being an extra is ten times more appealing than actually being an extra. But when you're really needing some fast cash, your mind forgets how long the day can be. If you're interested in being an extra, read on, and remember, you don't have to live in Los Angeles to score a gig as an extra. Look around for productions going on in your city and find ways you can get involved as an extra.
What You Actually Make as an extra in hollywood
I woke up at 6:00 a.m. the day of the shoot to get ready. Our dress code was "dress to impress," so I put on my little black dress and more casual sandals. I also grabbed a thin cardigan (I mean this is California!), packed a sandwich (I slapped some hummus and avocado on bread since I don't have lunchmeat), and headed out the door. I had already made some serious rookie mistakes.
Thankfully, LA traffic on Saturday morning at that time is light, so I made it to the studio shuttle parking lot in about 45 minutes.
We parked in stacked parking formation, headed to the tent to check in, then got on a shuttle, which would take us to the studio. "Damn, it's kind of cold and windy," I thought to myself. "Oh well, we'll be in the studio soon." Ha!
We got inside the studio lot, then proceeded to stand around for about two hours waiting to go inside. This is incredibly common in the production world, but what I didn't plan on was freezing my butt off. The line to the two bathrooms for hundreds of people was also incredibly long.
They didn't serve any food, but did hand out water. I thought I'd be covered with my little sandwich, but I neglected to remember that I have an enormous appetite, and that the sandwich wouldn't go very far.
Finally, they were ready to seat us. I always hope to get shoved in the back, but staging a studio audience is more than your place in line. They strategically place people based on height, looks, what they are wearing, etc., spreading out the audience to make the studio look full. I was initially placed towards the back, but then they moved me to practically front and center. Ugh, now I would have to emote more.
The next four hours were a blur of looking shocked, excited, happy for different parts of the finale (taped 100 different ways), all while on my feet, freezing my butt off (because the studio is cold too), and starving (because I ate my sandwich about 11:00 a.m.). My biggest fear was fainting because I was avoiding water so I didn't have to go to the bathroom.
Finally, at 3:00 p.m. we were done…or were we? We had to wait in another long line to get paid and catch a shuttle back to our cars. Meanwhile, LA somehow got colder and windier.
It took nearly an hour to get back to my car, another thirty minutes to get out of the stacked parking lot, about 25 minutes to wait in line at the Wendy's across the street (because I was so hungry and couldn't wait), and another hour to get home.
Total time invested for this side hustle: 9 hours (includes driving).
Gas & Wendy's: $17
Amount I actually made per hour: $4.11
Tips for Being An Extra
Not all experiences being an extra are a drag. I was once an extra on the set of the TV show Parenthood and it was interesting to see how things were done, and the craft service table was to die for. I ate like I hadn't eaten in a week! But there are still some basics which might help make your show business experience more pleasant.
1. Wear layers – Even if it's hot outside, many studios are kept very cool because once the talent is under lights, it gets very hot for them. David Letterman was notorious for having an extremely cold studio.
2. Bring entertainment – You will be sitting or standing around for hours, so bring a book, laptop, headphones, and other things to entertain you. When I was on the set of Parenthood, many extras were college students who spent the day studying so they had their laptops and textbooks. Smart.
3. Bring food and water – Unless the show notes specifically say you will be fed or cannot bring in food and water, bring lots of stuff to snack on.
4. Go for the experience, not the money –  If you are trying to break into the business, being an extra might be a great way for you to network or just see how various shows are produced. Or maybe you are just a really big fan of whatever show they are taping. But do not go with the thought you might be "discovered" as it ain't gonna happen.
5. Be patient – I was so annoyed with people who were complaining left and right out loud, especially the ones who were shocked that they wouldn't be fed, then complained to the production crew. The crew are some of the hardest working people in this city, and to me it sometimes feels like a thankless job. So make sure to take a chill pill and settle in for the ride.
Have you ever been an extra? What was your experience like? If you could be an extra on any show, what would you choose? When have you crossed paths with a star or been involved somehow in a professional production?
The following two tabs change content below.
Latest posts by Tonya Stumphauzer (see all)