Would You Pay $20 For A Pound of Strawberries?
Posted on December 11, 2015 by John Schmoll in
Traveling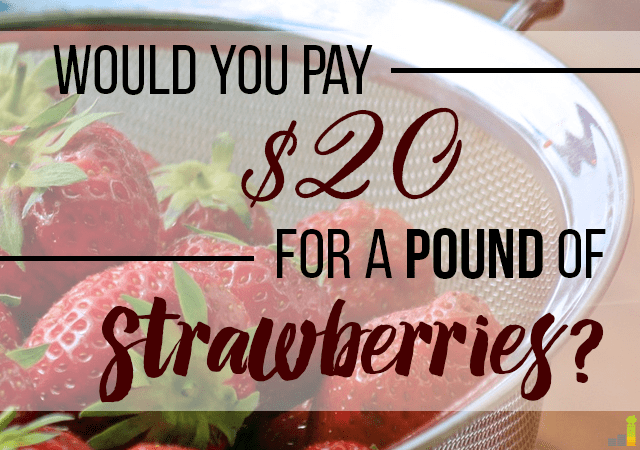 The following is a contribution from my friend Brock at Clever Dude. If you'd like to contribute to Frugal Rules, please contact us.
My wife's voice, paired with laughter, carried through the house. She was in our home office area making hotel reservations for an upcoming weekend trip. While she was making the reservation, the hotel's online reservation system gave her a list of available room upgrades, along with their prices. Taking a glance at the page, I fully appreciated why she was laughing.
For a mere $15, we could have six delicious strawberries waiting in our room for us when we check in. Add to that a $2.50 delivery fee, 18% gratuity, and 7.25% sales tax and those strawberries will cost us $21.29. That breaks down to be $3.55 a strawberry.
Considering I could buy a whole pound of strawberries on sale at Walmart, for $1.99, I'd have a hard time finding any romance in that upgrade. Here are a few other common hotel upcharges that you'll often find yourself offered but almost never have to pay extra for.
Larger Corner Room
We booked a standard hotel room, which came in at about 304 square feet. For an extra $20 a night, we could upgrade to a larger, corner room that was just over 400 square feet. Maybe if the upgrade offer had come from a live person versus a computer-generated phone message, it would have met with more success with my wife and I.
As it was, the offer had several problems that left me shaking my head:
We had actually already been assigned a larger corner room
Guests can can request the larger, corner room. For free. (Granted, requesting the room doesn't guarantee you get it).
I'm going to the hotel to sleep. That's it. I don't need the extra room.
Thinking over the situation, something crystalized that I already knew about myself – hotel upsells really don't work on me. My frugal mindset leads me to find more value in value than enjoying things I might not normally indulge in, such as a corner room or hand-dipped strawberries.
Higher Floor
Sometimes, hotels win on upcharges because guests don't know any better. Such was the case with the offer of a higher floor. For another $20 a night, we could get a room on a higher floor to enjoy the spectacular views of the city.
Thankfully, my wife and I both knew that as members of the hotel's preferred customer club (which was free to join), we can check in online the night before, and choose our room. Doing that enabled us to move ourselves from the lower floor room to which we were assigned up to a room on the 17th floor. For free.
Late Checkout
Paying anything for the right to check out an hour later just sits the wrong way with many veteran hotel guests. After all, it's the hospitality industry. If I call down to the front desk and politely request a late check out, it's in their best interests to give it to me – or lose my business to a different establishment that will.
As it was, if we needed an extra hour to get our things together and checkout, we could have it for the low price of $50. As you can already probably guess, this one was easy to turn down. The hotel already has a very generous checkout time of noon, plus I can almost always get a late checkout simply by asking for it at check-in time.
If we added up all the little extras that were offered, for our two night stay we would add the following charges to our bill:
Strawberries: $21.29
Larger room: $40
Higher floor: $40
Late Checkout: $50
Total: $151.29
We'd be increasing the price of our stay by about 50 percent by taking advantage of the offered extras. I'll get the bigger room, higher floor and late checkout for free, and decline the strawberries. I'll keep that $150 in my pocket, where it belongs and where I can use it for other things, including sightseeing, meals, future trips or a whole pound of strawberries and a fondue set when I return home if I really want it.
What outrageous hotel up charges have you seen? How do you get around a hotel wanting to charge you more for something you shouldn't have to pay for? What's one thing you're willing to pay extra for when you travel?
Brock Kernin hails from CleverDude, where he writes about family, marriage, finances and life.
The following two tabs change content below.
John is the founder of Frugal Rules, a dad, husband and veteran of the financial services industry whose writing has been featured in Forbes, CNBC, Yahoo Finance and more.
Passionate about helping people learn from his mistakes, John shares financial tools and tips to help you enjoy the freedom that comes from living frugally. One of his favorite tools is Personal Capital , which he used to plan for retirement and keep track of his finances in less than 15 minutes each month.
Another one of John's passions is helping people save $80 per month by axing their expensive cable subscriptions and replacing them with more affordable ones, like Hulu with Live TV.
Latest posts by John Schmoll (see all)