Why I Refuse to Buy Expensive Kids Shoes Even on a Six-Figure Income
Posted on September 26, 2016 by Cat in
Lifestyle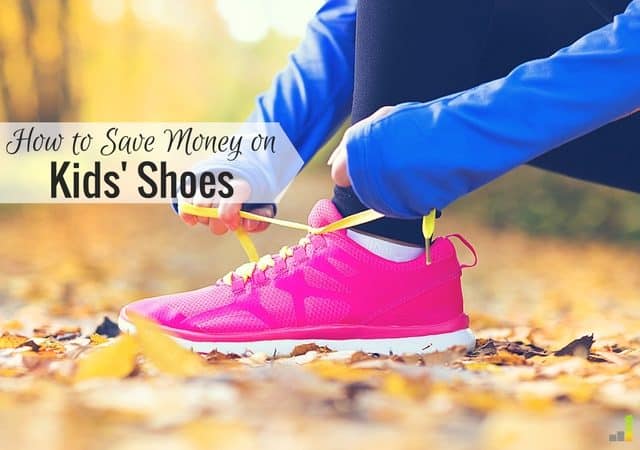 I recently noticed that my son's sneakers were getting hard to put on him, which makes sense since he's a growing little boy. I figured I'd just head to the mall and replace his sneakers. No big deal right?
The Sticker Shock
When I got to the mall to pick up a pair of shoes for him, I was shocked. The prices seemed so high to me, and despite having a six-figure income, I refused to buy them.
Now, I'll give you this; the little tiny Nike shoes with the swoosh were very cute. However, they were on sale for $49. To be honest, I wouldn't call myself cheap by any stretch of the imagination because I do enjoy nice things.
However, while I am in the middle of repaying my husband's student loan debt, I can't fathom spending that amount on my two-year-old when he's going to grow out of the shoes in just a little while.
It wasn't just one store either. I went to store after store with the same results. I couldn't believe that shoes for a toddler cost the same amount as my shoes, even though they were much, much smaller.
I tried some of the stores that are known for their great prices, like Payless, which had sneakers for around $20. Although I almost bought them since they were the lowest price around, I decided to try Walmart before committing. It was there at Walmart that I found $3 sneakers for my son on sale.
This experience only strengthened my desire to find ways to save on kids clothes. When kids are too young to remember what brands they wear (or care) it just seems almost irresponsible to me to pay full price for brand name shoes and clothes that they are going to grow out of in a relatively short period of time.
Quality Vs. Price
Some people might argue that they'd rather buy shoes that last longer, and maybe the name brand shoes do. I really wouldn't know since as evidenced above, I haven't bought a pair of high end shoes for either of my kids thus far.
I have noticed that Walmart clothes don't hold up very well but so far the sneakers I got him are doing great and the Walmart site is a terrific place if you're shopping for cheap shoes.
Sure, the Walmart sneakers didn't have name brand checks on them, but they are your basic gray sneakers nonetheless. What more does a two-year-old need? The shoes even have a orange stripe on them, which my son proudly points to and yells, "Orange!"
They work perfectly for him and for the park and the mud and help fulfill my son's need to run around and get all his energy out.
What's More Important: Shoes or College?
I tell you this story and have such strong feelings about toddler shoes for a reason. This is not just simply a rant.
I want to bring it up because I feel as though many parents are missing what's important when it comes to spending on their children. Every day, companies market to us as parents trying to get us to open our wallets to give our children the biggest or the best items available.
When is it too much, though? Where do we draw the line? Do the clothes and shoes they wear really make a difference in the long run? Does it make them better people, more polite, or more well-liked?
Don't forget that we are facing a huge student loan debt crisis in our country. By last count, Americans are living with more than $1.3 trillion of student loan debt. These numbers have not really convinced parents to aggressively save for college, as many of them are still paying back their own loans.
Yet even though so many parents say they don't have extra money to put towards their kids college education, they somehow have the money to put their kids in name brand shoes.
I know that technically, parents are not choosing to put their kids' shoes over saving for their children's college education, but maybe it does make a difference. Maybe if we all stopped getting caught up in trends, we could focus more on saving for their educations.
I know many people are simply trying to give their children a better life than they had and sometimes that means splurging for the $40 Nike sneakers instead of going to Walmart. For me though I'd rather my kids wear knock off shoes while they don't know the difference and keep adding to their savings accounts instead.
How are you saving for your children's college education? Do you buy your children high end clothes? Why or why not? Help me understand why some parents might go this route.
The following two tabs change content below.
Catherine Alford is the go to personal finance expert for parents who want to better their finances and take on a more active financial role in their families.