How Much Should You Spend On An Engagement Ring?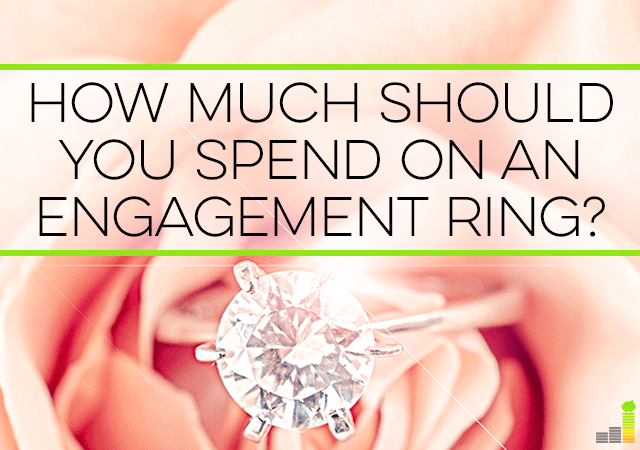 There are many different opinions when it comes to just how much someone should spend on an engagement ring. You might have heard that people should spend one month's salary on a ring or even three month's salary. Crazy, right?
If you're wondering where this concept came from you can thank De Beers, who went on a marketing campaign that would change the way couples viewed diamonds forever. Prior to the 1930's very few engagement rings contained diamonds, but after numerous De Beers ads over time, diamond rings became synonymous with getting engaged. Then, De Beers ads in the 1980s started talking about how men should spend a month's salary or more on a ring, which is how this idea came about.
For many people, the idea of spending one to three months of their income on anything would be crippling, so it's time to challenge this notion. After all, a marriage isn't about the ring. It's about the relationship. So, if you're wondering how much money you should spend on an engagement ring, go through these steps.
Decide On A Budget for your engagement ring
If you're serious about marrying someone, you should have a good idea about their tastes. Have they always talked about having a large diamond? Have they mentioned they have an heirloom ring? What can you afford? How much debt do you currently have? All of these questions are important considerations.
For example, if your spouse is set on having an expensive ring, and you're set on giving them one, it might take you quite a while to save up for it. On the other hand, if your future spouse has always wanted a gemstone instead or isn't particular about what she wants, you might be able to spend less on a ring.
Either way, a budget is key. You have to go into a jewelry store or search online, or even check out Amazon's engagement ring section knowing what you can afford and be prepared to walk away if you don't get the price you want. This level of discipline is important not only for your wallet but for your future marriage too.
Save to Pay in Cash
Jewelry stores know how to get you to spend more than you can afford. All you have to do is turn on the TV to hear an ad about how you can buy a ring with "same as cash" financing. However, when it comes to an engagement ring, you should save to pay for the ring in cash.
Adding debt to your plate especially if you already have debt is not a great way to enter into a marriage, so start a separate savings account as soon as you decide to propose and add to it until you have the amount you want.
Don't Make Your Future Wife Pay For Her Ring
This is related to the first two points but it should be emphasized. You should never make your future wife pay for her ring, and what I mean by that is that you should never put her ring on a credit card or finance it to the point where she will have to help pay it off after you are married. An engagement ring is supposed to be a gift, and you're not supposed to pay for your own gifts.
Much like I have encouraged people to not gift their spouses cars, I am also going to encourage you not to gift someone an engagement ring if it's financed.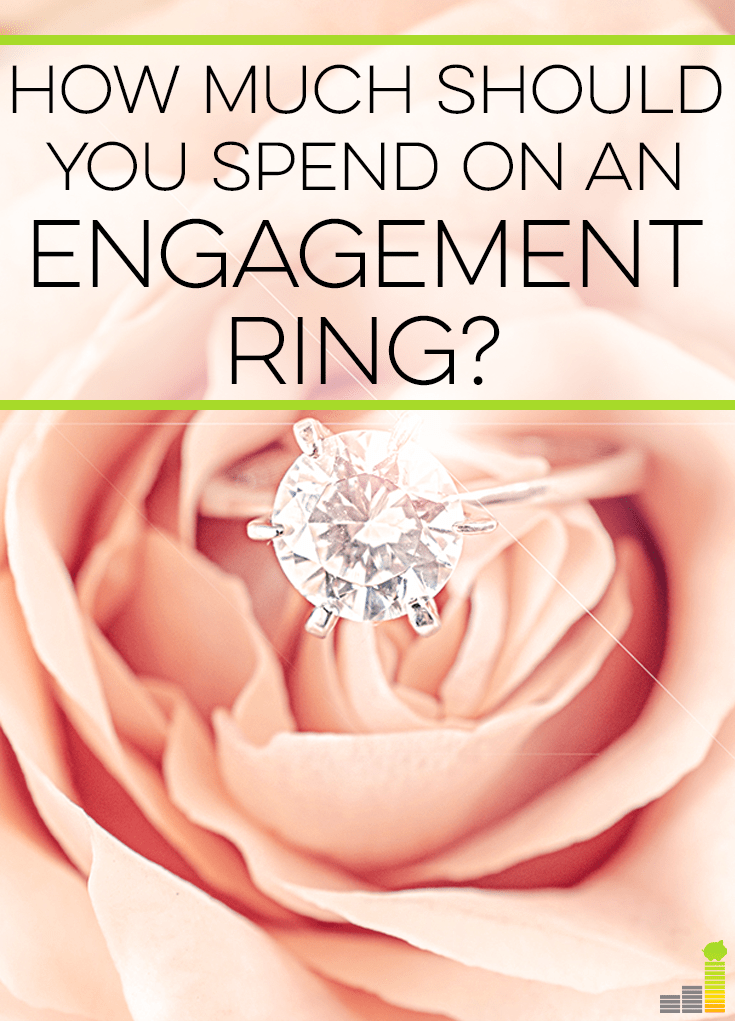 Bulk Traditions
Call me crazy, but you don't have to buy your fiance a diamond ring. Remember, this is a trend that was created by one of the leading diamond companies in the world, and it's a trend that has only been popular since the 1930's.
To put it another way, large, powerful, and wealthy jewelry companies spent a lot of money on very clever marketing plans that influenced generations of people to purchase diamonds. It's not a long standing tradition. It's a tradition that was created out of thin air in the minds of very smart marketers.
So, whether you decide to gift a family heirloom, buy an inexpensive ring, or just go without one altogether, don't be afraid to skip the tradition or do something different.
After all, it's far more important to start off your marriage with money in the bank and on solid financial footing than it is to have an empty bank account because you bought a ring that was above your means.
How much do you think someone should spend on an engagement ring? How did you shop for/decide on an engagement ring? What type of ring does your partner want?
The following two tabs change content below.
Catherine Alford is the go to personal finance expert for parents who want to better their finances and take on a more active financial role in their families.