Why I Won't Travel During the Holidays
Posted on October 24, 2016 by Cat in
Traveling
If you're a longtime reader here, you know that I am a recovering Scrooge. I don't like the holidays. It's not because of the holidays themselves, but because of how they turn sane individuals into completely irrational beings. This seasonal insanity shows up in how people treat each other (or mistreat each other to be more accurate). That's right people. At arguably the one time of year more than any other when we are supposed to be showing each other an extra dose of goodwill, we tend to be ruder than ever. That rudeness comes out strong at airports, train stations, bus terminals and probably even at bus stops. Thus, I don't travel at all during the holidays, and this is why.
People Act Bananas
Is it just me or is it true that when the holidays approach, people actually get ruder? As I said earlier, it's supposed to be the season of being grateful followed by a season of giving, but the roads, airports and just about everywhere else always feel tense.
That's probably because 98.6 million people will be traveling 50 miles or more during the holidays. So, that's a lot of traffic, a lot of long lines and a lot of people getting harried and stressed.
My Decision to Not Travel
After years of feeling pressured to go to this house or that house for the holidays, I decided when I was pregnant with my children that I would spend Thanksgiving and Christmas at home, no matter what, once they were born.
I shared this decision with family members, and yes, I did have to remind them a few times but now they have gotten the hang of it. They know I'm firm on this decision. My goal is to live a peaceful life. That's why I work by myself in my office upstairs, free from meetings or meddling bosses.
That's why I try not to over-schedule myself or get too worked up. That's also why I have a four gift rule for Christmas. I just like to keep things low key, and that includes avoiding not traveling when everyone else is.
I know I'm not the only one who craves quiet during the holidays. I have one friend who literally goes to four different relatives' houses every Christmas. She hates it. Thus, she hates every Christmas Day. That's no way to live! So, I say save your money and enjoy the holidays at home. Less stress and more happiness.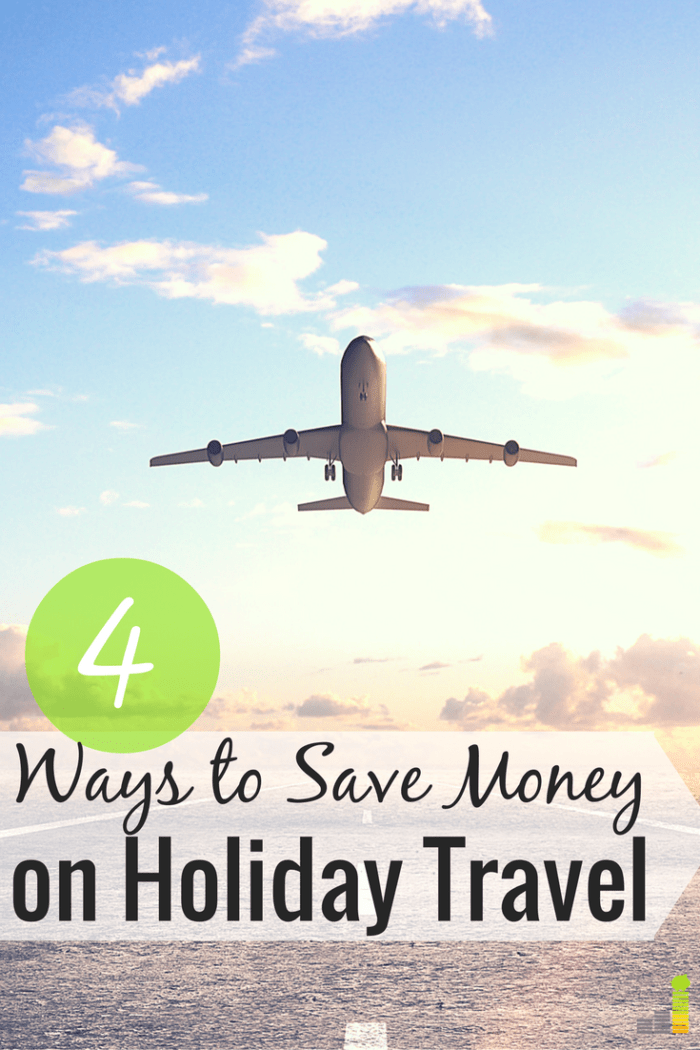 But If You Are Going to Travel…
If I haven't convinced you of the beauty of not traveling at all during the holiday season, I'd still like to offer some tips so you can save money while you're out and about battling the crazy drivers and people rushing through the airports. Here they are:
1. Book Alternate Dates
You'll have better luck getting affordable tickets if you book your holiday travel on days when everyone else isn't traveling, like actually fly on Thanksgiving Day or Christmas Day or travel a week before or after. I have one friend whose family has a "Chrisgiving" celebration every year in between Thanksgiving and Christmas. Everyone can make it and no one has to battle with spouses or in laws over where they're going to go during the holidays.
2. Enjoy the Ride
Airfare is notoriously high during the holidays, even if you do travel slightly off peak. So, consider driving. Even if you have to drive a long way, you can make a family road trip out of it or see friends and family along the way. Driving, I've found, can actually be way more pleasant than flying and when you factor in all the time it takes to check in to your flight and then find your bags at the end, it's sometimes quicker.
3. Ship Gifts Ahead of Time
Most airlines have baggage fees these days, so if you have a lot of gifts that you're bringing to extended family, nieces and nephews, ship them ahead of time to save space in your bag. Shipping fees for small gifts is still less than baggages fees to check them all.
4. Use Points and Rewards for Travel
The only real way to avoid paying for expensive travel is to use credit card points. You might have to use more points than you were expecting, but it's a great way to use your rewards without having to shell out a lot of cash. There are many travel rewards cards to choose from, just find one that works for you to help cut down the cost of your travel.
Ultimately, whether or not you want to battle the crowds and the stress during the holidays is totally up to you. For me, I'll enjoy cooking in my own home and being with my own little family on the holidays. If you do decide to book travel though, make sure to follow some of the tips above to save as much cash (and stress) as possible.
Do you travel during the holidays? Do you do it every year or every other year? How do you handle family pressure to be in lots of different places at once?
The following two tabs change content below.
Catherine Alford is the go to personal finance expert for parents who want to better their finances and take on a more active financial role in their families.