In his post last month about taking our oldest little Frugal Rule to Disney World, John concluded that their Disney World experience wasn't worth the cost. Having just completed a special trip of my own with our middle child to Disneyland, I now have the opportunity to present an argument for the other side, because I wholeheartedly believe my trip to Disneyland was worth every cent I spent.
Full disclosure here, I LOVE Disneyland. I'm a professional copywriter and if given the opportunity to write for Disney, I'd gladly accept access to the park as payment for my services.
Growing up in Southern California, my parents had an annual pass that we would use to take monthly trips to the park. My earliest memory is of getting out of kindergarten early for a surprise trip to Disneyland. I grew up having fun there, celebrated my High School graduation there and even took John there for our first date.
So, to have the opportunity to take our kids there and stand in the same lines, ride the same rides and add to the ever-deepening well of happy memories I have at that park truly is a dream come true for me.
So there, now you know why I am going to say it was worth the price of admission – because visiting Disneyland – crowds, high prices and all, holds incredible value to me.
How Much Did it Cost for Us to Go to Disneyland?
Like John, I used rewards points to fund most of our trip to Disney – you can find rewards cards to do the same thing here. Our flights were free and we stayed with my parents while there. So, right off the bat we had no lodging or transportation costs. Entrance to the park was full price though my aunt did give him a gift card to use in the park for souvenirs as his birthday present. Here's the breakdown of what we spent during our day at Disneyland.
Admission to the park: $99 for me, $93 for my son
Parking: $18 (parents covered this expense)
Food: $30
Souvenirs: $50 (on top of the gift card; gifts for other family members)
Total: $272
Obviously the biggest expense was the ticket admission. I know there are more cost effective ways to enjoy amusement parks, especially at a place like Disneyland, such as a 2-3 day pass, which lowers the per day admission price, but seeing as we were staying with my parents and driving up (about an hour) for the day, a one day pass was plenty for us.
To those who say $99 and $93 for admission to the park for one day is too high, I'd ask if you've ever been to a State Fair or carnival. We like to visit regional ones as a family each year and I can say that for five people to ride about 10 rides you will easily spend at least that and the rides are nowhere near the quality.
Also, what you're paying for with Disney is the service and atmosphere of the park. When I go to a State Fair or even another amusement park, I don't feel like I am entering another world where I can literally leave everything from the real world behind at the door. I do at Disney.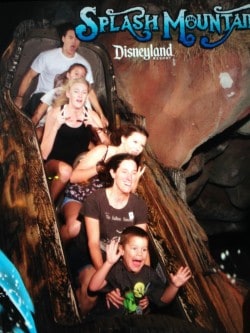 From the live music of various bands throughout the park to the amazing rides to the costumed characters to the incredible live entertainment, I think a day at Disneyland is well worth the price of admission. Again, that's because it holds great value to me. I think answering the question of whether or not Disney is worth it comes down in large measure to how much value the experience holds to you as an individual.
When I saw the ear to ear grin spread across my son's face as we took the first dip and turn on Big Thunder Railroad, the price of admission had fully paid for itself. I'll cherish that memory for the rest of my life. But that's me.
How to Get the Most Value out of a Trip to Disneyland
Whether or not you are a Disney freak like me, there are a few tips that can make your trip more enjoyable and while you may have read some of them before, here are a lifelong Disneyland veteran's four favorite tricks.
Go when the park isn't crowded. If at all possible, plan your trip on a weekday in the off-season. Online crowd trackers can help you find the least busy times. I had the misfortune this trip of picking a very busy day. I wasn't expecting all the crowds on our trip but I had not accounted for Halloween. We went to the park on Saturday, October 23. While the park is decorated beautifully, tons of Southern California residents flock to the park during this time. Also, there are days when the park closes early for Mickey's Halloween Party, and Saturday was the only day during our trip when that wasn't the case, locking us into what turned out to be an insanely packed day.
Know which rides you really want to go on. I had my son look through all the rides and tell me which ones he most wanted to experience. I had a list of half a dozen that I made it my goal to get him on. Then, I used a FastPass to get on them without a wait (see point #3).
Use the FastPass feature. Disney didn't have FastPasses when I was growing up but they really are the best way to get the most out of your visit to the park. Know how they work and which rides you want to use them for. I fumbled my way through this. My son is a Star Wars fan so my first stop inside the park was to the Star Tours FastPass distribution spot. We snagged two tickets at 11 a.m. that would allow us to come back between 1:10 – 2:10 p.m. without waiting. At the same time, I was able to get FastPasses for one of the other rides on his list – Buzz's Astroblasters. What I didn't realize is that your FastPass is connected to your park admission ticket and I could only get one per ticket every two hours. So, when I went over to Space Mountain it told me I'd have to wait. Had I been thinking ahead, I could have used my parents' tickets (they went into the park with us but didn't want to ride any rides that accepted FastPasses – not all do) to get FastPasses for Space Mountain then. By the time my two hours were up there were no more FastPasses available for Space Mountain that day and Perry and I ended up having to wait 75 minutes in line for that ride. Once I figured out how FastPasses work, I used all four of our tickets to get FastPasses for all the other big roller coasters Perry wanted to ride, saving us easily four hours in line waiting time. The rest of the day we simply chose rides with a 30-minute wait or less.
Use a crowd tracker app. There are several apps available that tell you how long the wait times are in real time for every ride in the park. Using it to plan your day helps you get the most out of your trip to the park. The other thing I'd say is that if you are not a parade or fireworks fan, use that time to ride the longer wait time rides as they are generally much less-trafficked when the parade and fireworks shows are going on.
Well, there you have it. My Disneyland review and answer to the question of whether or not it's worth the cost. Obviously, you know how I feel, but how about you? Is the cost of a Disney vacation worth it to you? Why or why not? Let loose in the comments!
When was the last time you visited Disneyland? Are you a Disney geek like me or a hater (or somewhere in between)? What is something relatively expensive that's worth the cost to you but perhaps not to others?