Why It's Okay to Slow Down on Debt Payoff
Posted on October 29, 2015 by Erin M in
Debt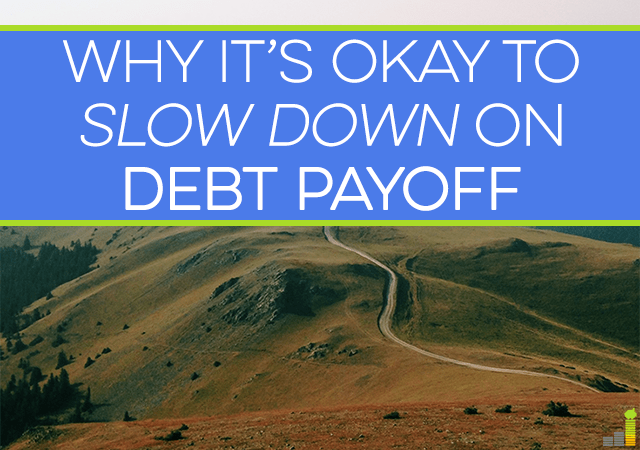 There are a lot of people racing to the finish line to pay off their debt. While there's nothing wrong with that, it's not sustainable for everyone (as I've experienced).
Many people advocate for the "all or nothing" debt payoff approach, where they cut back on everything that isn't necessary and put every cent toward their debt.
This can discourage those who can't make such "amazing" progress toward their loans. I've felt this way many times with my student loan debt, as I've watched others pay theirs off at record speed.
At the end of the day, you need to do what's right for you so long as it's moving you in the right direction, even if it means you slowing down on debt payoff.
Are There Exceptions?
I know there are a few schools of thought on debt – one being to treat all debt like an emergency. If you have consumer debt with interest rates pushing over 15%, it might make sense to buckle up and charge through it, depending on how much you have. When you're paying down a large amount of debt, an unsecured personal loan might even be worth considering if it helps you reach your goal in a responsible and faster way.
Interest does cost you a lot of money – it's one of the main reasons I'm paying my student loans off early. Before "taking the slow road," run the numbers and see where you stand. Can you can stomach how much interest is accruing on your debt on a daily basis?
Regardless of where you stand, you need to create a debt payoff plan. However, this plan doesn't have to be an "all or nothing" one! Everyone has to move at a pace they're comfortable with.
There Will be Bumps in the Road
If you're like many people paying off debt, you might be facing an overwhelming sum. Debt payoff is a long journey. You're not likely to find yourself in a situation where you can afford to pay off your debt immediately.
I started out wanting to put extra toward my student loans, but I never wanted to throw all my savings at it. My student loan debt wasn't that much of an emergency to me.
That's not to say I didn't pay large sums toward it when I could. I've been putting my tax returns toward my loans, and when I feel stable enough, I'll put an extra $500 toward it here and there.
You won't see me putting $1,000 toward my debt on a regular basis, though. Partially because I don't earn enough to afford it, and partially because I'm a worrier at heart. I know that's not the best way to function where money is concerned, but this is what it comes down to for me:
I sleep better at night knowing I have a decent emergency fund to fall back on in case something happens.
The interest accruing on my loans? Don't get me wrong, it's bothersome, but not enough to keep me up at night.
Know Where Your Values Are
For that reason, I think it's best to get clear on your financial values before you decide how you're going to pay your debt off. I'm also going to "warn" you that your values may change over time. That's why it's important to check in with your goals throughout the year. You may find your priorities have shifted!
That's completely okay as long as you adjust your plans accordingly.
I'll use myself as an example. While saving has always been my first priority (long before I had student loans to deal with), paying off my student loans has usually been my second.
However, when I made the switch to freelancing full-time, I had to halt my extra payments. It pained me to make that decision, but I had to scale back to a bare-bones budget until I started earning a decent income.
I wanted that savings cushion there in case something came up. A year later, and I'm still favoring putting money in my savings account, and because there are so many unknowns with freelancing. Sure, no job is ever guaranteed, but I'd rather be safe than sorry.
This past year, I've realized my focus on savings and student loans has been driving me a little crazy. The point of frugality and managing your money well isn't to deprive yourself, it's to give you the freedom to have choices. Except, I wasn't giving myself any choices.
I added family and travel onto my list of values that are okay to spend on. Putting money toward these things meant less toward my student loans. It's a balancing act sometimes.
So while I still feel a tinge of jealousy when I see others making huge payments toward their debt, I'm mostly happy. I'm glad to cheer my friends on in their progress, and I'm happy to enjoy my life a little more now that I'm not as focused on the numbers.
Does it Have to be All or Nothing?
I don't think so, but I know people will disagree. You're either 100% committed to your goal, or one foot is out the door. When your focus is split, it doesn't always make for the best progress. But in reality, how many of us can dedicate 100% of our focus to our debt?
Going back to the previous point, paying off your debt can span years – years during which plans can change. Going "all in" might sound great, but there will be roadblocks.
I think those in their 20s have an easier time with debt payoff, especially if they can move back in with their parents, save a bunch of their income, and temporarily cut their expenses back. I did this upon graduating, and I wouldn't change much.
However, adding in kids, medical issues, possibly taking care of your parents, relocating for a job, or working crazy hours can present many challenges. It's not as simple to create a plan around all of that!
Besides, "all or nothing" takes a special mentality. Some people risk burning out with debt fatigue or giving up completely because they can't keep up. I've felt down for not succeeding at a debt payoff goal. Make sure you can handle it!
Opportunity Cost
As with many things in personal finance, there's also an opportunity cost by going all in with paying off debt. What if you used the extra payments to invest or save?
Many people argue that paying off debt gives you a guaranteed return, which is why it should come first. Others will argue to build an emergency fund because without one, you may find yourself going deeper into debt.
Consider the alternatives and weigh your options carefully.
Whatever You Do, Don't Stop
I would never recommend that anyone completely stop making progress on their debt. You want to be debt free one day, right? Able to put your entire take-home pay toward whatever you want? You can only get there if you keep putting one foot in front of the other.
It's okay if you need to slow down after an intense period of paying down debt. There's no reason to feel guilty or like your progress doesn't matter when compared to others. Do what's right for you in the present. You can't compare your financial situation to someone else's – we're all taking different paths toward the same destination.
Have you ever slowed down your debt payoff before? Are you a fan of the "all or nothing" approach to paying off debt? What mentality has worked best for you when getting rid of your debt?
The following two tabs change content below.
Erin M. is a personal finance freelance writer passionate about helping others take control over their financial situation. She shares her thoughts on money on her blog Journey to Saving.