Debt Isn't the Problem, It's the Symptom
Posted on November 19, 2014 by Grayson Bell in
Debt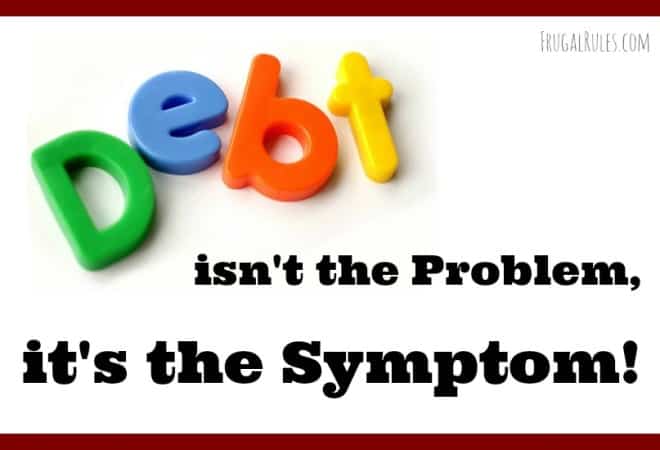 In the spirit of the holidays and before everyone goes bat sh*t crazy over holiday shopping, I figured I would talk a little about debt. Since many people pull out their credit cards during this time of the year and swipe until their fingers bleed, why not speak about debt.
So many people are going to be in debt when the holiday drunkenness wears off and we wake up on January 1st wondering what happened. No matter if you plan on buying gifts for your husband, wife, friend, kids, siblings, or anyone else, you need to make sure you know spending more than you have is going to cause debt. The worst part is debt isn't the problem, it's the symptom!
Debt Doesn't Come First
We don't just wake up one day in massive debt. That's not how it happens. Most view debt as a serious problem, but it's not. Debt is a symptom of a problem. Most of those problems come from overspending, not budgeting, not having enough insurance (or any), and many other factors. We don't start our life in debt, we start it at zero. It's our responsibility to build our wealth over our lifespan and some of us do it and others don't.
Since being in massive debt, I realize the debt wasn't what was causing my constant stress. It was my action which caused my debt, which in turn caused my stress. Debt is the byproduct of bad financial decisions.
Sorry to be blunt, but most of us put ourselves in debt with poor money management. I'm not talking about people who faced massive debt due to health issues. Our healthcare system needs a revamp, but John has spoken about that plenty. That kind of debt is a symptom of a systemic issue, not really poor money management. Only millionaires can handle fronting the bill for complex or ongoing medical treatment.
Bad Financial Decisions Were My Problems
I'm not going to make any qualms about my poor financial management. I did not do a good job in my twenties. I was excited when I graduated college to get a paying job and earn real money. Going from earning a few hundred a month to a few thousand is a big change. My mind wandered many times and it caused me to do stupid things.
I made poor decisions in running my e-commerce business and it put a lot of debt onto my plate.  I did shut that down after four years, but not before the damage was done. The debt wasn't the problem, it was my thought processes and hoping for the dream. That dream ended up being a small nightmare, but we only live and learn, right?
On top of my poor business decisions, I was using money which wasn't mine. I leased cars, financed cars, used my seven credit cards every day to buy things I didn't need. I had no idea where my money was going, except for in the pockets of the credit card company.
My debt was a symptom of my lack of understanding about my own financial well-being. I had no idea how bad my problem was until my wife smacked me around a little bit (not physically). She had to open my eyes to my poor spending habits and overall financial decisions. I can thank her for doing so.
The Symptom Can't be Fixed Without Understanding the Problem
There is no mystery in knowing there are millions in debt. Some of us have beaten the beast and moved on. I am one of those people. It wasn't an easy journey. In fact, it was filled with both constant struggle and despair. In the beginning of my debt payoff journey, I was just going through the motions.
I was paying off debt, but wasn't really paying attention to my entire financial picture. I never really grasped onto the notion of my problem. I was only taking care of the symptoms. I was paying off my debt and feeling better about myself.
The problem with this approach is you will never truly be debt free unless you take care of what put you into debt in the first place. If you have issues with over spending and not understanding where your money is going, then that is what you need to tackle. You have to change your mindset and attack the problem along with the symptom. If you don't do this, then when you pay off your debt, you will go right back in.
That's how problems work. They don't just go away. We just mask them for a time being and then they come right back.
Think of this in a different scenario. Let's say you have a mouse problem in your home. You put traps down to catch them and you do. The problem with this strategy is you are only dealing with the mice which actually get near the traps. You aren't tackling the problem of how the mice are getting into your house. Until you find their entrance point, you will never get rid of them. It's the same issue with debt.
So, do you believe that debt is just a symptom of a bigger problem? If so, what is/was your problem which led to debt? If you're paying off debt, how are you addressing the deeper issues that got you in debt in the first place? What keeps you going on your debt payoff journey?
Image via manoftaste.de modified by me.
The following two tabs change content below.
Latest posts by Grayson Bell (see all)