6 Creative Ways to Save Money this Summer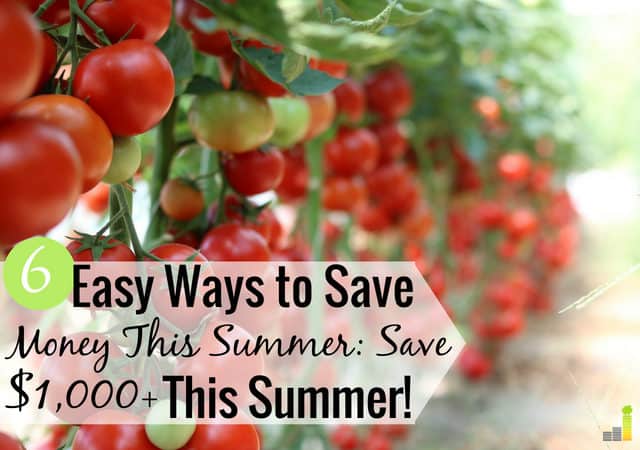 The summer is a great time to save money. The sun is out, people have more energy and are looking forward to fun-filled days. You may not realize it but there are many creative ways to save money this summer to help pad your budget for the rest of the year.
Many people think it's difficult to save money. It isn't. You just need to know where to look for money saving opportunities that won't put a hamper on summer fun. Plus, summer only lasts a few months and you may find that cutting an expense altogether allows you save money every month.
If you're looking for creative ways to save money fast, or new ways to set aside cash for summer fun, check out the ideas below.
Start a Summer Garden
The summer is a great time to get your hands dirty and create a garden. Ideally, you should start planning your garden in the spring.
However, as long as it's warm enough outside, you can still plant seedlings. These are plants that have already sprouted from a seed, which means you can produce vegetables a little bit faster.
Some of the best vegetables to plant in the summer are tomatoes, eggplant, and peppers. Successfully growing these vegetables, and others, gives you a head start on saving money on your winter grocery bills.
Cut the Cord
I always suggest cutting the cord in the summer vs. the winter because there is so much more to do. For instance, you're more likely to be outside with your kids or talking a walk in the summer than winter. With so many things to do besides watching TV, it doesn't make sense to keep the cost.
When it's cold and snowy outside, you're more inclined to stay indoors and watch TV. This makes it much harder to cut the cord.
So, while it's nice and warm outside, it's time to be brave. Call your cable company and cancel and save yourself hundreds of dollars this year!
You don't even have to go without your favorite T.V. shows when you choose a streaming provider. Below are some of the best TV streaming services to help you save money:
Hulu with Live TV – $54.99 per month for 60+ channels, start with a free 7-day trial
Philo – $20 per month for 50+ channels, start with a free 7-day trial
Sling TV – $25 per month for 25 channels, start with a free 7-day trial
Take advantage of several free trials to help you find the best option for you. This can be one of the best ways to save money this summer and year-round.
Host a clothing Swap
One of the most creative ways to save money on clothing is to host or participate in a clothing swap. I've written about clothing swaps before and they're still one of my favorite ways to get beautiful clothes for absolutely no cost.
Here's what you do if you want to host one. Invite a group of your friends to clean out their closets, their husband's closets, and their kids' closets. Have them drop off bags of clothes at your house a day ahead of time.
As the host, your job is to go through the bags of clothes and organize and sort everything. Put the kids' clothes with the kids' clothes, the men's clothes with the men's clothes, and so forth.
Hang up clothes on clothing racks and organize the shoes on the floor. Then, have your friends come back over (preferably with wine and snacks) and have a great clothing swap party!
No money should exchange hands. Anyone who donated is allowed to go through, try on things, and pick what they want.
If you'd rather not host a clothing swap, you can shop consignment stores in your area to save money. You can even sell clothes to the store to reduce cost. If you're asking yourself "what are the best consignment shops near me?", do an online search, or ask your friends for recommendations.
Automate Balance Transfers
One of the easiest ways to save money fast is to set up automatic balance transfers. You can do this through your bank pick an online savings account and save towards specific goals using automatic transfers.
CIT Bank is one great option. They pay .55 percent on their Savings Builder account. The accounts have a minimum opening balance requirement of just $100, along with a monthly deposit requirement of $100 for the rate.
Automatic balance transfers work because they take out human emotion and help us build wealth. We all have a hundred reasons why we can't save money every month whether it's emergency expenses or great sales or increased prices on gas and groceries.
All of those things can make it hard to save. It's easy to think we can start saving more money one day. Setting up automatic transfers ensures your savings happens for you so you don't put it off.
Use Ibotta to save money on groceries
I don't know about you, but I can barely get it together to go to the grocery store with my kids let alone remember to bring organized clipped coupons. That's why Ibotta is so great. You skip the coupons and save money anyway.
All you need to do is download the app. Then, after you're finished shopping, take a picture of your receipt and upload it to the app. If any of your purchases qualify for cash back, Ibotta will deposit the money back in your account within 48 hours. It really is that simple.
Also, you can use Ibotta on other things like travel, etc. online as they work with over 300 vendors. Check our our full Ibotta review to learn more about this tool.
Get Credit Card Rewards
Lastly, one of the more creative ways to save money this summer is using credit card rewards to pay for summer travel. This is called travel hacking or credit card hacking, and it's how many people get to see amazing places without spending a lot of money.
I should note that credit card hacking, while not difficult, isn't for everyone. You should only do this if you don't have credit card debt and you feel like you can use credit cards responsibly.
I've taken my family to see several different countries using credit card rewards. I feel like it's a great way to broaden your horizons with little to no work. Here are some travel rewards cards to consider if this is an option for you.
There are many other creative ways to save money. You don't have to limit it to the summer months. However, by trying some of these easy ways to save money over the summer, you might find that you can live without a certain item long-term.
If saving seems impossible to you, try one or two of the above options. You'll be surprised at how quickly you can build confidence to find more savings opportunities.
What are some other creative ways to save money you use? Do you think it's easier to save money during the summer than other times of the year? What's one thing you want to save money on but haven't been able to find success?
The following two tabs change content below.
Catherine Alford is the go to personal finance expert for parents who want to better their finances and take on a more active financial role in their families.