Does it Cost More to be a Woman?
I was searching for a hair tie in my bathroom (I promise this has a point.) I opened a cabinet, and as cabinets are apt to do when you have two sleeping children in the next room, everything came pouring out of it falling all over me and the bathroom floor.
As I silently cursed, I very calmly picked up everything, I couldn't help but notice how many things were mine. Hair straighteners, razors, several different kinds of conditioner, and the list goes on and on.
I think it's safe to say I spend more money on upkeep than my husband, and I don't really spend that much money on beauty products anymore since becoming self-employed in January. Still, it made me think about women as a whole and some of the costs associated with being of the female persuasion.
I would argue, even, that it costs more to be a woman than it does to be a man.
Here are some examples:
1. Women Do Not Earn as Much as Men
This is an indirect cost or an indirect loss, but it's something that should be considered. Women "lose" money every year when they are not considered for raises or do not get equal pay to their male counterparts. Women also miss many of these opportunities because they leave their jobs or scale back when they have children.
This is no one's "fault" nor is it a negative thing (I think it's pretty awesome since I did it myself.) However, it's just another reason why being a woman is more costly both financially and in terms of professional opportunities lost should they choose to go this route.
2. Products Targeted at Women Cost More
In France, they are investigating the "Invisible Women's Tax" because products that are packaged for women cost more than they do for men. I've noticed this myself in the States. In fact, Forbes reported that women spend "$1,351 every year in extra costs and fees," on everyday errands like dry cleaning.
Women are more active consumers, and marketing firms know this. Take a survey of common household products geared towards men and women next time you're in the store, and you might find some interesting price comparisons.
3. Upkeep Is Expensive
Now I know not all women go crazy for beauty products, but a recent Huffingon Post article reported that 35 percent of women use one to two products every day to get ready whereas most men (more than 50 percent) do not use any products at all to get ready in the morning. Some women also have to worry about things like their nails, waxing, and of course a haircut a few times a year.
Now, all of this can definitely be accomplished frugally but many women feel that there is an expectation to look a certain way. Luckily, I don't worry too much about all of this myself unless I have to actually be at a video meeting (rarely) but I know many of my friends spend a lot of money on their "upkeep" so they look a certain way at work.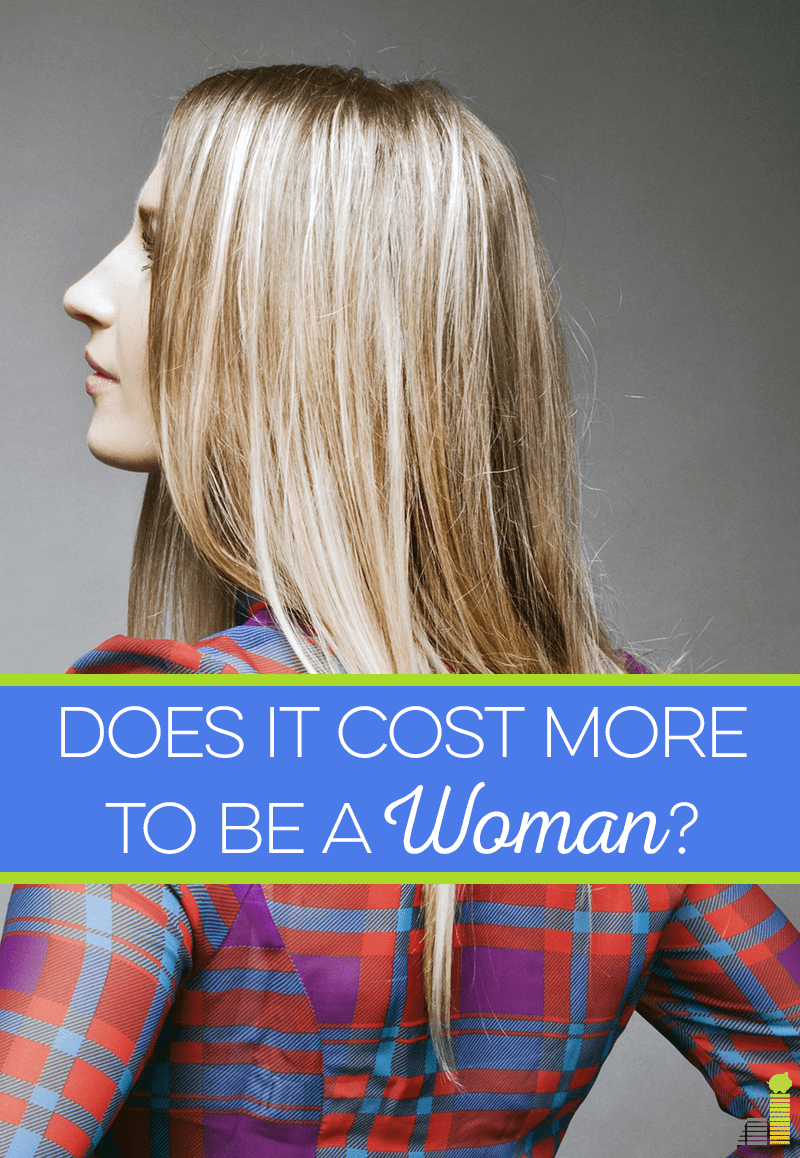 So, does it cost more to be a woman? I think so. However, it's also as expensive as you want it to be. I spent three of my four years blogging as a brunette "Budget Blonde" because I didn't want to pay for highlights. Now, my neighbor does them for a discounted rate.
You can choose to be a woman who stays home or aggressively fights for raises. You can choose to get your nails done every week or not do them at all. You can choose to buy pink razors or just wear men's deodorant to make a statement and save a buck. Really, it's all up to you, but isn't it interesting that these choices, income disparities, and price differences exist?
What do you think? Does it cost more to be a woman? What do you think women spend money on that men don't? What costs did I miss?
The following two tabs change content below.
Catherine Alford is the go to personal finance expert for parents who want to better their finances and take on a more active financial role in their families.