The Benefits of Using Cold Hard Cash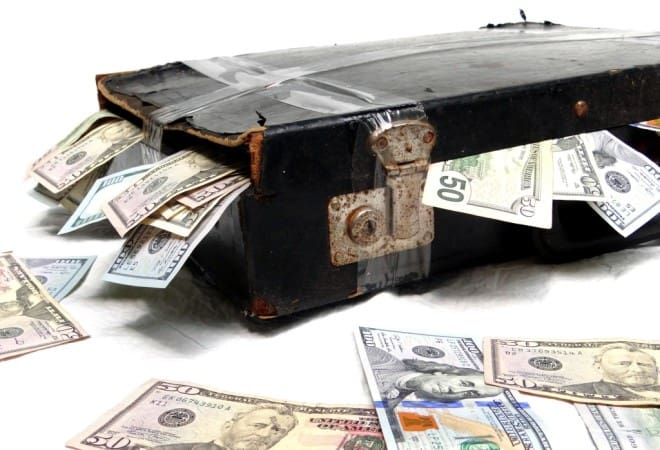 A few years ago, when I lived in the Caribbean, my husband and I had to use cold hard cash for everything.
It was my first time using a cash budget, and it was one of the best times in our lives financially. We even paid our rent and our car rental in cash each month. Using this method, we created a great system that worked well for both of us. Because we were so great at budgeting, we paid off all of our credit card debt while living on the island, and we were able to have fun during the process.
Getting Sucked into the Credit Card Game
When we moved back to the United States, we started churning credit cards. There's absolutely nothing wrong with churning cards, which means opening credit cards to collect rewards points. In fact, I love collecting airline miles so that I can travel for free.
However, I started to notice my budget got out of hand. It was a few dinners out here and a few extra bottles of wine there. Before I knew it, I was coming close to not being able to pay off my card at the end of the month. All those great lessons I learned while living in the Caribbean seemed to disappear.
Getting Back on Track
One of my big goals for 2015 was to get back on track financially. My husband and I instituted a half cash budget where we pay for most things in cash but leave rent, gas, and a few other bills as credit card payments.
I didn't feel the need to go all cash this time because I was not trying to break a severe credit card habit or reduce credit card debt. I've been able to pay off my credit card in full since paying off my debt nearly two years ago, but I knew I could still do better. So, a half cash budget was the solution, and it's been working great for us.
In the last two months, we've saved a lot of money on grocery bills and it's helped us to be more disciplined. It's definitely not easy, but I already feel more financially secure just knowing we're on the right track.
Fear of Missing Out
I know I'm missing out on airline miles by using cash, but I felt this was a necessary step to implement good habits again. If you want to do the same, take stock of your spending habits. Some people have great self restraint. I did too in the beginning when I started using credit cards again, but slowly but surely, expenses creeped in, and became a normal part of our routine.
When you use cash, the benefit is that you know exactly where your money is going (as long as your track it of course!) You become more disciplined. You learn how to cut yourself off and get creative in the kitchen at the end of the month (ramen for dinner anyone?)
So far this cash budget has worked for us the past two months, and the second month was easier than the first. As long as I stay away from major chain stores and stick to the basics, I think we're going to be able to save a lot of money this year. My only regret is that we didn't get back to this habit sooner.
Have you ever tried a cash or a half cash budget? Have you tried churning credit cards before but found that it only gave excuse to overspend at times? How do you keep track of your spending?
The following two tabs change content below.
Catherine Alford is the go to personal finance expert for parents who want to better their finances and take on a more active financial role in their families.